January / February 2016
Subscribe
Page 45 from: January / February 2016
43January/February 2016 Textiles Closed: January 18, 2016 Amid these conditions, major producer WestRock Co. announced the perma- nent closures of containerboard mills in Ohio and Connecticut. In light of the ongoing weak prices for re...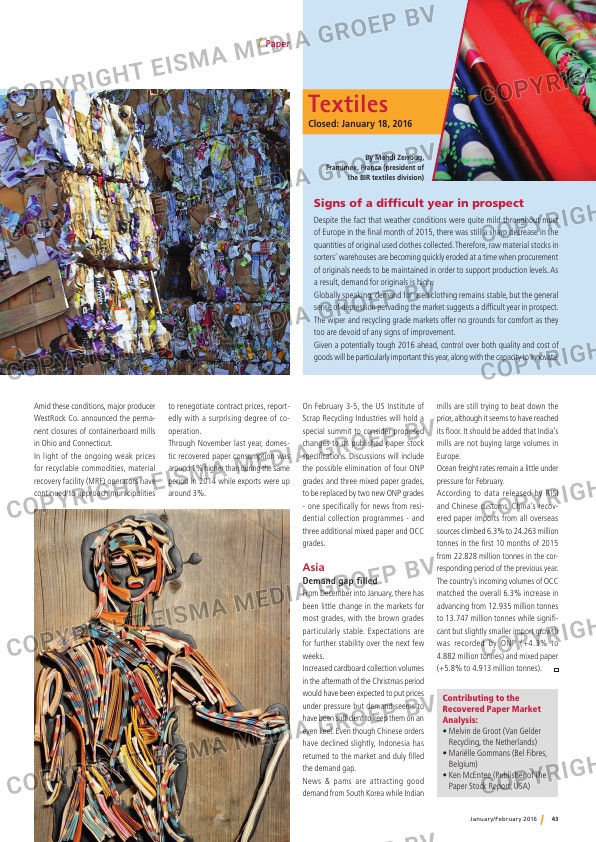 43January/February 2016
Textiles
Closed: January 18, 2016

Amid these conditions, major producer
WestRock Co. announced the perma-
nent closures of containerboard mills
in Ohio and Connecticut.
In light of the ongoing weak prices
for recyclable commodities, material
recovery facility (MRF) operators have
continued to approach municipalities
to renegotiate contract prices, report-
edly with a surprising degree of co-
operation.
Through November last year, domes-
tic recovered paper consumption was
around 1% higher than during the same
period in 2014 while exports were up
around 3%.
On February 3-5, the US Institute of
Scrap Recycling Industries will hold a
special summit to consider proposed
changes to its published paper stock
specifications. Discussions will include
the possible elimination of four ONP
grades and three mixed paper grades,
to be replaced by two new ONP grades
– one specifically for news from resi-
dential collection programmes – and
three additional mixed paper and OCC
grades.
Asia
Demand gap filled
From December into January, there has
been little change in the markets for
most grades, with the brown grades
particularly stable. Expectations are
for further stability over the next few
weeks.
Increased cardboard collection volumes
in the aftermath of the Christmas period
would have been expected to put prices
under pressure but demand seems to
have been sufficient to keep them on an
even keel. Even though Chinese orders
have declined slightly, Indonesia has
returned to the market and duly filled
the demand gap.
News & pams are attracting good
demand from South Korea while Indian
mills are still trying to beat down the
price, although it seems to have reached
its floor. It should be added that India's
mills are not buying large volumes in
Europe.
Ocean freight rates remain a little under
pressure for February.
According to data released by RISI
and Chinese customs, China's recov-
ered paper imports from all overseas
sources climbed 6.3% to 24.263 million
tonnes in the first 10 months of 2015
from 22.828 million tonnes in the cor-
responding period of the previous year.
The country's incoming volumes of OCC
matched the overall 6.3% increase in
advancing from 12.935 million tonnes
to 13.747 million tonnes while signifi-
cant but slightly smaller import growth
was recorded by ONP (+4.3% to
4.882 million tonnes) and mixed paper
(+5.8% to 4.913 million tonnes).
Paper

Signs of a difficult year in prospect
Despite the fact that weather conditions were quite mild throughout most
of Europe in the final month of 2015, there was still a sharp decrease in the
quantities of original used clothes collected. Therefore, raw material stocks in
sorters' warehouses are becoming quickly eroded at a time when procurement
of originals needs to be maintained in order to support production levels. As
a result, demand for originals is high.
Globally speaking, demand for used clothing remains stable, but the general
sense of depression pervading the market suggests a difficult year in prospect.
The wiper and recycling grade markets offer no grounds for comfort as they
too are devoid of any signs of improvement.
Given a potentially tough 2016 ahead, control over both quality and cost of
goods will be particularly important this year, along with the capacity to innovate.
Contributing to the
Recovered Paper Market
Analysis:
• Melvin de Groot (Van Gelder
Recycling, the Netherlands)
• Mariëlle Gommans (Bel Fibres,
Belgium)
• Ken McEntee (Publisher of The
Paper Stock Report, USA)
By Mehdi Zerroug,
Framimex, France (president of

the BIR textiles division)