Turkey, Latvia and New Zealand have been named the top 3 biggest waste producers in the 2019 Global Waste Index. The list ranks all 36 nations within the Organization for Economic Co-operation and Development (OECD).
Mexico, Chile, Italy, Estonia, Canada, Slovak Republic and Israel complete the top 10. The index (view it here) is created each year by Slovakian waste management firm Sensoneo. The ranking is not only based on total waste generation (per capita), it also takes into account how the material is processed.
More than 2 billion tonnes of municipal solid waste are generated worldwide per annum. Less than 20% of this is recycled. Based on current levels, global waste production is projected to rise by 70% by 2050.
Not all bad news
It's worth noting that the US (ranked 12th) is the biggest generator of waste per capita worldwide, with each citizen producing an average of 808kg per year. This is almost a tonne – and more than double that of citizens of Japan. However, it recycles a lot more and landfills less than most countries listed as 'worse' offenders. In fact, only Iceland and Germany had a higher score for recycling per capita.  
A positive development is that illegally dumping and waste 'missing' from official records doesn't appear to be a big problem.
The best overall waste management performance of OECD countries inludes (from position 36 to 30); South Korea, Sweden, Japan, Switzerland, the Netherlands, Germany and Finland. Meanwhile, the UK (17) and Australia (24) were somewhere in the middle.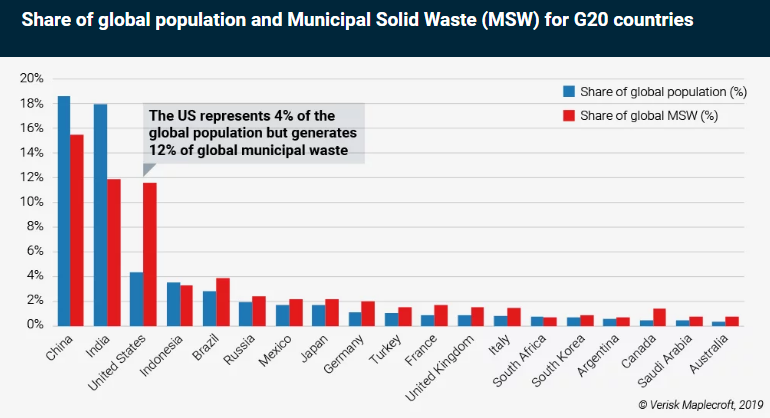 Asia vs. America
New market data by Verisk Maplecroft urges underlines that the US creates three times the global average of waste. At 773kg per head, the country generates 12% (around 239 million tonnes) of global municipal solid waste. 'In contrast, China and India make up over 36% of the global population, but generate 27% of global municipal waste,' market analysts point out.