Hacked is usually a very scary word. Dutch fashion designers Alexander van Slobbe and Francisco van Benthum have put a spin on it. How? By transforming discarded couture into new garments. Eye-catching fabrics by big brands like H&M as well as Gucci and Prada have been reworked for the experimental line.
Revenue of the worldwide clothing industry will reach an anticipated US$ 340 million this year, according to Statista figures. This will reach 550 million by 2023, representing 10% growth.
A dirty secret
The fact is that leading commercial brands and couture designers are left with a large volume of unsold garments, faulty pieces and offcuts. What happens with the material? It may land in vintage shops, be baled for recycling – or be sent for incineration.
The latter is said to be the fashion industry's "dirty secret", which made headlines when Burberry burned US$ 38 million worth of unsold stock in September. Not long after, it was reported H&M sent 19 tons of clothing (the equivalent to 50 000 pairs of jeans) to a Swedish waste-to-energy facility in 2017.
Dress for the future
So what can be done? That's exactly the question Dutch fashion designers Alexander van Slobbe and Francisco van Benthum asked themselves. They managed to get their hands on a truck load of discarded couture and created a range of hybrid garments under the name "Hacked By". Their idea took off, landing them a spot at this year's Amsterdam Fashion Week show.
Each piece of clothing by Van Slobbe & Van Benthum is unique. The apparel includes a mix of whole sleeves, collars, buttons and original labels from major designers like Prada. 'This upcycling method we called 'hacked' will hopefully challenge the current fashion system to redefine and reinvent itself,' the Dutch duo says.
Essentially, they describe their "Hacked By" collection as an 'innovative concept to help create a fashion-forward and sustainable industry' that prevents waste and curbs the use of unnecessary virgin resources.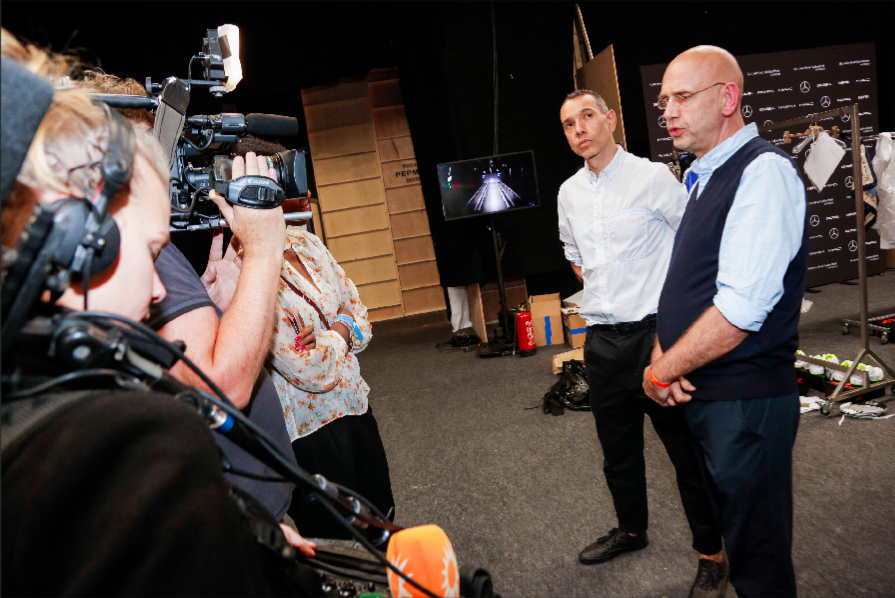 Would you like to share any interesting developments or article ideas with us? Don't hesitate to contact us.