The Aluminum Association published the new manifesto "Every Can Counts" to underscore the critical importance of can recycling for the US economy and the environment.
Approximately 43 billion aluminium cans are recycled across America each year. 'More than 90 percent of these recycled cans get turned into aluminium sheet used to make new beverage cans,' says Robert Budway, president of the Can Manufacturers Institute, which collaborated on the report.
Key findings in the 2020 report include:
In 2019, around 50 billion cans – more than US$ 810 million (EUR 668 million) worth of aluminum – ended up in a landfill.
The industry recycling rate, which includes the recycling of all aluminium used beverage containers by the US industry (including imported and exported units) was 55.9% in 2019, a decline from 63.6% in 2018. This change is said to have been driven largely by production shifts within the industry in 2019.
The consumer recycling rate for aluminium beverage cans dropped to 46.1% in 2019, lower than the 2018 rate of 49.8% but above the 2017 number of 45.1%. The 20-year average for the consumer recycling rate is around 50%.
The average recycled content of an aluminium can is three times higher than that of glass and plastic bottles.
The aluminium can remains by far the most valuable package in the recycling bin, with a value per ton of US$ 1210 (EUR 997) per ton compared to US$ 237 (EUR 195) per ton for plastic and a negative value of US$ 21 (EUR 17) per ton for glass, based on a two-year rolling average through February 2019.
The energy saved by recycling 100 percent of aluminium cans could power 4.1 million homes for a full year.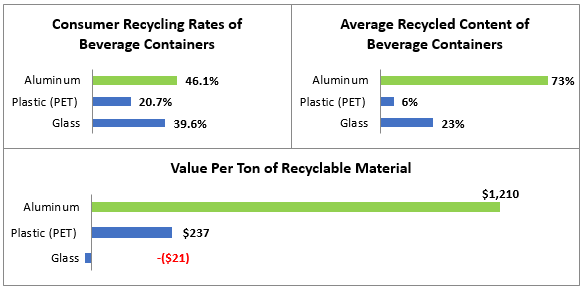 'These used cans plus other scrap metal create an average recycled content rate of 73 percent, which is exponentially higher than any competing substrate,' says Budway. 'While the beverage can's recycling rate is significantly better than other beverage containers, it is time for all of us to take action to keep more aluminium cans out of landfills.'
President & ceo of the Aluminum Association Tom Dobbins comments: 'We are incredibly proud of our industry-leading sustainability metrics but also want to make sure that every can counts. Unlike most recycling, a used aluminium can is typically recycled directly into a new can – a process which can happen over and over again.'
Read it here >> Every Can Counts: An Aluminum Beverage Can Recycling Manifesto
Would you like to share any interesting developments or article ideas with us? Don't hesitate to contact us.