Recycling International November issue | 2022
Subscribe
Page 75 from: Recycling International November issue | 2022
BECK'S 75recyclinginternational.com | November/December | 2022 Fotobijschrift KADERKOP ?? Energy crisis Europe is suffering from gas and electricity prices going through the roof. The energy intensive recycling industries ar...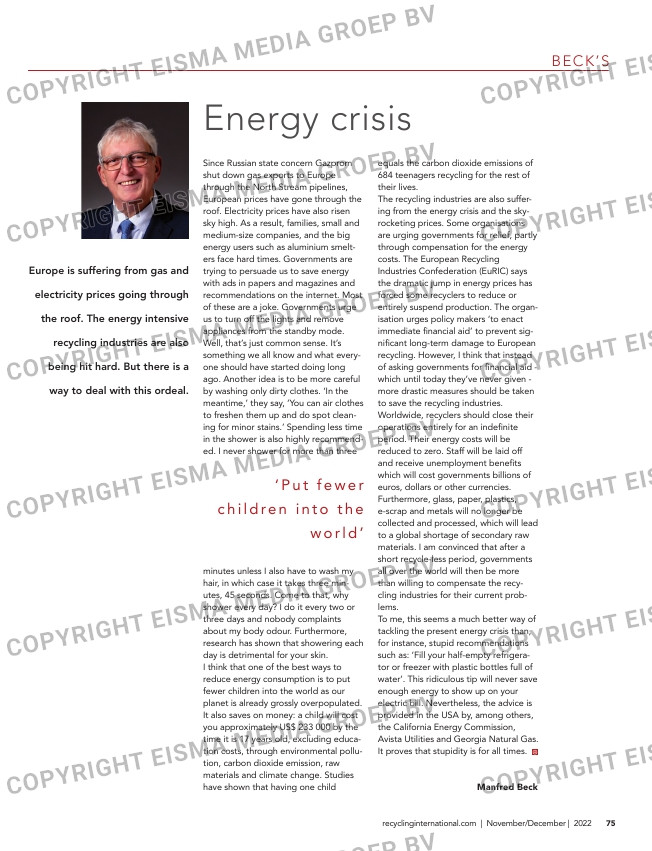 BECK'S
75recyclinginternational.com | November/December | 2022
Fotobijschrift
KADERKOP
??
Energy crisis
Europe is suffering from gas and
electricity prices going through
the roof. The energy intensive
recycling industries are also
being hit hard. But there is a
way to deal with this ordeal.
Since Russian state concern Gazprom
shut down gas exports to Europe
through the North Stream pipelines,
European prices have gone through the
roof. Electricity prices have also risen
sky high. As a result, families, small and
medium-size companies, and the big
energy users such as aluminium smelt-
ers face hard times. Governments are
trying to persuade us to save energy
with ads in papers and magazines and
recommendations on the internet. Most
of these are a joke. Governments urge
us to turn off the lights and remove
appliances from the standby mode.
Well, that's just common sense. It's
something we all know and what every-
one should have started doing long
ago. Another idea is to be more careful
by washing only dirty clothes. 'In the
meantime,' they say, 'You can air clothes
to freshen them up and do spot clean-
ing for minor stains.' Spending less time
in the shower is also highly recommend-
ed. I never shower for more than three
minutes unless I also have to wash my
hair, in which case it takes three min-
utes, 45 seconds. Come to that, why
shower every day? I do it every two or
three days and nobody complaints
about my body odour. Furthermore,
research has shown that showering each
day is detrimental for your skin.
I think that one of the best ways to
reduce energy consumption is to put
fewer children into the world as our
planet is already grossly overpopulated.
It also saves on money: a child will cost
you approximately US$ 233 000 by the
time it is 17 years old, excluding educa-
tion costs, through environmental pollu-
tion, carbon dioxide emission, raw
materials and climate change. Studies
have shown that having one child
equals the carbon dioxide emissions of
684 teenagers recycling for the rest of
their lives.
The recycling industries are also suffer-
ing from the energy crisis and the sky-
rocketing prices. Some organisations
are urging governments for relief, partly
through compensation for the energy
costs. The European Recycling
Industries Confederation (EuRIC) says
the dramatic jump in energy prices has
forced some recyclers to reduce or
entirely suspend production. The organ-
isation urges policy makers 'to enact
immediate financial aid' to prevent sig-
nificant long-term damage to European
recycling. However, I think that instead
of asking governments for financial aid –
which until today they've never given –
more drastic measures should be taken
to save the recycling industries.
Worldwide, recyclers should close their
operations entirely for an indefinite
period. Their energy costs will be
reduced to zero. Staff will be laid off
and receive unemployment benefits
which will cost governments billions of
euros, dollars or other currencies.
Furthermore, glass, paper, plastics,
e-scrap and metals will no longer be
collected and processed, which will lead
to a global shortage of secondary raw
materials. I am convinced that after a
short recycle-less period, governments
all over the world will then be more
than willing to compensate the recy-
cling industries for their current prob-
lems.
To me, this seems a much better way of
tackling the present energy crisis than,
for instance, stupid recommendations
such as: 'Fill your half-empty refrigera-
tor or freezer with plastic bottles full of
water'. This ridiculous tip will never save
enough energy to show up on your
electric bill. Nevertheless, the advice is
provided in the USA by, among others,
the California Energy Commission,
Avista Utilities and Georgia Natural Gas.
It proves that stupidity is for all times.
Manfred Beck
' P u t f e w e r
c h i l d re n i n t o t h e
w o r l d '
75_becks.indd 75 09-11-2022 11:53