Recycling International November issue | 2022
Subscribe
Page 72 from: Recycling International November issue | 2022
72 PLASTICSMARKET ANALYSIS No relief from higher production costs Bigger energy bills and a surge in inflation continue to hit the value chain while prices for recycled materials have fallen significantly. The European recycling in...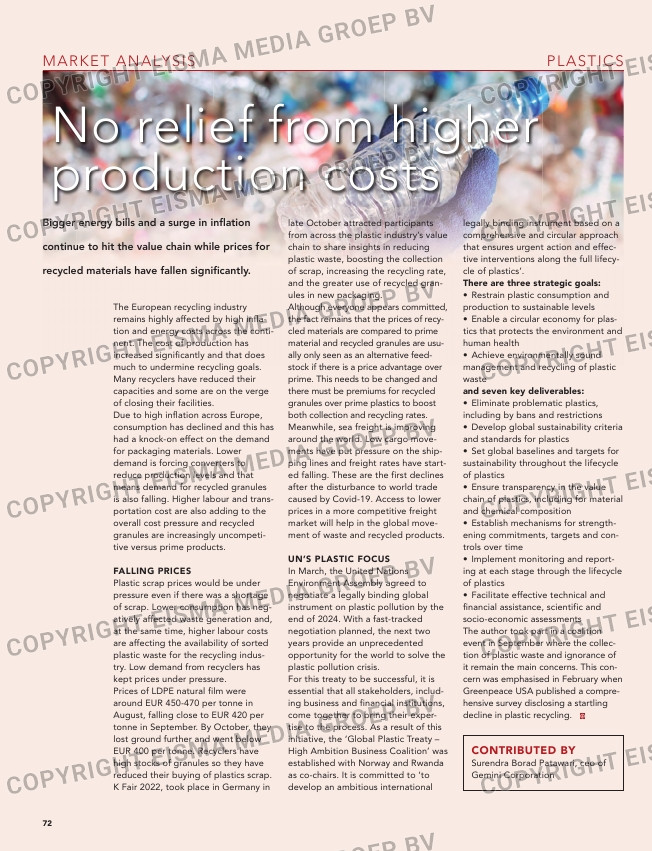 72
PLASTICSMARKET ANALYSIS
No relief from higher
production costs
Bigger energy bills and a surge in inflation
continue to hit the value chain while prices for
recycled materials have fallen significantly.
The European recycling industry
remains highly affected by high infla-
tion and energy costs across the conti-
nent. The cost of production has
increased significantly and that does
much to undermine recycling goals.
Many recyclers have reduced their
capacities and some are on the verge
of closing their facilities.
Due to high inflation across Europe,
consumption has declined and this has
had a knock-on effect on the demand
for packaging materials. Lower
demand is forcing converters to
reduce production levels and that
means demand for recycled granules
is also falling. Higher labour and trans-
portation cost are also adding to the
overall cost pressure and recycled
granules are increasingly uncompeti-
tive versus prime products.
FALLING PRICES
Plastic scrap prices would be under
pressure even if there was a shortage
of scrap. Lower consumption has neg-
atively affected waste generation and,
at the same time, higher labour costs
are affecting the availability of sorted
plastic waste for the recycling indus-
try. Low demand from recyclers has
kept prices under pressure.
Prices of LDPE natural film were
around EUR 450-470 per tonne in
August, falling close to EUR 420 per
tonne in September. By October, they
lost ground further and went below
EUR 400 per tonne. Recyclers have
high stocks of granules so they have
reduced their buying of plastics scrap.
K Fair 2022, took place in Germany in
late October attracted participants
from across the plastic industry's value
chain to share insights in reducing
plastic waste, boosting the collection
of scrap, increasing the recycling rate,
and the greater use of recycled gran-
ules in new packaging.
Although everyone appears committed,
the fact remains that the prices of recy-
cled materials are compared to prime
material and recycled granules are usu-
ally only seen as an alternative feed-
stock if there is a price advantage over
prime. This needs to be changed and
there must be premiums for recycled
granules over prime plastics to boost
both collection and recycling rates.
Meanwhile, sea freight is improving
around the world. Low cargo move-
ments have put pressure on the ship-
ping lines and freight rates have start-
ed falling. These are the first declines
after the disturbance to world trade
caused by Covid-19. Access to lower
prices in a more competitive freight
market will help in the global move-
ment of waste and recycled products.
UN'S PLASTIC FOCUS
In March, the United Nations
Environment Assembly agreed to
negotiate a legally binding global
instrument on plastic pollution by the
end of 2024. With a fast-tracked
negotiation planned, the next two
years provide an unprecedented
opportunity for the world to solve the
plastic pollution crisis.
For this treaty to be successful, it is
essential that all stakeholders, includ-
ing business and financial institutions,
come together to bring their exper-
tise to the process. As a result of this
initiative, the 'Global Plastic Treaty –
High Ambition Business Coalition' was
established with Norway and Rwanda
as co-chairs. It is committed to 'to
develop an ambitious international
legally binding instrument based on a
comprehensive and circular approach
that ensures urgent action and effec-
tive interventions along the full lifecy-
cle of plastics'.
There are three strategic goals:
• Restrain plastic consumption and
production to sustainable levels
• Enable a circular economy for plas-
tics that protects the environment and
human health
• Achieve environmentally sound
management and recycling of plastic
waste
and seven key deliverables:
• Eliminate problematic plastics,
including by bans and restrictions
• Develop global sustainability criteria
and standards for plastics
• Set global baselines and targets for
sustainability throughout the lifecycle
of plastics
• Ensure transparency in the value
chain of plastics, including for material
and chemical composition
• Establish mechanisms for strength-
ening commitments, targets and con-
trols over time
• Implement monitoring and report-
ing at each stage through the lifecycle
of plastics
• Facilitate effective technical and
financial assistance, scientific and
socio-economic assessments
The author took part in a coalition
event in September where the collec-
tion of plastic waste and ignorance of
it remain the main concerns. This con-
cern was emphasised in February when
Greenpeace USA published a compre-
hensive survey disclosing a startling
decline in plastic recycling.
CONTRIBUTED BY
Surendra Borad Patawari, ceo of
Gemini Corporation
72_maplastics.indd 72 09-11-2022 11:55