Recycling International November/December issue | 2022
Subscribe
Page 69 from: Recycling International November/December issue | 2022
PAPER 69recyclinginternational.com | November/December | 2022 CONTRIBUTING TO THE RECOVERED PAPER MARKET ANALYSIS: • Simon Ellin, ceo, IWPP, the recovered paper trading division of The Recycling Association (TRA), UK • ...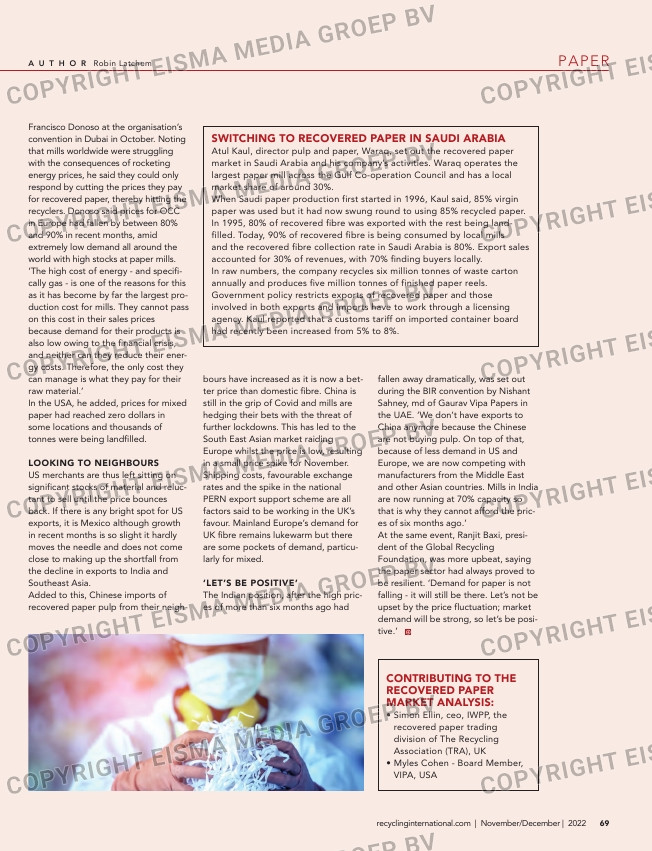 PAPER
69recyclinginternational.com | November/December | 2022
CONTRIBUTING TO THE
RECOVERED PAPER
MARKET ANALYSIS:
• Simon Ellin, ceo, IWPP, the
recovered paper trading
division of The Recycling
Association (TRA), UK
• Myles Cohen – Board Member,
VIPA, USA
fallen away dramatically, was set out
during the BIR convention by Nishant
Sahney, md of Gaurav Vipa Papers in
the UAE. 'We don't have exports to
China anymore because the Chinese
are not buying pulp. On top of that,
because of less demand in US and
Europe, we are now competing with
manufacturers from the Middle East
and other Asian countries. Mills in India
are now running at 70% capacity so
that is why they cannot afford the pric-
es of six months ago.'
At the same event, Ranjit Baxi, presi-
dent of the Global Recycling
Foundation, was more upbeat, saying
the paper sector had always proved to
be resilient. 'Demand for paper is not
falling – it will still be there. Let's not be
upset by the price fluctuation; market
demand will be strong, so let's be posi-
tive.'
SWITCHING TO RECOVERED PAPER IN SAUDI ARABIA
Atul Kaul, director pulp and paper, Waraq, set out the recovered paper
market in Saudi Arabia and his company's activities. Waraq operates the
largest paper mill across the Gulf Co-operation Council and has a local
market share of around 30%.
When Saudi paper production first started in 1996, Kaul said, 85% virgin
paper was used but it had now swung round to using 85% recycled paper.
In 1995, 80% of recovered fibre was exported with the rest being land-
filled. Today, 90% of recovered fibre is being consumed by local mills
and the recovered fibre collection rate in Saudi Arabia is 80%. Export sales
accounted for 30% of revenues, with 70% finding buyers locally.
In raw numbers, the company recycles six million tonnes of waste carton
annually and produces five million tonnes of finished paper reels.
Government policy restricts exports of recovered paper and those
involved in both exports and imports have to work through a licensing
agency. Kaul reported that a customs tariff on imported container board
had recently been increased from 5% to 8%.
bours have increased as it is now a bet-
ter price than domestic fibre. China is
still in the grip of Covid and mills are
hedging their bets with the threat of
further lockdowns. This has led to the
South East Asian market raiding
Europe whilst the price is low, resulting
in a small price spike for November.
Shipping costs, favourable exchange
rates and the spike in the national
PERN export support scheme are all
factors said to be working in the UK's
favour. Mainland Europe's demand for
UK fibre remains lukewarm but there
are some pockets of demand, particu-
larly for mixed.
'LET'S BE POSITIVE'
The Indian position, after the high pric-
es of more than six months ago had
Francisco Donoso at the organisation's
convention in Dubai in October. Noting
that mills worldwide were struggling
with the consequences of rocketing
energy prices, he said they could only
respond by cutting the prices they pay
for recovered paper, thereby hitting the
recyclers. Donoso said prices for OCC
in Europe had fallen by between 80%
and 90% in recent months, amid
extremely low demand all around the
world with high stocks at paper mills.
'The high cost of energy – and specifi-
cally gas – is one of the reasons for this
as it has become by far the largest pro-
duction cost for mills. They cannot pass
on this cost in their sales prices
because demand for their products is
also low owing to the financial crisis,
and neither can they reduce their ener-
gy costs. Therefore, the only cost they
can manage is what they pay for their
raw material.'
In the USA, he added, prices for mixed
paper had reached zero dollars in
some locations and thousands of
tonnes were being landfilled.
LOOKING TO NEIGHBOURS
US merchants are thus left sitting on
significant stocks of material and reluc-
tant to sell until the price bounces
back. If there is any bright spot for US
exports, it is Mexico although growth
in recent months is so slight it hardly
moves the needle and does not come
close to making up the shortfall from
the decline in exports to India and
Southeast Asia.
Added to this, Chinese imports of
recovered paper pulp from their neigh-
A U T H O R Robin Latchem
68-69_mapaper.indd 69 10-11-2022 08:15