Recycling International November/December issue | 2022
Subscribe
Page 65 from: Recycling International November/December issue | 2022
NON-FERROUS General gloom deepens for recyclers Shipping costs were less of a chal- lenge than they had been at the previ- ous convention in Barcelona, Perron added. He concluded: 'Increased energy costs are having a detrimental ef...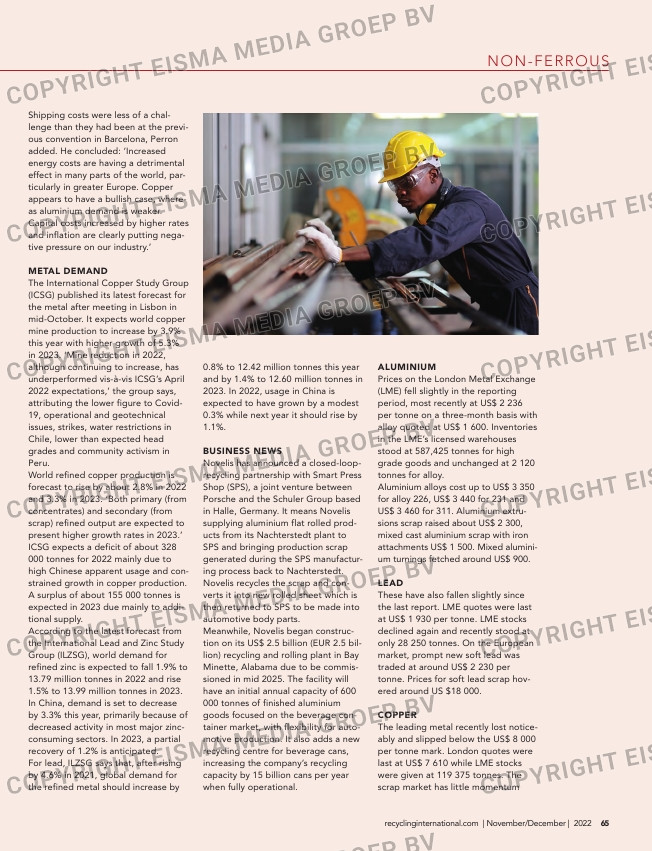 NON-FERROUS
General gloom
deepens for recyclers
Shipping costs were less of a chal-
lenge than they had been at the previ-
ous convention in Barcelona, Perron
added. He concluded: 'Increased
energy costs are having a detrimental
effect in many parts of the world, par-
ticularly in greater Europe. Copper
appears to have a bullish case, where-
as aluminium demand is weaker.
Capital costs increased by higher rates
and inflation are clearly putting nega-
tive pressure on our industry.'
METAL DEMAND
The International Copper Study Group
(ICSG) published its latest forecast for
the metal after meeting in Lisbon in
mid-October. It expects world copper
mine production to increase by 3.9%
this year with higher growth of 5.3%
in 2023. 'Mine reduction in 2022,
although continuing to increase, has
underperformed vis-à-vis ICSG's April
2022 expectations,' the group says,
attributing the lower figure to Covid-
19, operational and geotechnical
issues, strikes, water restrictions in
Chile, lower than expected head
grades and community activism in
Peru.
World refined copper production is
forecast to rise by about 2.8% in 2022
and 3.3% in 2023. 'Both primary (from
concentrates) and secondary (from
scrap) refined output are expected to
present higher growth rates in 2023.'
ICSG expects a deficit of about 328
000 tonnes for 2022 mainly due to
high Chinese apparent usage and con-
strained growth in copper production.
A surplus of about 155 000 tonnes is
expected in 2023 due mainly to addi-
tional supply.
According to the latest forecast from
the International Lead and Zinc Study
Group (ILZSG), world demand for
refined zinc is expected to fall 1.9% to
13.79 million tonnes in 2022 and rise
1.5% to 13.99 million tonnes in 2023.
In China, demand is set to decrease
by 3.3% this year, primarily because of
decreased activity in most major zinc-
consuming sectors. In 2023, a partial
recovery of 1.2% is anticipated.
For lead, ILZSG says that, after rising
by 4.6% in 2021, global demand for
the refined metal should increase by
65recyclinginternational.com | November/December | 2022
0.8% to 12.42 million tonnes this year
and by 1.4% to 12.60 million tonnes in
2023. In 2022, usage in China is
expected to have grown by a modest
0.3% while next year it should rise by
1.1%.
BUSINESS NEWS
Novelis has announced a closed-loop-
recycling partnership with Smart Press
Shop (SPS), a joint venture between
Porsche and the Schuler Group based
in Halle, Germany. It means Novelis
supplying aluminium flat rolled prod-
ucts from its Nachterstedt plant to
SPS and bringing production scrap
generated during the SPS manufactur-
ing process back to Nachterstedt.
Novelis recycles the scrap and con-
verts it into new rolled sheet which is
then returned to SPS to be made into
automotive body parts.
Meanwhile, Novelis began construc-
tion on its US$ 2.5 billion (EUR 2.5 bil-
lion) recycling and rolling plant in Bay
Minette, Alabama due to be commis-
sioned in mid 2025. The facility will
have an initial annual capacity of 600
000 tonnes of finished aluminium
goods focused on the beverage con-
tainer market, with flexibility for auto-
motive production. It also adds a new
recycling centre for beverage cans,
increasing the company's recycling
capacity by 15 billion cans per year
when fully operational.
ALUMINIUM
Prices on the London Metal Exchange
(LME) fell slightly in the reporting
period, most recently at US$ 2 236
per tonne on a three-month basis with
alloy quoted at US$ 1 600. Inventories
in the LME's licensed warehouses
stood at 587,425 tonnes for high
grade goods and unchanged at 2 120
tonnes for alloy.
Aluminium alloys cost up to US$ 3 350
for alloy 226, US$ 3 440 for 231 and
US$ 3 460 for 311. Aluminium extru-
sions scrap raised about US$ 2 300,
mixed cast aluminium scrap with iron
attachments US$ 1 500. Mixed alumini-
um turnings fetched around US$ 900.
LEAD
These have also fallen slightly since
the last report. LME quotes were last
at US$ 1 930 per tonne. LME stocks
declined again and recently stood at
only 28 250 tonnes. On the European
market, prompt new soft lead was
traded at around US$ 2 230 per
tonne. Prices for soft lead scrap hov-
ered around US $18 000.
COPPER
The leading metal recently lost notice-
ably and slipped below the US$ 8 000
per tonne mark. London quotes were
last at US$ 7 610 while LME stocks
were given at 119 375 tonnes. The
scrap market has little momentum
64-65-66_manon-ferrous.indd 65 09-11-2022 11:49