Recycling International November/December issue | 2022
Subscribe
Page 63 from: Recycling International November/December issue | 2022
NICKEL & STAINLESS 3) suspend the warranting of Russian metal in LME warehouses either imme- diately, following a notice period, or after a specified date. For nickel and stainless steel recy- clers, the potential market disrup- tio...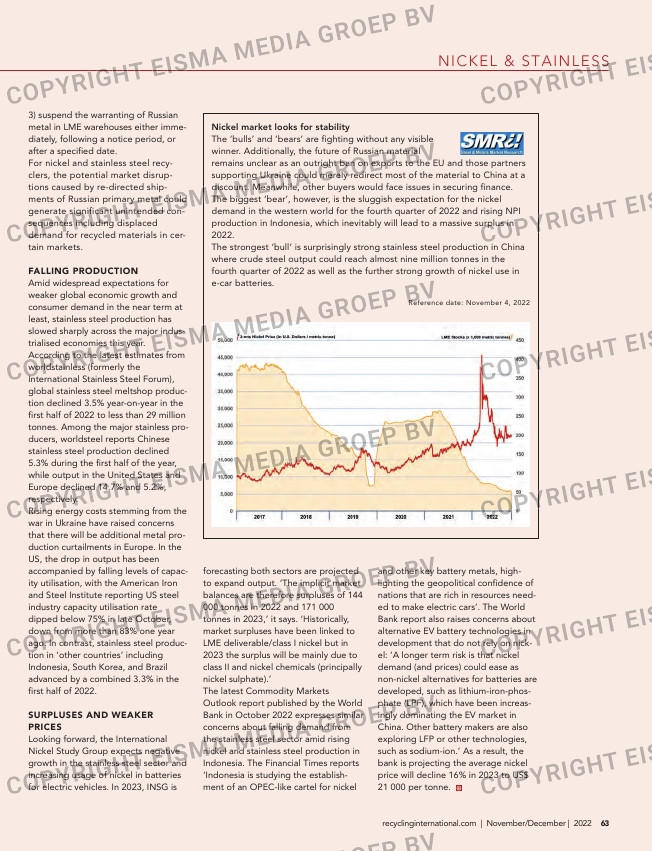 NICKEL & STAINLESS
3) suspend the warranting of Russian
metal in LME warehouses either imme-
diately, following a notice period, or
after a specified date.
For nickel and stainless steel recy-
clers, the potential market disrup-
tions caused by re-directed ship-
ments of Russian primary metal could
generate significant unintended con-
sequences including displaced
demand for recycled materials in cer-
tain markets.
FALLING PRODUCTION
Amid widespread expectations for
weaker global economic growth and
consumer demand in the near term at
least, stainless steel production has
slowed sharply across the major indus-
trialised economies this year.
According to the latest estimates from
worldstainless (formerly the
International Stainless Steel Forum),
global stainless steel meltshop produc-
tion declined 3.5% year-on-year in the
first half of 2022 to less than 29 million
tonnes. Among the major stainless pro-
ducers, worldsteel reports Chinese
stainless steel production declined
5.3% during the first half of the year,
while output in the United States and
Europe declined 14.7% and 5.2%,
respectively.
Rising energy costs stemming from the
war in Ukraine have raised concerns
that there will be additional metal pro-
duction curtailments in Europe. In the
US, the drop in output has been
accompanied by falling levels of capac-
ity utilisation, with the American Iron
and Steel Institute reporting US steel
industry capacity utilisation rate
dipped below 75% in late October,
down from more than 83% one year
ago. In contrast, stainless steel produc-
tion in 'other countries' including
Indonesia, South Korea, and Brazil
advanced by a combined 3.3% in the
first half of 2022.
SURPLUSES AND WEAKER
PRICES
Looking forward, the International
Nickel Study Group expects negative
growth in the stainless steel sector and
increasing usage of nickel in batteries
for electric vehicles. In 2023, INSG is
forecasting both sectors are projected
to expand output. 'The implicit market
balances are therefore surpluses of 144
000 tonnes in 2022 and 171 000
tonnes in 2023,' it says. 'Historically,
market surpluses have been linked to
LME deliverable/class I nickel but in
2023 the surplus will be mainly due to
class II and nickel chemicals (principally
nickel sulphate).'
The latest Commodity Markets
Outlook report published by the World
Bank in October 2022 expresses similar
concerns about falling demand from
the stainless steel sector amid rising
nickel and stainless steel production in
Indonesia. The Financial Times reports
'Indonesia is studying the establish-
ment of an OPEC-like cartel for nickel
Nickel market looks for stability
The 'bulls' and 'bears' are fighting without any visible
winner. Additionally, the future of Russian material
remains unclear as an outright ban on exports to the EU and those partners
supporting Ukraine could merely redirect most of the material to China at a
discount. Meanwhile, other buyers would face issues in securing finance.
The biggest 'bear', however, is the sluggish expectation for the nickel
demand in the western world for the fourth quarter of 2022 and rising NPI
production in Indonesia, which inevitably will lead to a massive surplus in
2022.
The strongest 'bull' is surprisingly strong stainless steel production in China
where crude steel output could reach almost nine million tonnes in the
fourth quarter of 2022 as well as the further strong growth of nickel use in
e-car batteries.
Reference date: November 4, 2022
63recyclinginternational.com | November/December | 2022
and other key battery metals, high-
lighting the geopolitical confidence of
nations that are rich in resources need-
ed to make electric cars'. The World
Bank report also raises concerns about
alternative EV battery technologies in
development that do not rely on nick-
el: 'A longer term risk is that nickel
demand (and prices) could ease as
non-nickel alternatives for batteries are
developed, such as lithium-iron-phos-
phate (LPF), which have been increas-
ingly dominating the EV market in
China. Other battery makers are also
exploring LFP or other technologies,
such as sodium-ion.' As a result, the
bank is projecting the average nickel
price will decline 16% in 2023 to US$
21 000 per tonne.
62-63_manickelstainless.indd 63 09-11-2022 11:48