Recycling International November/December issue | 2022
Subscribe
Page 62 from: Recycling International November/December issue | 2022
MARKET ANALYSIS Markets riddled with uncertainty Falling stainless steel output, Covid shutdowns in China, rising interest rates, soar- ing energy costs in Europe, trade barriers and nickel surpluses all add to the uncertainty facing ...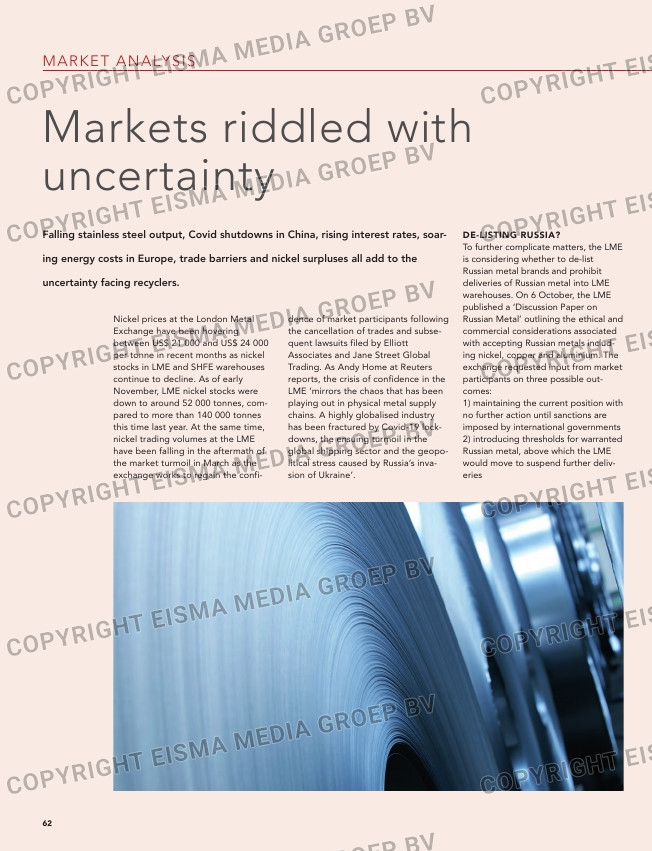 MARKET ANALYSIS
Markets riddled with
uncertainty
Falling stainless steel output, Covid shutdowns in China, rising interest rates, soar-
ing energy costs in Europe, trade barriers and nickel surpluses all add to the
uncertainty facing recyclers.
3) suspend the warranting of Russian
metal in LME warehouses either imme-
diately, following a notice period, or
after a specified date.
For nickel and stainless steel recy-
clers, the potential market disrup-
tions caused by re-directed ship-
ments of Russian primary metal could
generate significant unintended con-
sequences including displaced
demand for recycled materials in cer-
tain markets.
FALLING PRODUCTION
Amid widespread expectations for
weaker global economic growth and
consumer demand in the near term at
least, stainless steel production has
slowed sharply across the major indus-
trialised economies this year.
According to the latest estimates from
worldstainless (formerly the
International Stainless Steel Forum),
global stainless steel meltshop produc-
tion declined 3.5% year-on-year in the
first half of 2022 to less than 29 million
tonnes. Among the major stainless pro-
ducers, worldsteel reports Chinese
stainless steel production declined
5.3% during the first half of the year,
while output in the United States and
Europe declined 14.7% and 5.2%,
respectively.
Rising energy costs stemming from the
war in Ukraine have raised concerns
that there will be additional metal pro-
duction curtailments in Europe. In the
US, the drop in output has been
accompanied by falling levels of capac-
ity utilisation, with the American Iron
and Steel Institute reporting US steel
industry capacity utilisation rate
dipped below 75% in late October,
down from more than 83% one year
ago. In contrast, stainless steel produc-
tion in 'other countries' including
Indonesia, South Korea, and Brazil
advanced by a combined 3.3% in the
first half of 2022.
SURPLUSES AND WEAKER
PRICES
Looking forward, the International
Nickel Study Group expects negative
growth in the stainless steel sector and
increasing usage of nickel in batteries
for electric vehicles. In 2023, INSG is
DE-LISTING RUSSIA?
To further complicate matters, the LME
is considering whether to de-list
Russian metal brands and prohibit
deliveries of Russian metal into LME
warehouses. On 6 October, the LME
published a 'Discussion Paper on
Russian Metal' outlining the ethical and
commercial considerations associated
with accepting Russian metals includ-
ing nickel, copper and aluminium. The
exchange requested input from market
participants on three possible out-
comes:
1) maintaining the current position with
no further action until sanctions are
imposed by international governments
2) introducing thresholds for warranted
Russian metal, above which the LME
would move to suspend further deliv-
eries
62
Nickel prices at the London Metal
Exchange have been hovering
between US$ 21 000 and US$ 24 000
per tonne in recent months as nickel
stocks in LME and SHFE warehouses
continue to decline. As of early
November, LME nickel stocks were
down to around 52 000 tonnes, com-
pared to more than 140 000 tonnes
this time last year. At the same time,
nickel trading volumes at the LME
have been falling in the aftermath of
the market turmoil in March as the
exchange works to regain the confi-
dence of market participants following
the cancellation of trades and subse-
quent lawsuits filed by Elliott
Associates and Jane Street Global
Trading. As Andy Home at Reuters
reports, the crisis of confidence in the
LME 'mirrors the chaos that has been
playing out in physical metal supply
chains. A highly globalised industry
has been fractured by Covid-19 lock-
downs, the ensuing turmoil in the
global shipping sector and the geopo-
litical stress caused by Russia's inva-
sion of Ukraine'.
62-63_manickelstainless.indd 62 09-11-2022 11:48