Recycling International November/December issue | 2022
Subscribe
Page 54 from: Recycling International November/December issue | 2022
54 WALES MOVES ON POLYSTYRENE PACKAGING Wales is planning to outlaw polystyrene fast-food containers and cups in the latest package of legis- lation to tackle single use plastic products. In 2011, Wales was one of the first countries in...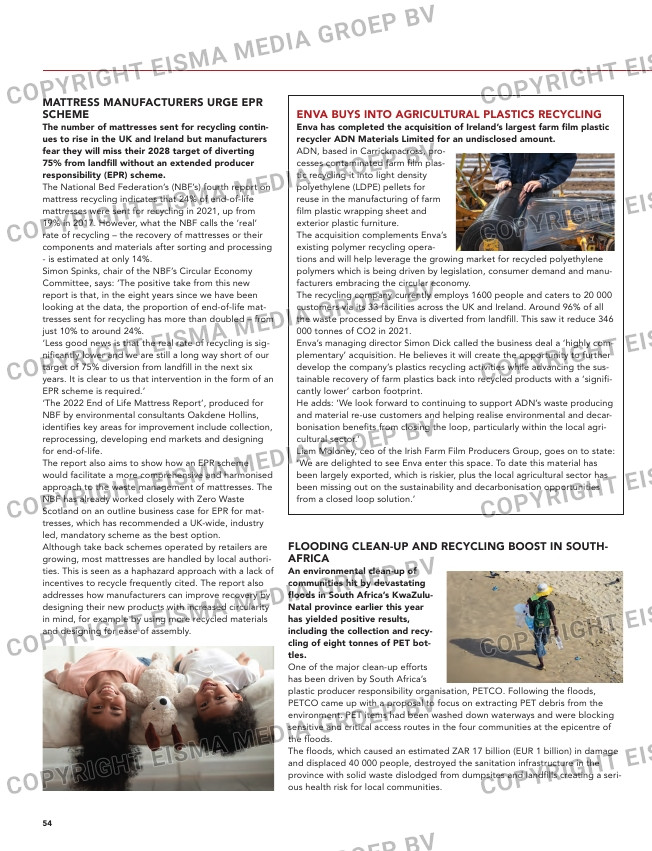 54
WALES MOVES ON POLYSTYRENE
PACKAGING
Wales is planning to outlaw polystyrene fast-food
containers and cups in the latest package of legis-
lation to tackle single use plastic products.
In 2011, Wales was one of the first countries in the
world to introduce a charge for single-use carrier
bags, and it is currently ranked as the world's third
best domestic recycler.
Now, it is set to become the first part of the UK to
legislate against such a comprehensive list of single-
use plastics. The legislation will make it an offence
to supply or offer to supply littered and unnecessary
disposable single-use plastic products to consumers
in Wales.
It provides local authorities with powers to enforce
the offence, and includes:
• cutlery
• plates
• stirrers
• drinking straws – this product has an exemption
for health needs
• plastic stemmed cotton buds
• balloon sticks
• expanded and foamed extruded polystyrene fast-
food containers
• expanded and foamed extruded polystyrene cups
• polystyrene lids for all cups and fast-food contain-
ers
• thin plastic single-use carrier bags
• all products made of oxo-degradable plastic
The decision to include these products follows a
consultation in 2020, with all having non-plastic or
reusable alternatives. Ministers will also have the
power to add or remove products.
ENVA BUYS INTO AGRICULTURAL PLASTICS RECYCLING
Enva has completed the acquisition of Ireland's largest farm film plastic
recycler ADN Materials Limited for an undisclosed amount.
ADN, based in Carrickmacross, pro-
cesses contaminated farm film plas-
tic recycling it into light density
polyethylene (LDPE) pellets for
reuse in the manufacturing of farm
film plastic wrapping sheet and
exterior plastic furniture.
The acquisition complements Enva's
existing polymer recycling opera-
tions and will help leverage the growing market for recycled polyethylene
polymers which is being driven by legislation, consumer demand and manu-
facturers embracing the circular economy.
The recycling company currently employs 1600 people and caters to 20 000
customers via its 33 facilities across the UK and Ireland. Around 96% of all
the waste processed by Enva is diverted from landfill. This saw it reduce 346
000 tonnes of CO2 in 2021.
Enva's managing director Simon Dick called the business deal a 'highly com-
plementary' acquisition. He believes it will create the opportunity to further
develop the company's plastics recycling activities while advancing the sus-
tainable recovery of farm plastics back into recycled products with a 'signifi-
cantly lower' carbon footprint.
He adds: 'We look forward to continuing to support ADN's waste producing
and material re-use customers and helping realise environmental and decar-
bonisation benefits from closing the loop, particularly within the local agri-
cultural sector.'
Liam Moloney, ceo of the Irish Farm Film Producers Group, goes on to state:
'We are delighted to see Enva enter this space. To date this material has
been largely exported, which is riskier, plus the local agricultural sector has
been missing out on the sustainability and decarbonisation opportunities
from a closed loop solution.'
MATTRESS MANUFACTURERS URGE EPR
SCHEME
The number of mattresses sent for recycling contin-
ues to rise in the UK and Ireland but manufacturers
fear they will miss their 2028 target of diverting
75% from landfill without an extended producer
responsibility (EPR) scheme.
The National Bed Federation's (NBF's) fourth report on
mattress recycling indicates that 24% of end-of-life
mattresses were sent for recycling in 2021, up from
19% in 2017. However, what the NBF calls the 'real'
rate of recycling – the recovery of mattresses or their
components and materials after sorting and processing
– is estimated at only 14%.
Simon Spinks, chair of the NBF's Circular Economy
Committee, says: 'The positive take from this new
report is that, in the eight years since we have been
looking at the data, the proportion of end-of-life mat-
tresses sent for recycling has more than doubled – from
just 10% to around 24%.
'Less good news is that the real rate of recycling is sig-
nificantly lower and we are still a long way short of our
target of 75% diversion from landfill in the next six
years. It is clear to us that intervention in the form of an
EPR scheme is required.'
'The 2022 End of Life Mattress Report', produced for
NBF by environmental consultants Oakdene Hollins,
identifies key areas for improvement include collection,
reprocessing, developing end markets and designing
for end-of-life.
The report also aims to show how an EPR scheme
would facilitate a more comprehensive and harmonised
approach to the waste management of mattresses. The
NBF has already worked closely with Zero Waste
Scotland on an outline business case for EPR for mat-
tresses, which has recommended a UK-wide, industry
led, mandatory scheme as the best option.
Although take back schemes operated by retailers are
growing, most mattresses are handled by local authori-
ties. This is seen as a haphazard approach with a lack of
incentives to recycle frequently cited. The report also
addresses how manufacturers can improve recovery by
designing their new products with increased circularity
in mind, for example by using more recycled materials
and designing for ease of assembly.
FLOODING CLEAN-UP AND RECYCLING BOOST IN SOUTH-
AFRICA
An environmental clean-up of
communities hit by devastating
floods in South Africa's KwaZulu-
Natal province earlier this year
has yielded positive results,
including the collection and recy-
cling of eight tonnes of PET bot-
tles.
One of the major clean-up efforts
has been driven by South Africa's
plastic producer responsibility organisation, PETCO. Following the floods,
PETCO came up with a proposal to focus on extracting PET debris from the
environment. PET items had been washed down waterways and were blocking
sensitive and critical access routes in the four communities at the epicentre of
the floods.
The floods, which caused an estimated ZAR 17 billion (EUR 1 billion) in damage
and displaced 40 000 people, destroyed the sanitation infrastructure in the
province with solid waste dislodged from dumpsites and landfills creating a seri-
ous health risk for local communities.
52-53-54-55_trendsupdatesii.indd 54 09-11-2022 15:29