Recycling International November/December issue | 2022
Subscribe
Page 53 from: Recycling International November/December issue | 2022
TRENDS & UPDATES 53recyclinginternational.com | November/December | 2022 ZWE: PRIORITISE MECHANICAL RECYCLING New research suggests that mechanical recycling of plas- tics generates only one-ninth the greenhouse gas (GHG) emissio...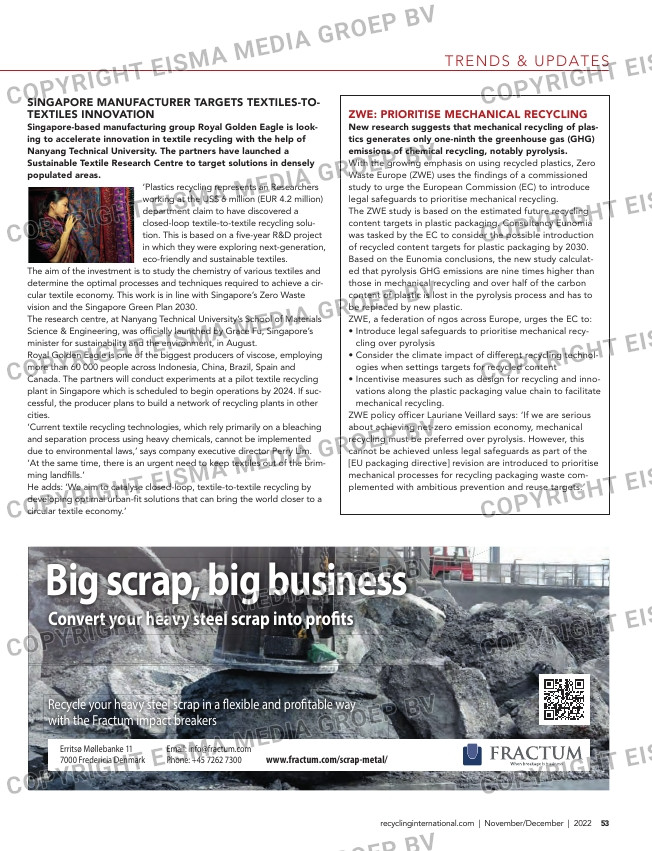 TRENDS & UPDATES
53recyclinginternational.com | November/December | 2022
ZWE: PRIORITISE MECHANICAL RECYCLING
New research suggests that mechanical recycling of plas-
tics generates only one-ninth the greenhouse gas (GHG)
emissions of chemical recycling, notably pyrolysis.
With the growing emphasis on using recycled plastics, Zero
Waste Europe (ZWE) uses the findings of a commissioned
study to urge the European Commission (EC) to introduce
legal safeguards to prioritise mechanical recycling.
The ZWE study is based on the estimated future recycling
content targets in plastic packaging. Consultancy Eunomia
was tasked by the EC to consider the possible introduction
of recycled content targets for plastic packaging by 2030.
Based on the Eunomia conclusions, the new study calculat-
ed that pyrolysis GHG emissions are nine times higher than
those in mechanical recycling and over half of the carbon
content of plastic is lost in the pyrolysis process and has to
be replaced by new plastic.
ZWE, a federation of ngos across Europe, urges the EC to:
• Introduce legal safeguards to prioritise mechanical recy-
cling over pyrolysis
• Consider the climate impact of different recycling technol-
ogies when settings targets for recycled content
• Incentivise measures such as design for recycling and inno-
vations along the plastic packaging value chain to facilitate
mechanical recycling.
ZWE policy officer Lauriane Veillard says: 'If we are serious
about achieving net-zero emission economy, mechanical
recycling must be preferred over pyrolysis. However, this
cannot be achieved unless legal safeguards as part of the
[EU packaging directive] revision are introduced to prioritise
mechanical processes for recycling packaging waste com-
plemented with ambitious prevention and reuse targets.'
Big scrap, big business
Convert your heavy steel scrap into profits

Recycle your heavy steel scrap in a flexible and profitable way
with the Fractum impact breakers
Erritsø Møllebanke 11
7000 Fredericia Denmark
Email: [email protected]
Phone: +45 7262 7300 www.fractum.com/scrap-metal/

ENTREPRENEUR'S VISION OF A
WORLD WITHOUT WASTE
Indian start-up TrashCon has created a sorting
system that can process up to 200 tonnes of
waste per day. 'Our TrashBot can run for 24
hours, non-stop,' says company founder and
ceo Nivedha Ram.
TrashCon is setting up a 'mega-sized' recycling
plant in Bangalore, capable of processing 500
tonnes of metals, plastics, glass and fibre (includ-
ing hygiene products) every day. This comple-
ments the existing 16 automatic sorting plants
running in six different states across the country.
After processing, the wet waste left over is con-
verted into compost, biogas or fuel. The valuable
metallic fractions can be recovered and smelted
while the heavily contaminated plastic scrap repre-
sents an 'undesirable' fraction. TrashCon has cre-
ated a machine that transforms this waste stream
into plywood-like sheets. These can be turned into
sustainable furniture and building materials.
By substituting wood with recycled plastic, the
start-up is also hoping to help fight deforestation.
'We're essentially tackling multiple problems at
the same time,' Ram says.
Her innovation, based on a proprietary technolo-
gy, could make all the difference for India's grow-
ing waste problem. Plastic waste alone is said to
have doubled in the last five years. The nation
generated almost 3.5 million tonnes of plastic
scrap in 2020; of which only around 30% is recy-
cled. Moreover, an estimated 95% of India's
municipal solid waste is not separated for recy-
cling.
Ultimately, the bulk is still landfilled and incinerat-
ed, Ram laments. She aims to scale up TrashBot's
operations in the short term, eager to hit 25 mil-
lion tonnes of waste recycled per year by 2025.
The entrepreneur, who was invited to Davos in
January to pitch her solution to the World
Economic Forum, insists she is driven by a 'very
simple dream'. She says: 'I hope I can tell my
daughter, 20 years down the line: "Once upon a
time, there was trash." And for my daughter to
answer: "Mama, what is trash?"'
SINGAPORE MANUFACTURER TARGETS TEXTILES-TO-
TEXTILES INNOVATION
Singapore-based manufacturing group Royal Golden Eagle is look-
ing to accelerate innovation in textile recycling with the help of
Nanyang Technical University. The partners have launched a
Sustainable Textile Research Centre to target solutions in densely
populated areas.
'Plastics recycling represents an Researchers
working at the US$ 6 million (EUR 4.2 million)
department claim to have discovered a
closed-loop textile-to-textile recycling solu-
tion. This is based on a five-year R&D project
in which they were exploring next-generation,
eco-friendly and sustainable textiles.
The aim of the investment is to study the chemistry of various textiles and
determine the optimal processes and techniques required to achieve a cir-
cular textile economy. This work is in line with Singapore's Zero Waste
vision and the Singapore Green Plan 2030.
The research centre, at Nanyang Technical University's School of Materials
Science & Engineering, was officially launched by Grace Fu, Singapore's
minister for sustainability and the environment, in August.
Royal Golden Eagle is one of the biggest producers of viscose, employing
more than 60 000 people across Indonesia, China, Brazil, Spain and
Canada. The partners will conduct experiments at a pilot textile recycling
plant in Singapore which is scheduled to begin operations by 2024. If suc-
cessful, the producer plans to build a network of recycling plants in other
cities.
'Current textile recycling technologies, which rely primarily on a bleaching
and separation process using heavy chemicals, cannot be implemented
due to environmental laws,' says company executive director Perry Lim.
'At the same time, there is an urgent need to keep textiles out of the brim-
ming landfills.'
He adds: 'We aim to catalyse closed-loop, textile-to-textile recycling by
developing optimal urban-fit solutions that can bring the world closer to a
circular textile economy.'
52-53-54-55_trendsupdatesii.indd 53 09-11-2022 15:28