Recycling International November/December issue | 2022
Subscribe
Page 50 from: Recycling International November/December issue | 2022
50 Plastics today, tomorrow and beyond The wide world of plastic offers many contradictions. Bottle-to-bottle recycling counts as a big success with polyethylene terephthalate (PET) hailed as one of the easiest recovered materials. A...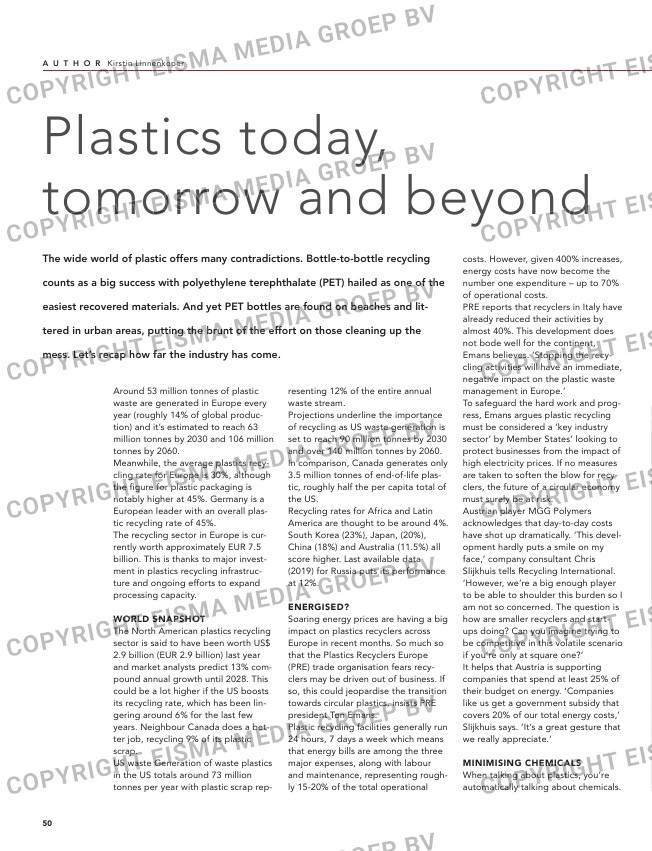 50
Plastics today,
tomorrow and beyond
The wide world of plastic offers many contradictions. Bottle-to-bottle recycling
counts as a big success with polyethylene terephthalate (PET) hailed as one of the
easiest recovered materials. And yet PET bottles are found on beaches and lit-
tered in urban areas, putting the brunt of the effort on those cleaning up the
mess. Let's recap how far the industry has come.
Flame retardants within plastics have
long been a concern and Slijkhuis has
been lobbying on behalf of recyclers
for a long time to ensure official tar-
gets allow for effective recycling.
'They are still being used. Luckily, a lot
of them have been analysed and
approved, though some legacy prod-
ucts contain chemicals of concern.
'Our industry has come a long way.
Our XRF equipment can detect the
presence of chemicals with a high
level of accuracy.' One issue of con-
cern is what Slijkhuis refers to as
'regrettable substitutions'. 'Producers
may switch the ingredients around,'
he explains. 'They could be either
good or bad chemicals but the recy-
cling technology available on-site can-
not differentiate between them.'
One answer is to send samples to an
independent laboratory but this can
be both time-consuming and very
Around 53 million tonnes of plastic
waste are generated in Europe every
year (roughly 14% of global produc-
tion) and it's estimated to reach 63
million tonnes by 2030 and 106 million
tonnes by 2060.
Meanwhile, the average plastics recy-
cling rate for Europe is 30%, although
the figure for plastic packaging is
notably higher at 45%. Germany is a
European leader with an overall plas-
tic recycling rate of 45%.
The recycling sector in Europe is cur-
rently worth approximately EUR 7.5
billion. This is thanks to major invest-
ment in plastics recycling infrastruc-
ture and ongoing efforts to expand
processing capacity.
WORLD SNAPSHOT
The North American plastics recycling
sector is said to have been worth US$
2.9 billion (EUR 2.9 billion) last year
and market analysts predict 13% com-
pound annual growth until 2028. This
could be a lot higher if the US boosts
its recycling rate, which has been lin-
gering around 6% for the last few
years. Neighbour Canada does a bet-
ter job, recycling 9% of its plastic
scrap.
US waste Generation of waste plastics
in the US totals around 73 million
tonnes per year with plastic scrap rep-
resenting 12% of the entire annual
waste stream.
Projections underline the importance
of recycling as US waste generation is
set to reach 90 million tonnes by 2030
and over 140 million tonnes by 2060.
In comparison, Canada generates only
3.5 million tonnes of end-of-life plas-
tic, roughly half the per capita total of
the US.
Recycling rates for Africa and Latin
America are thought to be around 4%.
South Korea (23%), Japan, (20%),
China (18%) and Australia (11.5%) all
score higher. Last available data
(2019) for Russia puts its performance
at 12%.
ENERGISED?
Soaring energy prices are having a big
impact on plastics recyclers across
Europe in recent months. So much so
that the Plastics Recyclers Europe
(PRE) trade organisation fears recy-
clers may be driven out of business. If
so, this could jeopardise the transition
towards circular plastics, insists PRE
president Ton Emans.
Plastic recycling facilities generally run
24 hours, 7 days a week which means
that energy bills are among the three
major expenses, along with labour
and maintenance, representing rough-
ly 15-20% of the total operational
costs. However, given 400% increases,
energy costs have now become the
number one expenditure – up to 70%
of operational costs.
PRE reports that recyclers in Italy have
already reduced their activities by
almost 40%. This development does
not bode well for the continent,
Emans believes. 'Stopping the recy-
cling activities will have an immediate,
negative impact on the plastic waste
management in Europe.'
To safeguard the hard work and prog-
ress, Emans argues plastic recycling
must be considered a 'key industry
sector' by Member States' looking to
protect businesses from the impact of
high electricity prices. If no measures
are taken to soften the blow for recy-
clers, the future of a circular economy
must surely be at risk.
Austrian player MGG Polymers
acknowledges that day-to-day costs
have shot up dramatically. 'This devel-
opment hardly puts a smile on my
face,' company consultant Chris
Slijkhuis tells Recycling International.
'However, we're a big enough player
to be able to shoulder this burden so I
am not so concerned. The question is
how are smaller recyclers and start-
ups doing? Can you imagine trying to
be competitive in this volatile scenario
if you're only at square one?'
It helps that Austria is supporting
companies that spend at least 25% of
their budget on energy. 'Companies
like us get a government subsidy that
covers 20% of our total energy costs,'
Slijkhuis says. 'It's a great gesture that
we really appreciate.'
MINIMISING CHEMICALS
When talking about plastics, you're
automatically talking about chemicals.
A U T H O R Kirstin Linnenkoper
50-51_plasticssp_globaltrends.indd 50 09-11-2022 11:46