Recycling International November/December issue | 2022
Subscribe
Page 49 from: Recycling International November/December issue | 2022
49recyclinginternational.com | November/December | 2022 PLASTICS SPECIAL Recyclers want big bite of e-plastics cake interruptions across the industry value chain, including at BoMet. It doesn't help that plastics and discarded e...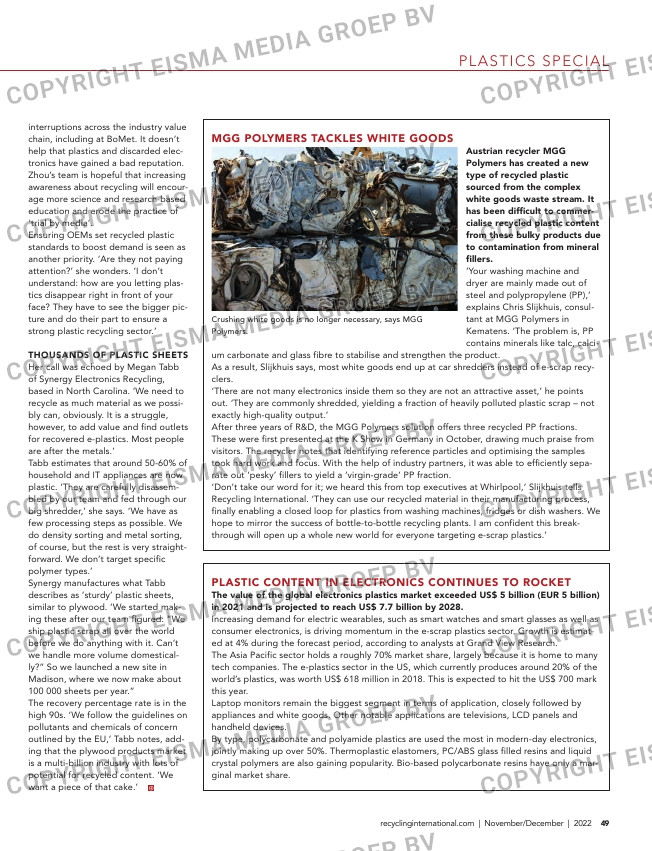 49recyclinginternational.com | November/December | 2022
PLASTICS SPECIAL
Recyclers want big bite
of e-plastics cake
interruptions across the industry value
chain, including at BoMet. It doesn't
help that plastics and discarded elec-
tronics have gained a bad reputation.
Zhou's team is hopeful that increasing
awareness about recycling will encour-
age more science and research-based
education and erode the practice of
'trial by media'.
Ensuring OEMs set recycled plastic
standards to boost demand is seen as
another priority. 'Are they not paying
attention?' she wonders. 'I don't
understand: how are you letting plas-
tics disappear right in front of your
face? They have to see the bigger pic-
ture and do their part to ensure a
strong plastic recycling sector.'
THOUSANDS OF PLASTIC SHEETS
Her call was echoed by Megan Tabb
of Synergy Electronics Recycling,
based in North Carolina. 'We need to
recycle as much material as we possi-
bly can, obviously. It is a struggle,
however, to add value and find outlets
for recovered e-plastics. Most people
are after the metals.'
Tabb estimates that around 50-60% of
household and IT appliances are now
plastic. 'They are carefully disassem-
bled by our team and fed through our
big shredder,' she says. 'We have as
few processing steps as possible. We
do density sorting and metal sorting,
of course, but the rest is very straight-
forward. We don't target specific
polymer types.'
Synergy manufactures what Tabb
describes as 'sturdy' plastic sheets,
similar to plywood. 'We started mak-
ing these after our team figured: "We
ship plastic scrap all over the world
before we do anything with it. Can't
we handle more volume domestical-
ly?" So we launched a new site in
Madison, where we now make about
100 000 sheets per year."
The recovery percentage rate is in the
high 90s. 'We follow the guidelines on
pollutants and chemicals of concern
outlined by the EU,' Tabb notes, add-
ing that the plywood products market
is a multi-billion industry with lots of
potential for recycled content. 'We
want a piece of that cake.'
Fotobijschrift
KADERKOP
??
MGG POLYMERS TACKLES WHITE GOODS
Austrian recycler MGG
Polymers has created a new
type of recycled plastic
sourced from the complex
white goods waste stream. It
has been difficult to commer-
cialise recycled plastic content
from these bulky products due
to contamination from mineral
fillers.
'Your washing machine and
dryer are mainly made out of
steel and polypropylene (PP),'
explains Chris Slijkhuis, consul-
tant at MGG Polymers in
Kematens. 'The problem is, PP
contains minerals like talc, calci-
um carbonate and glass fibre to stabilise and strengthen the product.
As a result, Slijkhuis says, most white goods end up at car shredders instead of e-scrap recy-
clers.
'There are not many electronics inside them so they are not an attractive asset,' he points
out. 'They are commonly shredded, yielding a fraction of heavily polluted plastic scrap – not
exactly high-quality output.'
After three years of R&D, the MGG Polymers solution offers three recycled PP fractions.
These were first presented at the K Show in Germany in October, drawing much praise from
visitors. The recycler notes that identifying reference particles and optimising the samples
took hard work and focus. With the help of industry partners, it was able to efficiently sepa-
rate out 'pesky' fillers to yield a 'virgin-grade' PP fraction.
'Don't take our word for it; we heard this from top executives at Whirlpool,' Slijkhuis tells
Recycling International. 'They can use our recycled material in their manufacturing process,
finally enabling a closed loop for plastics from washing machines, fridges or dish washers. We
hope to mirror the success of bottle-to-bottle recycling plants. I am confident this break-
through will open up a whole new world for everyone targeting e-scrap plastics.'
PLASTIC CONTENT IN ELECTRONICS CONTINUES TO ROCKET
The value of the global electronics plastics market exceeded US$ 5 billion (EUR 5 billion)
in 2021 and is projected to reach US$ 7.7 billion by 2028.
Increasing demand for electric wearables, such as smart watches and smart glasses as well as
consumer electronics, is driving momentum in the e-scrap plastics sector. Growth is estimat-
ed at 4% during the forecast period, according to analysts at Grand View Research.
The Asia Pacific sector holds a roughly 70% market share, largely because it is home to many
tech companies. The e-plastics sector in the US, which currently produces around 20% of the
world's plastics, was worth US$ 618 million in 2018. This is expected to hit the US$ 700 mark
this year.
Laptop monitors remain the biggest segment in terms of application, closely followed by
appliances and white goods. Other notable applications are televisions, LCD panels and
handheld devices.
By type, polycarbonate and polyamide plastics are used the most in modern-day electronics,
jointly making up over 50%. Thermoplastic elastomers, PC/ABS glass filled resins and liquid
crystal polymers are also gaining popularity. Bio-based polycarbonate resins have only a mar-
ginal market share.
Crushing white goods is no longer necessary, says MGG
Polymers.
48-49_plasticssp_e-scrapplastics.indd 49 09-11-2022 11:45