Recycling International November issue | 2022
Subscribe
Page 45 from: Recycling International November issue | 2022
45recyclinginternational.com | November/December | 2022 PLASTICS SPECIAL a partner to advance PET recycling. 'We have officially joined forces to offer PET plastic recyclers a complete front and back-end solution for sort- ing pl...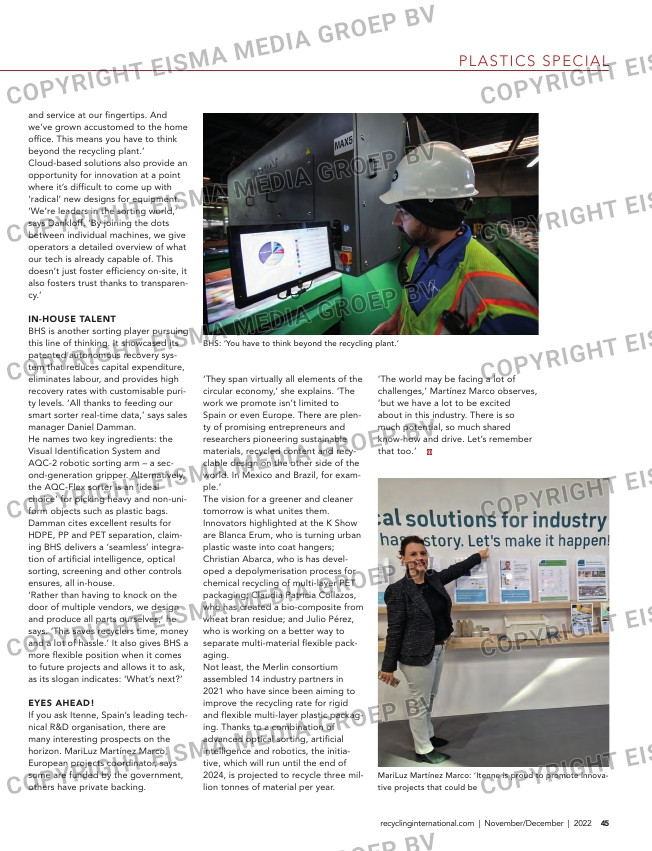 45recyclinginternational.com | November/December | 2022
PLASTICS SPECIAL
a partner to advance PET recycling.
'We have officially joined forces to
offer PET plastic recyclers a complete
front and back-end solution for sort-
ing plastic bottles and flakes,' says
Florence Champ, marketing manager
at Pellenc.
She explains the collaboration will
allow clients to get 'the best of both
worlds' by uniting Bühler's PET flake
sorting solutions: the Sortex N
PolyVision and the Sortex A
GlowVision, as well as Pellenc's
Mistral+ Connect bottle sorter.
Citing a surge in activity in the North
American plastics recycling market,
Champ says the region is the first to
have an official agent agreement
between Pellenc and Bühler. The tech
providers will open a demonstration
plant in November.
Champ also points out that Pellenc is
taking part in the HolyGrail R&D proj-
ect with cloud-based software compa-
ny Digimarc. 'We want to combine
intelligent sorting and digital water-
marking technology to effectively sort
out watermarked products mixed into
the standard waste stream,' she notes.
As well as installing new sorting solu-
tions for a client in Christchurch, New
Zealand, Pellenc's product engineers
have not been sitting still. The brand
launched Compact+ in September to
address complex sorting tasks in a
tight space. Its modular design makes
it an 'ideal candidate' for quick and
easy retrofitting of an existing line.
JOINING THE DOTS
Recycling technology for any com-
modity, including plastics, isn't merely
about 'giant leaps' forward, argues
Bart Dankloff, sales representative at
Bühler. 'You'll notice a lot of compa-
nies are upgrading tech released a
few years ago,' he says. 'Whether
you're talking about balers, sorters,
shears or shredders, it's all about fine-
tuning based on market feedback.
Showing you're listening makes clients
happy and keeps them coming back.'
At the moment, most recyclers are
asking for integrated systems. 'Data is
everything. In this way, the recycling
industry mirrors our everyday life.
We're used to having any information
and service at our fingertips. And
we've grown accustomed to the home
office. This means you have to think
beyond the recycling plant.'
Cloud-based solutions also provide an
opportunity for innovation at a point
where it's difficult to come up with
'radical' new designs for equipment.
'We're leaders in the sorting world,'
says Dankloff. 'By joining the dots
between individual machines, we give
operators a detailed overview of what
our tech is already capable of. This
doesn't just foster efficiency on-site, it
also fosters trust thanks to transparen-
cy.'
IN-HOUSE TALENT
BHS is another sorting player pursuing
this line of thinking. It showcased its
patented autonomous recovery sys-
tem that reduces capital expenditure,
eliminates labour, and provides high
recovery rates with customisable puri-
ty levels. 'All thanks to feeding our
smart sorter real-time data,' says sales
manager Daniel Damman.
He names two key ingredients: the
Visual Identification System and
AQC-2 robotic sorting arm – a sec-
ond-generation gripper. Alternatively,
the AQC-Flex sorter is an 'ideal
choice' for picking heavy and non-uni-
form objects such as plastic bags.
Damman cites excellent results for
HDPE, PP and PET separation, claim-
ing BHS delivers a 'seamless' integra-
tion of artificial intelligence, optical
sorting, screening and other controls
ensures, all in-house.
'Rather than having to knock on the
door of multiple vendors, we design
and produce all parts ourselves,' he
says. 'This saves recyclers time, money
and a lot of hassle.' It also gives BHS a
more flexible position when it comes
to future projects and allows it to ask,
as its slogan indicates: 'What's next?'
EYES AHEAD!
If you ask Itenne, Spain's leading tech-
nical R&D organisation, there are
many interesting prospects on the
horizon. MariLuz Martínez Marco,
European projects coordinator, says
some are funded by the government,
others have private backing.
'They span virtually all elements of the
circular economy,' she explains. 'The
work we promote isn't limited to
Spain or even Europe. There are plen-
ty of promising entrepreneurs and
researchers pioneering sustainable
materials, recycled content and recy-
clable design on the other side of the
world. In Mexico and Brazil, for exam-
ple.'
The vision for a greener and cleaner
tomorrow is what unites them.
Innovators highlighted at the K Show
are Blanca Erum, who is turning urban
plastic waste into coat hangers;
Christian Abarca, who is has devel-
oped a depolymerisation process for
chemical recycling of multi-layer PET
packaging; Claudia Patricia Collazos,
who has created a bio-composite from
wheat bran residue; and Julio Pérez,
who is working on a better way to
separate multi-material flexible pack-
aging.
Not least, the Merlin consortium
assembled 14 industry partners in
2021 who have since been aiming to
improve the recycling rate for rigid
and flexible multi-layer plastic packag-
ing. Thanks to a combination of
advanced optical sorting, artificial
intelligence and robotics, the initia-
tive, which will run until the end of
2024, is projected to recycle three mil-
lion tonnes of material per year.
'The world may be facing a lot of
challenges,' Martínez Marco observes,
'but we have a lot to be excited
about in this industry. There is so
much potential, so much shared
know-how and drive. Let's remember
that too.'
BHS: 'You have to think beyond the recycling plant.'
MariLuz Martínez Marco: 'Itenne is proud to promote innova-
tive projects that could be
42-43-44-45_plasticssp_k-show.indd 45 09-11-2022 15:30