Recycling International November/December issue | 2022
Subscribe
Page 39 from: Recycling International November/December issue | 2022
CONFERENCE REPORT 39recyclinginternational.com | November/December | 2022 ute' and is planning build a 150 000 tonnes per year battery recycling plant in Europe by 2026. 'More details about this state-of-the-art battery hub wi...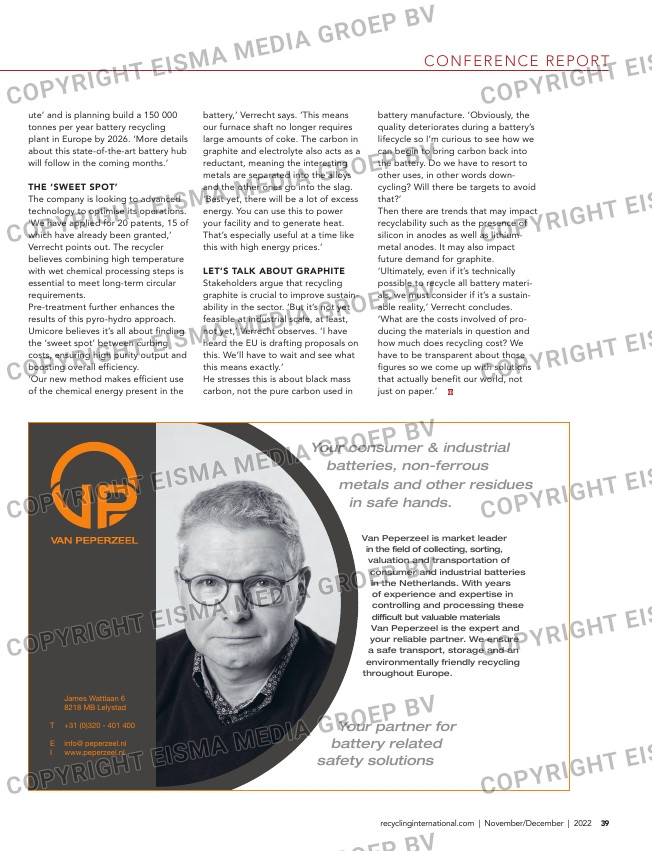 CONFERENCE REPORT
39recyclinginternational.com | November/December | 2022
ute' and is planning build a 150 000
tonnes per year battery recycling
plant in Europe by 2026. 'More details
about this state-of-the-art battery hub
will follow in the coming months.'
THE 'SWEET SPOT'
The company is looking to advanced
technology to optimise its operations.
'We have applied for 20 patents, 15 of
which have already been granted,'
Verrecht points out. The recycler
believes combining high temperature
with wet chemical processing steps is
essential to meet long-term circular
requirements.
Pre-treatment further enhances the
results of this pyro-hydro approach.
Umicore believes it's all about finding
the 'sweet spot' between curbing
costs, ensuring high purity output and
boosting overall efficiency.
'Our new method makes efficient use
of the chemical energy present in the
battery,' Verrecht says. 'This means
our furnace shaft no longer requires
large amounts of coke. The carbon in
graphite and electrolyte also acts as a
reductant, meaning the interesting
metals are separated into the alloys
and the other ones go into the slag.
'Best yet, there will be a lot of excess
energy. You can use this to power
your facility and to generate heat.
That's especially useful at a time like
this with high energy prices.'
LET'S TALK ABOUT GRAPHITE
Stakeholders argue that recycling
graphite is crucial to improve sustain-
ability in the sector. 'But it's not yet
feasible at industrial scale, at least,
not yet,' Verrecht observes. 'I have
heard the EU is drafting proposals on
this. We'll have to wait and see what
this means exactly.'
He stresses this is about black mass
carbon, not the pure carbon used in
also get a digital product passport.
We've often talked about this smart
tool and its potential to accurately map
the flow of the battery waste stream,
including materials used and players
involved. Will it finally become reality?'
At any rate, Katrakis expects both
recyclers and producers will have to
'roll up their sleeves' with the latter
probably taking responsibility for
take-back at end-of-life stage. 'They
would also be wise to create only
e-mobility products with a modular
design so batteries may be easily
inspected and removed. I know eco-
design is an overused concept but it's
a fact that 80% of the product's envi-
ronmental impacts are determined at
the design stage. Upcoming battery
regulation will have much stricter
design targets, I'm sure.'
Katrakis ended his review on a critical
note. 'So much is possible, but not if
thermal events [fires] keep happening.
Even if they are incidental, battery
fires cause a lot of damage, delays
and they hurt the reputation of our
sector as a whole. More effort is need-
ed to ensure safety is a top priority
rather than a side mission.'
'AGE OF AMBITION'
'A lot is being asked of us as recyclers
these days,' remarks Bart Verrecht of
Belgian precious metals processer
Umicore. He addressed an 'age of
ambition' theme at the Salzburg
assembly. 'I realise the targets out-
lined by the EU and trade associations
can seem like a lot to live up to.
Basically, you need to ensure an effec-
tive volume and mass reduction of
footprint on a massive scale, at least
one million tonnes per year.'
Umicore currently recycles around 7
000 tonnes of lithium-ion batteries at
its site in Hoboken each year – the
equivalent of 350 000 electric car bat-
teries. This includes production scrap
from battery and car manufacturers.
Umicore manages end-to-end recy-
cling, with a recycling rate of 95% for
nickel, cobalt and copper, and over
70% for battery-grade lithium.
'The route from urban mine to wheel
is not always easy,' Verrecht laments.
He says Umicore is 'eager to contrib-
battery manufacture. 'Obviously, the
quality deteriorates during a battery's
lifecycle so I'm curious to see how we
can begin to bring carbon back into
the battery. Do we have to resort to
other uses, in other words down-
cycling? Will there be targets to avoid
that?'
Then there are trends that may impact
recyclability such as the presence of
silicon in anodes as well as lithium-
metal anodes. It may also impact
future demand for graphite.
'Ultimately, even if it's technically
possible to recycle all battery materi-
als, we must consider if it's a sustain-
able reality,' Verrecht concludes.
'What are the costs involved of pro-
ducing the materials in question and
how much does recycling cost? We
have to be transparent about those
figures so we come up with solutions
that actually benefit our world, not
just on paper.'
Van Peperzeel is market leader
difficult but valuable materials
in the field of collecting, sorting,
valuation and transportation of
consumer and industrial batteries
in the Netherlands. With years
of experience and expertise in
controlling and processing these
Van Peperzeel is the expert and
your reliable partner. We ensure
a safe transport, storage and an
environmentally friendly recycling
throughout Europe.
Your consumer & industrial
batteries, non-ferrous

metals and other residues
in safe hands.

Van Peperzeel

our expertise

James Wattlaan 6
8218 MB Lelystad
T +31 (0)320 – 401 400
F +31 (0)320 – 401 409
Your partner for
battery related

safety solutions

E info@ peperzeel.nl
I www.
36-37-38-39_batteryrecyclingupdate.indd 39 09-11-2022 11:44