Recycling International November issue | 2022
Subscribe
Page 38 from: Recycling International November issue | 2022
38 'Our country's battery recycling is also projected to grow in the near future,' she adds quickly. In 2022, total pro- cessing capacity in China stood at 700 000 tonnes, realised by 16 operators. 'These parties have indicated...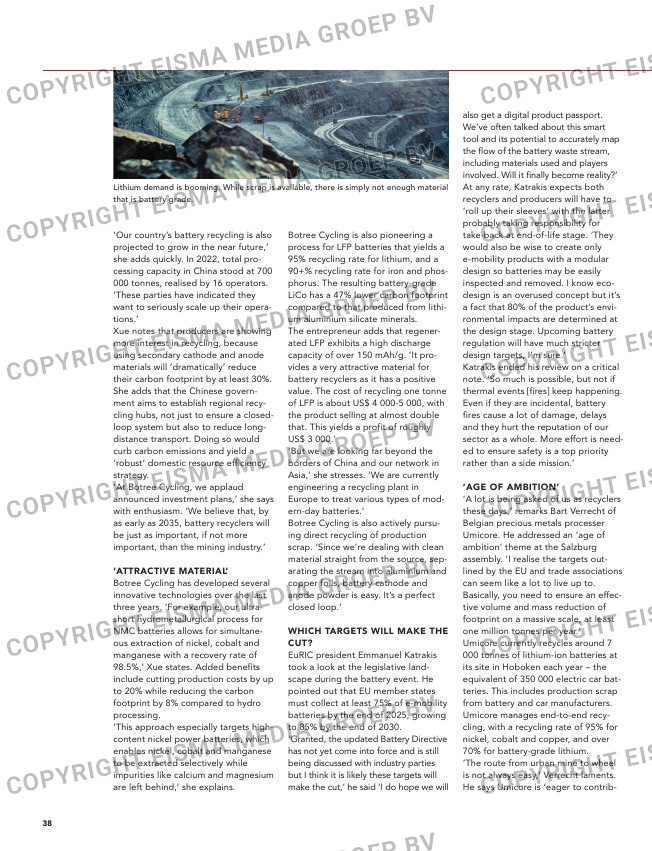 38
'Our country's battery recycling is also
projected to grow in the near future,'
she adds quickly. In 2022, total pro-
cessing capacity in China stood at 700
000 tonnes, realised by 16 operators.
'These parties have indicated they
want to seriously scale up their opera-
tions.'
Xue notes that producers are showing
more interest in recycling, because
using secondary cathode and anode
materials will 'dramatically' reduce
their carbon footprint by at least 30%.
She adds that the Chinese govern-
ment aims to establish regional recy-
cling hubs, not just to ensure a closed-
loop system but also to reduce long-
distance transport. Doing so would
curb carbon emissions and yield a
'robust' domestic resource efficiency
strategy.
'At Botree Cycling, we applaud
announced investment plans,' she says
with enthusiasm. 'We believe that, by
as early as 2035, battery recyclers will
be just as important, if not more
important, than the mining industry.'
'ATTRACTIVE MATERIAL'
Botree Cycling has developed several
innovative technologies over the last
three years. 'For example, our ultra-
short hydrometallurgical process for
NMC batteries allows for simultane-
ous extraction of nickel, cobalt and
manganese with a recovery rate of
98.5%,' Xue states. Added benefits
include cutting production costs by up
to 20% while reducing the carbon
footprint by 8% compared to hydro
processing.
'This approach especially targets high-
content nickel power batteries, which
enables nickel, cobalt and manganese
to be extracted selectively while
impurities like calcium and magnesium
are left behind,' she explains.
Botree Cycling is also pioneering a
process for LFP batteries that yields a
95% recycling rate for lithium, and a
90+% recycling rate for iron and phos-
phorus. The resulting battery-grade
LiCo has a 47% lower carbon footprint
compared to that produced from lithi-
um aluminium silicate minerals.
The entrepreneur adds that regener-
ated LFP exhibits a high discharge
capacity of over 150 mAh/g. 'It pro-
vides a very attractive material for
battery recyclers as it has a positive
value. The cost of recycling one tonne
of LFP is about US$ 4 000-5 000, with
the product selling at almost double
that. This yields a profit of roughly
US$ 3 000.'
'But we are looking far beyond the
borders of China and our network in
Asia,' she stresses. 'We are currently
engineering a recycling plant in
Europe to treat various types of mod-
ern-day batteries.'
Botree Cycling is also actively pursu-
ing direct recycling of production
scrap. 'Since we're dealing with clean
material straight from the source, sep-
arating the stream into aluminium and
copper foils, battery cathode and
anode powder is easy. It's a perfect
closed loop.'
WHICH TARGETS WILL MAKE THE
CUT?
EuRIC president Emmanuel Katrakis
took a look at the legislative land-
scape during the battery event. He
pointed out that EU member states
must collect at least 75% of e-mobility
batteries by the end of 2025, growing
to 85% by the end of 2030.
'Granted, the updated Battery Directive
has not yet come into force and is still
being discussed with industry parties
but I think it is likely these targets will
make the cut,' he said 'I do hope we will
also get a digital product passport.
We've often talked about this smart
tool and its potential to accurately map
the flow of the battery waste stream,
including materials used and players
involved. Will it finally become reality?'
At any rate, Katrakis expects both
recyclers and producers will have to
'roll up their sleeves' with the latter
probably taking responsibility for
take-back at end-of-life stage. 'They
would also be wise to create only
e-mobility products with a modular
design so batteries may be easily
inspected and removed. I know eco-
design is an overused concept but it's
a fact that 80% of the product's envi-
ronmental impacts are determined at
the design stage. Upcoming battery
regulation will have much stricter
design targets, I'm sure.'
Katrakis ended his review on a critical
note. 'So much is possible, but not if
thermal events [fires] keep happening.
Even if they are incidental, battery
fires cause a lot of damage, delays
and they hurt the reputation of our
sector as a whole. More effort is need-
ed to ensure safety is a top priority
rather than a side mission.'
'AGE OF AMBITION'
'A lot is being asked of us as recyclers
these days,' remarks Bart Verrecht of
Belgian precious metals processer
Umicore. He addressed an 'age of
ambition' theme at the Salzburg
assembly. 'I realise the targets out-
lined by the EU and trade associations
can seem like a lot to live up to.
Basically, you need to ensure an effec-
tive volume and mass reduction of
footprint on a massive scale, at least
one million tonnes per year.'
Umicore currently recycles around 7
000 tonnes of lithium-ion batteries at
its site in Hoboken each year – the
equivalent of 350 000 electric car bat-
teries. This includes production scrap
from battery and car manufacturers.
Umicore manages end-to-end recy-
cling, with a recycling rate of 95% for
nickel, cobalt and copper, and over
70% for battery-grade lithium.
'The route from urban mine to wheel
is not always easy,' Verrecht laments.
He says Umicore is 'eager to contrib-
Lithium demand is booming. While scrap is available, there is simply not enough material
that is battery grade.
36-37-38-39_batteryrecyclingupdate.indd 38 09-11-2022 11:44