Recycling International November issue | 2022
Subscribe
Page 34 from: Recycling International November issue | 2022
At ECOMONDO Panizzolo showcased its very best At Ecomondo 2022, Panizzolo Recycling Systems presented many technological innovations that help scrap companies to maximise production, reduce operating costs and achieve full re...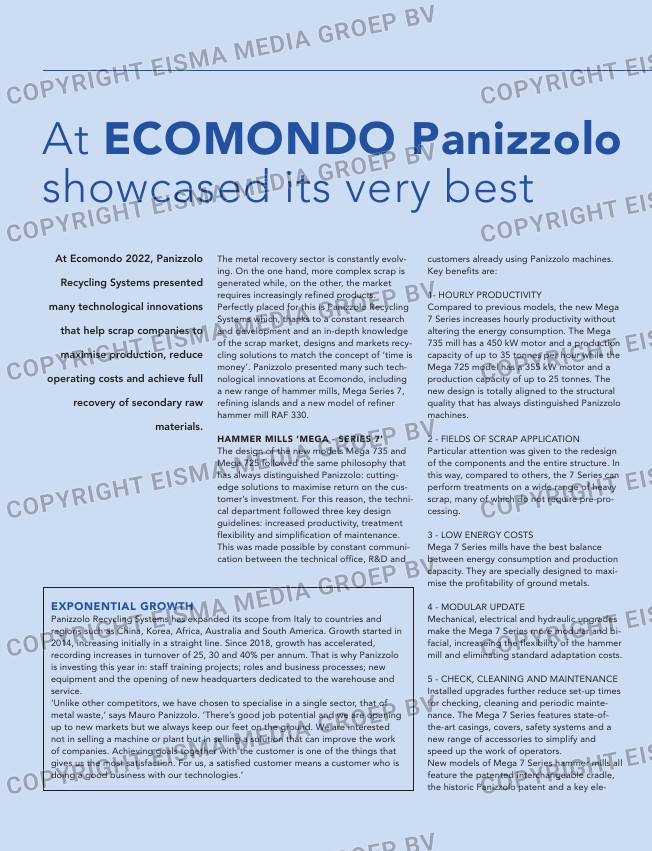 At ECOMONDO Panizzolo
showcased its very best
At Ecomondo 2022, Panizzolo
Recycling Systems presented
many technological innovations
that help scrap companies to
maximise production, reduce
operating costs and achieve full
recovery of secondary raw
materials.
The metal recovery sector is constantly evolv-
ing. On the one hand, more complex scrap is
generated while, on the other, the market
requires increasingly refined products.
Perfectly placed for this is Panizzolo Recycling
Systems which, thanks to a constant research
and development and an in-depth knowledge
of the scrap market, designs and markets recy-
cling solutions to match the concept of 'time is
money'. Panizzolo presented many such tech-
nological innovations at Ecomondo, including
a new range of hammer mills, Mega Series 7,
refining islands and a new model of refiner
hammer mill RAF 330.
HAMMER MILLS 'MEGA – SERIES 7'
The design of the new models Mega 735 and
Mega 725 followed the same philosophy that
has always distinguished Panizzolo: cutting-
edge solutions to maximise return on the cus-
tomer's investment. For this reason, the techni-
cal department followed three key design
guidelines: increased productivity, treatment
flexibility and simplification of maintenance.
This was made possible by constant communi-
cation between the technical office, R&D and
customers already using Panizzolo machines.
Key benefits are:
1- HOURLY PRODUCTIVITY
Compared to previous models, the new Mega
7 Series increases hourly productivity without
altering the energy consumption. The Mega
735 mill has a 450 kW motor and a production
capacity of up to 35 tonnes per hour while the
Mega 725 model has a 355 kW motor and a
production capacity of up to 25 tonnes. The
new design is totally aligned to the structural
quality that has always distinguished Panizzolo
machines.
2 – FIELDS OF SCRAP APPLICATION
Particular attention was given to the redesign
of the components and the entire structure. In
this way, compared to others, the 7 Series can
perform treatments on a wide range of heavy
scrap, many of which do not require pre-pro-
cessing.
3 – LOW ENERGY COSTS
Mega 7 Series mills have the best balance
between energy consumption and production
capacity. They are specially designed to maxi-
mise the profitability of ground metals.
4 – MODULAR UPDATE
Mechanical, electrical and hydraulic upgrades
make the Mega 7 Series more modular and bi-
facial, increaseing the flexibility of the hammer
mill and eliminating standard adaptation costs.
5 – CHECK, CLEANING AND MAINTENANCE
Installed upgrades further reduce set-up times
for checking, cleaning and periodic mainte-
nance. The Mega 7 Series features state-of-
the-art casings, covers, safety systems and a
new range of accessories to simplify and
speed up the work of operators.
New models of Mega 7 Series hammer mills all
feature the patented interchangeable cradle,
the historic Panizzolo patent and a key ele-
ment in the grinding process, in the flexibility
of processing and in maintaining structural
quality in the long term.
TECHNOLOGICAL INNOVATIONS FOR
THE REFINING PLANT
Every year, tonnes of waste rich in metals such
as copper, aluminium and brass are sent to
landfill or exported because contamination
and wear prevent most equipment on the mar-
ket from completing the recovery cycle, elimi-
nating profitability. The refining plant devel-
oped by Panizzolo allows the smallest amounts
of metal to be recovered mechanically and
profitably. So what's new about the refining
plant presented at Ecomondo 2022?
1 – MASTER PLANT AND REFINING ISLANDS
Panizzolo solutions maximise the profitability
of mixed waste treatment. The modularity and
flexibility of the systems allow companies to
keep pace with market changes and seize new
business opportunities. Compared to other
technologies, both the Master plant and the
Refining Islands reduce management costs
through the personnel employed and logistics
handling. The technology guarantees the elim-
Panizzolo's 'Mega Series 7' hammer mill.
EXPONENTIAL GROWTH
Panizzolo Recycling Systems has expanded its scope from Italy to countries and
regions such as China, Korea, Africa, Australia and South America. Growth started in
2014, increasing initially in a straight line. Since 2018, growth has accelerated,
recording increases in turnover of 25, 30 and 40% per annum. That is why Panizzolo
is investing this year in: staff training projects; roles and business processes; new
equipment and the opening of new headquarters dedicated to the warehouse and
service.
'Unlike other competitors, we have chosen to specialise in a single sector, that of
metal waste,' says Mauro Panizzolo. 'There's good job potential and we are opening
up to new markets but we always keep our feet on the ground. We are interested
not in selling a machine or plant but in selling a solution that can improve the work
of companies. Achieving goals together with the customer is one of the things that
gives us the most satisfaction. For us, a satisfied customer means a customer who is
doing a good business with our technologies.'
34-35_panizzolo.indd 34 09-11-2022 11:43