Recycling International November issue | 2022
Subscribe
Page 32 from: Recycling International November issue | 2022
32 acquired in Nordlingen, south of Crailsheim along with an e-scrap busi- ness in Malaga, Spain, which was sold in 2000. All other side businesses have also been sold and what remains today is the headquarters and scrapyard in Crail...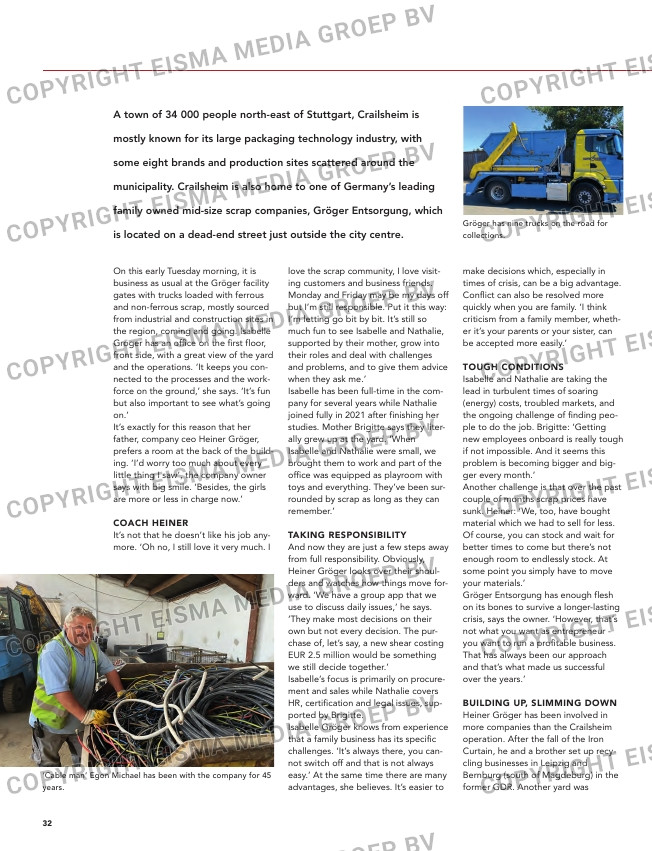 32
acquired in Nordlingen, south of
Crailsheim along with an e-scrap busi-
ness in Malaga, Spain, which was sold
in 2000.
All other side businesses have also
been sold and what remains today is
the headquarters and scrapyard in
Crailsheim which handles some 35 000
tonnes of materials, mostly ferrous and
non-ferrous. Gröger Entsorgung also
handles copper cables, plastics, tyres
and wood. Annual turnover amounts
EUR 14 million.
The lion's share of the scrap is sourced
On this early Tuesday morning, it is
business as usual at the Gröger facility
gates with trucks loaded with ferrous
and non-ferrous scrap, mostly sourced
from industrial and construction sites in
the region, coming and going. Isabelle
Gröger has an office on the first floor,
front side, with a great view of the yard
and the operations. 'It keeps you con-
nected to the processes and the work-
force on the ground,' she says. 'It's fun
but also important to see what's going
on.'
It's exactly for this reason that her
father, company ceo Heiner Gröger,
prefers a room at the back of the build-
ing. 'I'd worry too much about every
little thing I saw', the company owner
says with big smile. 'Besides, the girls
are more or less in charge now.'
COACH HEINER
It's not that he doesn't like his job any-
more. 'Oh no, I still love it very much. I
love the scrap community, I love visit-
ing customers and business friends.
Monday and Friday may be my days off
but I'm still responsible. Put it this way:
I'm letting go bit by bit. It's still so
much fun to see Isabelle and Nathalie,
supported by their mother, grow into
their roles and deal with challenges
and problems, and to give them advice
when they ask me.'
Isabelle has been full-time in the com-
pany for several years while Nathalie
joined fully in 2021 after finishing her
studies. Mother Brigitte says they liter-
ally grew up at the yard. 'When
Isabelle and Nathalie were small, we
brought them to work and part of the
office was equipped as playroom with
toys and everything. They've been sur-
rounded by scrap as long as they can
remember.'
TAKING RESPONSIBILITY
And now they are just a few steps away
from full responsibility. Obviously,
Heiner Gröger looks over their shoul-
ders and watches how things move for-
ward. 'We have a group app that we
use to discuss daily issues,' he says.
'They make most decisions on their
own but not every decision. The pur-
chase of, let's say, a new shear costing
EUR 2.5 million would be something
we still decide together.'
Isabelle's focus is primarily on procure-
ment and sales while Nathalie covers
HR, certification and legal issues, sup-
ported by Brigitte.
Isabelle Gröger knows from experience
that a family business has its specific
challenges. 'It's always there, you can-
not switch off and that is not always
easy.' At the same time there are many
advantages, she believes. It's easier to
make decisions which, especially in
times of crisis, can be a big advantage.
Conflict can also be resolved more
quickly when you are family. 'I think
criticism from a family member, wheth-
er it's your parents or your sister, can
be accepted more easily.'
TOUGH CONDITIONS
Isabelle and Nathalie are taking the
lead in turbulent times of soaring
(energy) costs, troubled markets, and
the ongoing challenge of finding peo-
ple to do the job. Brigitte: 'Getting
new employees onboard is really tough
if not impossible. And it seems this
problem is becoming bigger and big-
ger every month.'
Another challenge is that over the past
couple of months scrap prices have
sunk. Heiner: 'We, too, have bought
material which we had to sell for less.
Of course, you can stock and wait for
better times to come but there's not
enough room to endlessly stock. At
some point you simply have to move
your materials.'
Gröger Entsorgung has enough flesh
on its bones to survive a longer-lasting
crisis, says the owner. 'However, that's
not what you want as entrepreneur –
you want to run a profitable business.
That has always been our approach
and that's what made us successful
over the years.'
BUILDING UP, SLIMMING DOWN
Heiner Gröger has been involved in
more companies than the Crailsheim
operation. After the fall of the Iron
Curtain, he and a brother set up recy-
cling businesses in Leipzig and
Bernburg (south of Magdeburg) in the
former GDR. Another yard was
Gröger has nine trucks on the road for
collections.
'Cable man' Egon Michael has been with the company for 45
years.
Daily practice at the yard.
A town of 34 000 people north-east of Stuttgart, Crailsheim is
mostly known for its large packaging technology industry, with
some eight brands and production sites scattered around the
municipality. Crailsheim is also home to one of Germany's leading
family owned mid-size scrap companies, Gröger Entsorgung, which
is located on a dead-end street just outside the city centre.
30-31-32-33_familybusiness.indd 32 09-11-2022 15:31