Recycling International November issue | 2022
Subscribe
Page 25 from: Recycling International November issue | 2022
25recyclinginternational.com | November/December | 2022 CONFERENCE REPORT Argentina? And what about Brazil? That's like ten countries away! I appre- ciate the optimism, though,' she adds with a laugh. As part of this joint appro...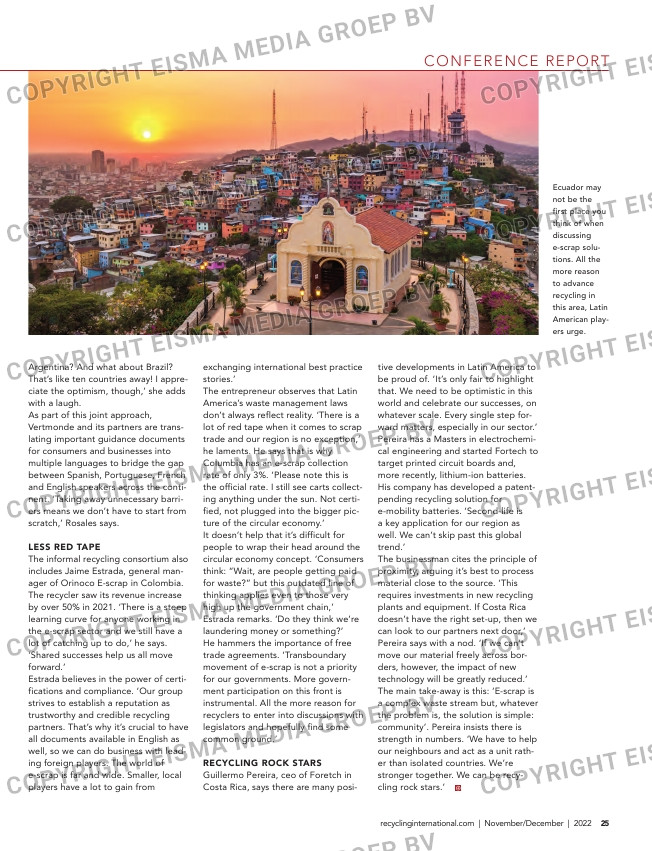 25recyclinginternational.com | November/December | 2022
CONFERENCE REPORT
Argentina? And what about Brazil?
That's like ten countries away! I appre-
ciate the optimism, though,' she adds
with a laugh.
As part of this joint approach,
Vertmonde and its partners are trans-
lating important guidance documents
for consumers and businesses into
multiple languages to bridge the gap
between Spanish, Portuguese, French
and English speakers across the conti-
nent. 'Taking away unnecessary barri-
ers means we don't have to start from
scratch,' Rosales says.
LESS RED TAPE
The informal recycling consortium also
includes Jaime Estrada, general man-
ager of Orinoco E-scrap in Colombia.
The recycler saw its revenue increase
by over 50% in 2021. 'There is a steep
learning curve for anyone working in
the e-scrap sector and we still have a
lot of catching up to do,' he says.
'Shared successes help us all move
forward.'
Estrada believes in the power of certi-
fications and compliance. 'Our group
strives to establish a reputation as
trustworthy and credible recycling
partners. That's why it's crucial to have
all documents available in English as
well, so we can do business with lead-
ing foreign players. The world of
e-scrap is far and wide. Smaller, local
players have a lot to gain from
exchanging international best practice
stories.'
The entrepreneur observes that Latin
America's waste management laws
don't always reflect reality. 'There is a
lot of red tape when it comes to scrap
trade and our region is no exception,'
he laments. He says that is why
Columbia has an e-scrap collection
rate of only 3%. 'Please note this is
the official rate. I still see carts collect-
ing anything under the sun. Not certi-
fied, not plugged into the bigger pic-
ture of the circular economy.'
It doesn't help that it's difficult for
people to wrap their head around the
circular economy concept. 'Consumers
think: "Wait, are people getting paid
for waste?" but this outdated line of
thinking applies even to those very
high up the government chain,'
Estrada remarks. 'Do they think we're
laundering money or something?'
He hammers the importance of free
trade agreements. 'Transboundary
movement of e-scrap is not a priority
for our governments. More govern-
ment participation on this front is
instrumental. All the more reason for
recyclers to enter into discussions with
legislators and hopefully find some
common ground.'
RECYCLING ROCK STARS
Guillermo Pereira, ceo of Foretch in
Costa Rica, says there are many posi-
tive developments in Latin America to
be proud of. 'It's only fair to highlight
that. We need to be optimistic in this
world and celebrate our successes, on
whatever scale. Every single step for-
ward matters, especially in our sector.'
Pereira has a Masters in electrochemi-
cal engineering and started Fortech to
target printed circuit boards and,
more recently, lithium-ion batteries.
His company has developed a patent-
pending recycling solution for
e-mobility batteries. 'Second-life is
a key application for our region as
well. We can't skip past this global
trend.'
The businessman cites the principle of
proximity, arguing it's best to process
material close to the source. 'This
requires investments in new recycling
plants and equipment. If Costa Rica
doesn't have the right set-up, then we
can look to our partners next door,'
Pereira says with a nod. 'If we can't
move our material freely across bor-
ders, however, the impact of new
technology will be greatly reduced.'
The main take-away is this: 'E-scrap is
a complex waste stream but, whatever
the problem is, the solution is simple:
community'. Pereira insists there is
strength in numbers. 'We have to help
our neighbours and act as a unit rath-
er than isolated countries. We're
stronger together. We can be recy-
cling rock stars.'
Ecuador may
not be the
first place you
think of when
discussing
e-scrap solu-
tions. All the
more reason
to advance
recycling in
this area, Latin
American play-
ers urge.
22-23-24-25-26-27_e-scrapneworleans.indd 25 09-11-2022 11:42