Recycling International November/December issue | 2022
Subscribe
Page 23 from: Recycling International November/December issue | 2022
23recyclinginternational.com | November/December | 2022 CONFERENCE REPORT silent for a moment, contemplating the ramifications of such a new world. 'Imagination is endless,' Alcorn muses. 'That's why it's so important to ...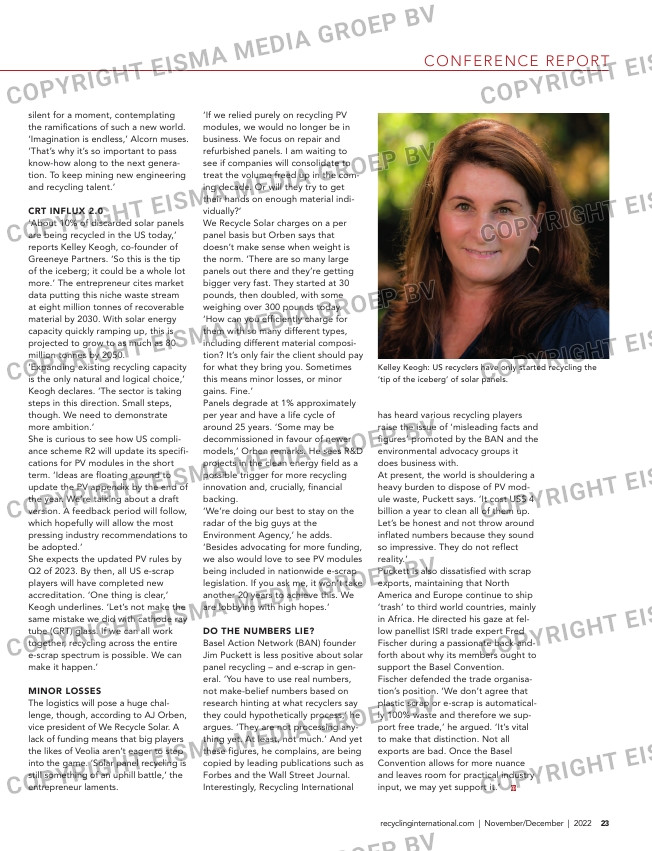 23recyclinginternational.com | November/December | 2022
CONFERENCE REPORT
silent for a moment, contemplating
the ramifications of such a new world.
'Imagination is endless,' Alcorn muses.
'That's why it's so important to pass
know-how along to the next genera-
tion. To keep mining new engineering
and recycling talent.'
CRT INFLUX 2.0
'About 10% of discarded solar panels
are being recycled in the US today,'
reports Kelley Keogh, co-founder of
Greeneye Partners. 'So this is the tip
of the iceberg; it could be a whole lot
more.' The entrepreneur cites market
data putting this niche waste stream
at eight million tonnes of recoverable
material by 2030. With solar energy
capacity quickly ramping up, this is
projected to grow to as much as 80
million tonnes by 2050.
'Expanding existing recycling capacity
is the only natural and logical choice,'
Keogh declares. 'The sector is taking
steps in this direction. Small steps,
though. We need to demonstrate
more ambition.'
She is curious to see how US compli-
ance scheme R2 will update its specifi-
cations for PV modules in the short
term. 'Ideas are floating around to
update the PV appendix by the end of
the year. We're talking about a draft
version. A feedback period will follow,
which hopefully will allow the most
pressing industry recommendations to
be adopted.'
She expects the updated PV rules by
Q2 of 2023. By then, all US e-scrap
players will have completed new
accreditation. 'One thing is clear,'
Keogh underlines. 'Let's not make the
same mistake we did with cathode ray
tube (CRT) glass. If we can all work
together, recycling across the entire
e-scrap spectrum is possible. We can
make it happen.'
MINOR LOSSES
The logistics will pose a huge chal-
lenge, though, according to AJ Orben,
vice president of We Recycle Solar. A
lack of funding means that big players
the likes of Veolia aren't eager to step
into the game. 'Solar panel recycling is
still something of an uphill battle,' the
entrepreneur laments.
'If we relied purely on recycling PV
modules, we would no longer be in
business. We focus on repair and
refurbished panels. I am waiting to
see if companies will consolidate to
treat the volume freed up in the com-
ing decade. Or will they try to get
their hands on enough material indi-
vidually?'
We Recycle Solar charges on a per
panel basis but Orben says that
doesn't make sense when weight is
the norm. 'There are so many large
panels out there and they're getting
bigger very fast. They started at 30
pounds, then doubled, with some
weighing over 300 pounds today.
'How can you efficiently charge for
them with so many different types,
including different material composi-
tion? It's only fair the client should pay
for what they bring you. Sometimes
this means minor losses, or minor
gains. Fine.'
Panels degrade at 1% approximately
per year and have a life cycle of
around 25 years. 'Some may be
decommissioned in favour of newer
models,' Orben remarks. He sees R&D
projects in the clean energy field as a
possible trigger for more recycling
innovation and, crucially, financial
backing.
'We're doing our best to stay on the
radar of the big guys at the
Environment Agency,' he adds.
'Besides advocating for more funding,
we also would love to see PV modules
being included in nationwide e-scrap
legislation. If you ask me, it won't take
another 20 years to achieve this. We
are lobbying with high hopes.'
DO THE NUMBERS LIE?
Basel Action Network (BAN) founder
Jim Puckett is less positive about solar
panel recycling – and e-scrap in gen-
eral. 'You have to use real numbers,
not make-belief numbers based on
research hinting at what recyclers say
they could hypothetically process,' he
argues. 'They are not processing any-
thing yet. At least, not much.' And yet
these figures, he complains, are being
copied by leading publications such as
Forbes and the Wall Street Journal.
Interestingly, Recycling International
has heard various recycling players
raise the issue of 'misleading facts and
figures' promoted by the BAN and the
environmental advocacy groups it
does business with.
At present, the world is shouldering a
heavy burden to dispose of PV mod-
ule waste, Puckett says. 'It cost US$ 4
billion a year to clean all of them up.
Let's be honest and not throw around
inflated numbers because they sound
so impressive. They do not reflect
reality.'
Puckett is also dissatisfied with scrap
exports, maintaining that North
America and Europe continue to ship
'trash' to third world countries, mainly
in Africa. He directed his gaze at fel-
low panellist ISRI trade expert Fred
Fischer during a passionate back-and-
forth about why its members ought to
support the Basel Convention.
Fischer defended the trade organisa-
tion's position. 'We don't agree that
plastic scrap or e-scrap is automatical-
ly 100% waste and therefore we sup-
port free trade,' he argued. 'It's vital
to make that distinction. Not all
exports are bad. Once the Basel
Convention allows for more nuance
and leaves room for practical industry
input, we may yet support it.'
Fotobijschrift
Kelley Keogh: US recyclers have only started recycling the
'tip of the iceberg' of solar panels.
KADERKOP
??
22-23-24-25-26-27_e-scrapneworleans.indd 23 09-11-2022 11:42