Recycling International November issue | 2022
Subscribe
Page 22 from: Recycling International November issue | 2022
22 E-cycling 2030: mining new talent, ideas and funds The US recycling industry processes around seven million tonnes of e-scrap annu- ally, about 15% of the total available volume. The country has been striving to boost the recycling ...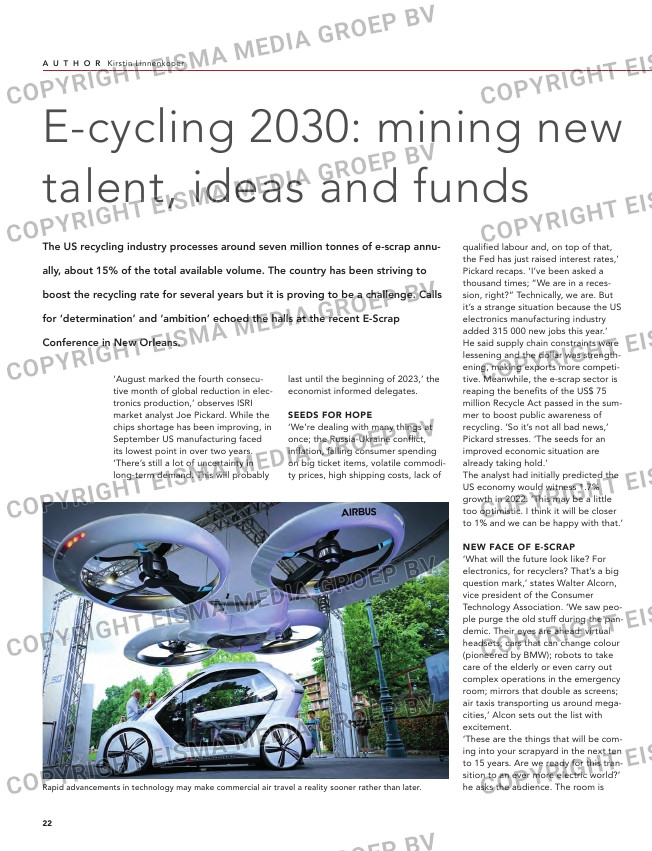 22
E-cycling 2030: mining new
talent, ideas and funds
The US recycling industry processes around seven million tonnes of e-scrap annu-
ally, about 15% of the total available volume. The country has been striving to
boost the recycling rate for several years but it is proving to be a challenge. Calls
for 'determination' and 'ambition' echoed the halls at the recent E-Scrap
Conference in New Orleans.
silent for a moment, contemplating
the ramifications of such a new world.
'Imagination is endless,' Alcorn muses.
'That's why it's so important to pass
know-how along to the next genera-
tion. To keep mining new engineering
and recycling talent.'
CRT INFLUX 2.0
'About 10% of discarded solar panels
are being recycled in the US today,'
reports Kelley Keogh, co-founder of
Greeneye Partners. 'So this is the tip
of the iceberg; it could be a whole lot
more.' The entrepreneur cites market
data putting this niche waste stream
at eight million tonnes of recoverable
material by 2030. With solar energy
capacity quickly ramping up, this is
projected to grow to as much as 80
million tonnes by 2050.
'Expanding existing recycling capacity
is the only natural and logical choice,'
Keogh declares. 'The sector is taking
steps in this direction. Small steps,
though. We need to demonstrate
more ambition.'
She is curious to see how US compli-
ance scheme R2 will update its specifi-
cations for PV modules in the short
term. 'Ideas are floating around to
update the PV appendix by the end of
the year. We're talking about a draft
version. A feedback period will follow,
which hopefully will allow the most
pressing industry recommendations to
be adopted.'
She expects the updated PV rules by
Q2 of 2023. By then, all US e-scrap
players will have completed new
accreditation. 'One thing is clear,'
Keogh underlines. 'Let's not make the
same mistake we did with cathode ray
tube (CRT) glass. If we can all work
together, recycling across the entire
e-scrap spectrum is possible. We can
make it happen.'
MINOR LOSSES
The logistics will pose a huge chal-
lenge, though, according to AJ Orben,
vice president of We Recycle Solar. A
lack of funding means that big players
the likes of Veolia aren't eager to step
into the game. 'Solar panel recycling is
still something of an uphill battle,' the
entrepreneur laments.
'August marked the fourth consecu-
tive month of global reduction in elec-
tronics production,' observes ISRI
market analyst Joe Pickard. While the
chips shortage has been improving, in
September US manufacturing faced
its lowest point in over two years.
'There's still a lot of uncertainty in
long-term demand. This will probably
last until the beginning of 2023,' the
economist informed delegates.
SEEDS FOR HOPE
'We're dealing with many things at
once; the Russia-Ukraine conflict,
inflation, falling consumer spending
on big ticket items, volatile commodi-
ty prices, high shipping costs, lack of
qualified labour and, on top of that,
the Fed has just raised interest rates,'
Pickard recaps. 'I've been asked a
thousand times; "We are in a reces-
sion, right?" Technically, we are. But
it's a strange situation because the US
electronics manufacturing industry
added 315 000 new jobs this year.'
He said supply chain constraints were
lessening and the dollar was strength-
ening, making exports more competi-
tive. Meanwhile, the e-scrap sector is
reaping the benefits of the US$ 75
million Recycle Act passed in the sum-
mer to boost public awareness of
recycling. 'So it's not all bad news,'
Pickard stresses. 'The seeds for an
improved economic situation are
already taking hold.'
The analyst had initially predicted the
US economy would witness 1.7%
growth in 2022. 'This may be a little
too optimistic. I think it will be closer
to 1% and we can be happy with that.'
NEW FACE OF E-SCRAP
'What will the future look like? For
electronics, for recyclers? That's a big
question mark,' states Walter Alcorn,
vice president of the Consumer
Technology Association. 'We saw peo-
ple purge the old stuff during the pan-
demic. Their eyes are ahead: virtual
headsets; cars that can change colour
(pioneered by BMW); robots to take
care of the elderly or even carry out
complex operations in the emergency
room; mirrors that double as screens;
air taxis transporting us around mega-
cities,' Alcon sets out the list with
excitement.
'These are the things that will be com-
ing into your scrapyard in the next ten
to 15 years. Are we ready for this tran-
sition to an ever more electric world?'
he asks the audience. The room is Rapid advancements in technology may make commercial air travel a reality sooner rather than later.
A U T H O R Kirstin Linnenkoper
22-23-24-25-26-27_e-scrapneworleans.indd 22 09-11-2022 11:42