Recycling International November/December issue | 2022
Subscribe
Page 21 from: Recycling International November/December issue | 2022
BEST PRACTICE Zipfel emphasises that battery metals are gain- ing momentum, too. 'We can handle any type of treated e-scrap and of any quality. Some material is low grade, others high grade.' At the same time, JX Metals offers stat...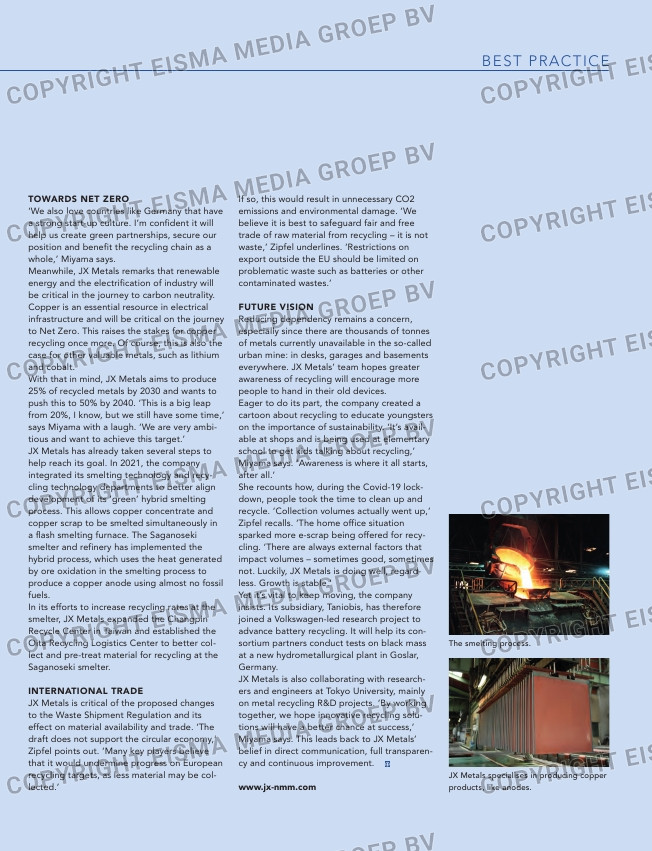 BEST PRACTICE
Zipfel emphasises that battery metals are gain-
ing momentum, too.
'We can handle any type of treated e-scrap
and of any quality. Some material is low grade,
others high grade.' At the same time, JX
Metals offers state-of-the-art sampling to
ensure transparent, fast and accurate compen-
sation to its suppliers. 'This is how we build
trust and how we stay competitive. It also
helps that we work directly with recyclers, who
are typically big players, operating fully in
accordance with compliance, rather than rely-
ing on traders.'
E-SCRAP POTENTIAL
Zipfel underlines that JX Metals covers a very
wide range of activities. 'We do resource
development, mining, R&D work to maximise
the output volume and quality of our concen-
trates, refining, and we offer final products to
the market, for example electronics and semi-
conductor manufacturers.'
Enabling a closed loop for copper and also
other important technology metals on such a
large scale is 'pretty unique', he insists.
Establishing a foothold in Europe was inspired
by the high e-scrap collection rates in EU
nations.
'The continent has strict laws for end-of-life
electronics, which the WEEE Directive embod-
ies. As a result, e-scrap from Europe is known
to be clean and available in large quantities,'
Zipfel adds. 'We opened the Frankfurt office in
2017 mainly to find new business opportuni-
ties in and around Germany.'
JX Metals has also cast its eye on North
America, which is currently the second largest
generator of e-scrap worldwide behind China.
This summer, JX Metals acquired Canadian
electronics recycling firm eCycle Solutions Inc.,
which operates eight sites across the country.
The acquisition is expected to boost JX
Metals' treated e-scrap collection network
while investing in a sustainable future.
TOWARDS NET ZERO
'We also love countries like Germany that have
a strong start-up culture. I'm confident it will
help us create green partnerships, secure our
position and benefit the recycling chain as a
whole,' Miyama says.
Meanwhile, JX Metals remarks that renewable
energy and the electrification of industry will
be critical in the journey to carbon neutrality.
Copper is an essential resource in electrical
infrastructure and will be critical on the journey
to Net Zero. This raises the stakes for copper
recycling once more. Of course, this is also the
case for other valuable metals, such as lithium
and cobalt.
With that in mind, JX Metals aims to produce
25% of recycled metals by 2030 and wants to
push this to 50% by 2040. 'This is a big leap
from 20%, I know, but we still have some time,'
says Miyama with a laugh. 'We are very ambi-
tious and want to achieve this target.'
JX Metals has already taken several steps to
help reach its goal. In 2021, the company
integrated its smelting technology and recy-
cling technology departments to better align
development of its 'green' hybrid smelting
process. This allows copper concentrate and
copper scrap to be smelted simultaneously in
a flash smelting furnace. The Saganoseki
smelter and refinery has implemented the
hybrid process, which uses the heat generated
by ore oxidation in the smelting process to
produce a copper anode using almost no fossil
fuels.
In its efforts to increase recycling rates at the
smelter, JX Metals expanded the Changpin
Recycle Center in Taiwan and established the
Oita Recycling Logistics Center to better col-
lect and pre-treat material for recycling at the
Saganoseki smelter.
INTERNATIONAL TRADE
JX Metals is critical of the proposed changes
to the Waste Shipment Regulation and its
effect on material availability and trade. 'The
draft does not support the circular economy,'
Zipfel points out. 'Many key players believe
that it would undermine progress on European
recycling targets, as less material may be col-
lected.'
If so, this would result in unnecessary CO2
emissions and environmental damage. 'We
believe it is best to safeguard fair and free
trade of raw material from recycling – it is not
waste,' Zipfel underlines. 'Restrictions on
export outside the EU should be limited on
problematic waste such as batteries or other
contaminated wastes.'
FUTURE VISION
Reducing dependency remains a concern,
especially since there are thousands of tonnes
of metals currently unavailable in the so-called
urban mine: in desks, garages and basements
everywhere. JX Metals' team hopes greater
awareness of recycling will encourage more
people to hand in their old devices.
Eager to do its part, the company created a
cartoon about recycling to educate youngsters
on the importance of sustainability. 'It's avail-
able at shops and is being used at elementary
school to get kids talking about recycling,'
Miyama says. 'Awareness is where it all starts,
after all.'
She recounts how, during the Covid-19 lock-
down, people took the time to clean up and
recycle. 'Collection volumes actually went up,'
Zipfel recalls. 'The home office situation
sparked more e-scrap being offered for recy-
cling. 'There are always external factors that
impact volumes – sometimes good, sometimes
not. Luckily, JX Metals is doing well, regard-
less. Growth is stable.'
Yet it's vital to keep moving, the company
insists. Its subsidiary, Taniobis, has therefore
joined a Volkswagen-led research project to
advance battery recycling. It will help its con-
sortium partners conduct tests on black mass
at a new hydrometallurgical plant in Goslar,
Germany.
JX Metals is also collaborating with research-
ers and engineers at Tokyo University, mainly
on metal recycling R&D projects. 'By working
together, we hope innovative recycling solu-
tions will have a better chance at success,'
Miyama says. This leads back to JX Metals'
belief in direct communication, full transparen-
cy and continuous improvement.
www.jx-nmm.com
JX Metals specialises in producing copper
products, like anodes.
The smelting process.
20-21_jxnippon.indd 21 09-11-2022 15:29