Recycling International November issue | 2022
Subscribe
Page 20 from: Recycling International November issue | 2022
JX Metals sets sights on 50% recycled metals JX Nippon Mining & Metals Corporation has evolved from a Japanese copper mining company into a leader in global non-ferrous recycling. 'Approximately 20% of our copper product...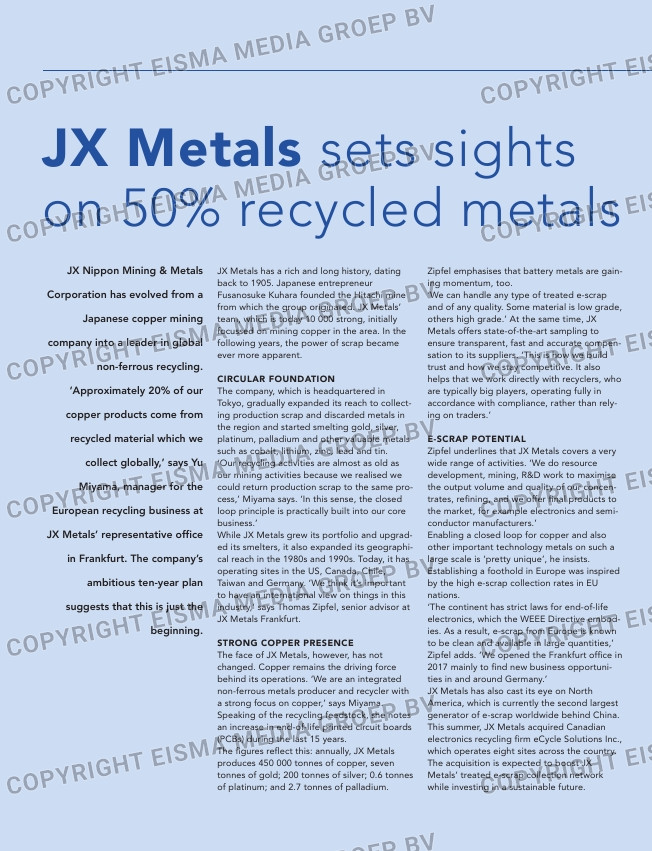 JX Metals sets sights
on 50% recycled metals
JX Nippon Mining & Metals
Corporation has evolved from a
Japanese copper mining
company into a leader in global
non-ferrous recycling.
'Approximately 20% of our
copper products come from
recycled material which we
collect globally,' says Yu
Miyama, manager for the
European recycling business at
JX Metals' representative office
in Frankfurt. The company's
ambitious ten-year plan
suggests that this is just the
beginning.
JX Metals has a rich and long history, dating
back to 1905. Japanese entrepreneur
Fusanosuke Kuhara founded the Hitachi mine
from which the group originated. JX Metals'
team, which is today 10 000 strong, initially
focussed on mining copper in the area. In the
following years, the power of scrap became
ever more apparent.
CIRCULAR FOUNDATION
The company, which is headquartered in
Tokyo, gradually expanded its reach to collect-
ing production scrap and discarded metals in
the region and started smelting gold, silver,
platinum, palladium and other valuable metals
such as cobalt, lithium, zinc, lead and tin.
'Our recycling activities are almost as old as
our mining activities because we realised we
could return production scrap to the same pro-
cess,' Miyama says. 'In this sense, the closed
loop principle is practically built into our core
business.'
While JX Metals grew its portfolio and upgrad-
ed its smelters, it also expanded its geographi-
cal reach in the 1980s and 1990s. Today, it has
operating sites in the US, Canada, Chile,
Taiwan and Germany. 'We think it's important
to have an international view on things in this
industry,' says Thomas Zipfel, senior advisor at
JX Metals Frankfurt.
STRONG COPPER PRESENCE
The face of JX Metals, however, has not
changed. Copper remains the driving force
behind its operations. 'We are an integrated
non-ferrous metals producer and recycler with
a strong focus on copper,' says Miyama.
Speaking of the recycling feedstock, she notes
an increase in end-of-life printed circuit boards
(PCBs) during the last 15 years.
The figures reflect this: annually, JX Metals
produces 450 000 tonnes of copper, seven
tonnes of gold; 200 tonnes of silver; 0.6 tonnes
of platinum; and 2.7 tonnes of palladium.
Zipfel emphasises that battery metals are gain-
ing momentum, too.
'We can handle any type of treated e-scrap
and of any quality. Some material is low grade,
others high grade.' At the same time, JX
Metals offers state-of-the-art sampling to
ensure transparent, fast and accurate compen-
sation to its suppliers. 'This is how we build
trust and how we stay competitive. It also
helps that we work directly with recyclers, who
are typically big players, operating fully in
accordance with compliance, rather than rely-
ing on traders.'
E-SCRAP POTENTIAL
Zipfel underlines that JX Metals covers a very
wide range of activities. 'We do resource
development, mining, R&D work to maximise
the output volume and quality of our concen-
trates, refining, and we offer final products to
the market, for example electronics and semi-
conductor manufacturers.'
Enabling a closed loop for copper and also
other important technology metals on such a
large scale is 'pretty unique', he insists.
Establishing a foothold in Europe was inspired
by the high e-scrap collection rates in EU
nations.
'The continent has strict laws for end-of-life
electronics, which the WEEE Directive embod-
ies. As a result, e-scrap from Europe is known
to be clean and available in large quantities,'
Zipfel adds. 'We opened the Frankfurt office in
2017 mainly to find new business opportuni-
ties in and around Germany.'
JX Metals has also cast its eye on North
America, which is currently the second largest
generator of e-scrap worldwide behind China.
This summer, JX Metals acquired Canadian
electronics recycling firm eCycle Solutions Inc.,
which operates eight sites across the country.
The acquisition is expected to boost JX
Metals' treated e-scrap collection network
while investing in a sustainable future.
TOWARDS NET ZERO
'We also love countries like Germany that have
a strong start-up culture. I'm confident it will
help us create green partnerships, secure our
position and benefit the recycling chain as a
whole,' Miyama says.
Meanwhile, JX Metals remarks that renewable
energy and the electrification of industry will
be critical in the journey to carbon neutrality.
Copper is an essential resource in electrical
infrastructure and will be critical on the journey
to Net Zero. This raises the stakes for copper
recycling once more. Of course, this is also the
case for other valuable metals, such as lithium
and cobalt.
With that in mind, JX Metals aims to produce
25% of recycled metals by 2030 and wants to
push this to 50% by 2040. 'This is a big leap
from 20%, I know, but we still have some time,'
says Miyama with a laugh. 'We are very ambi-
tious and want to achieve this target.'
JX Metals has already taken several steps to
help reach its goal. In 2021, the company
integrated its smelting technology and recy-
cling technology departments to better align
development of its 'green' hybrid smelting
process. This allows copper concentrate and
copper scrap to be smelted simultaneously in
a flash smelting furnace. The Saganoseki
smelter and refinery has implemented the
hybrid process, which uses the heat generated
by ore oxidation in the smelting process to
produce a copper anode using almost no fossil
fuels.
In its efforts to increase recycling rates at the
smelter, JX Metals expanded the Changpin
Recycle Center in Taiwan and established the
Oita Recycling Logistics Center to better col-
lect and pre-treat material for recycling at the
Saganoseki smelter.
INTERNATIONAL TRADE
JX Metals is critical of the proposed changes
to the Waste Shipment Regulation and its
effect on material availability and trade. 'The
draft does not support the circular economy,'
Zipfel points out. 'Many key players believe
that it would undermine progress on European
recycling targets, as less material may be col-
lected.'
20-21_jxnippon.indd 20 09-11-2022 15:29