Recycling International November/December issue | 2022
Subscribe
Page 15 from: Recycling International November/December issue | 2022
TRENDS & UPDATES 15recyclinginternational.com | November/December | 2022 FORD SIGNS UP TO LOW CARBON STEEL IN EUROPE Ford in Europe has announced agreements with Salzgitter Flachstahl, Tata Steel Nederland and ThyssenKrupp Steel...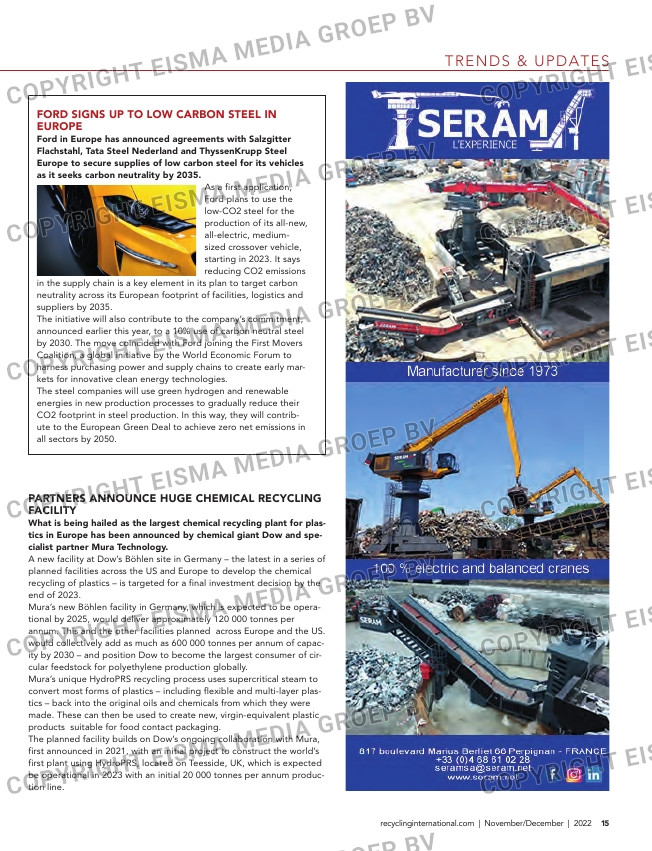 TRENDS & UPDATES
15recyclinginternational.com | November/December | 2022
FORD SIGNS UP TO LOW CARBON STEEL IN
EUROPE
Ford in Europe has announced agreements with Salzgitter
Flachstahl, Tata Steel Nederland and ThyssenKrupp Steel
Europe to secure supplies of low carbon steel for its vehicles
as it seeks carbon neutrality by 2035.
As a first application,
Ford plans to use the
low-CO2 steel for the
production of its all-new,
all-electric, medium-
sized crossover vehicle,
starting in 2023. It says
reducing CO2 emissions
in the supply chain is a key element in its plan to target carbon
neutrality across its European footprint of facilities, logistics and
suppliers by 2035.
The initiative will also contribute to the company's commitment,
announced earlier this year, to a 10% use of carbon neutral steel
by 2030. The move coincided with Ford joining the First Movers
Coalition, a global initiative by the World Economic Forum to
harness purchasing power and supply chains to create early mar-
kets for innovative clean energy technologies.
The steel companies will use green hydrogen and renewable
energies in new production processes to gradually reduce their
CO2 footprint in steel production. In this way, they will contrib-
ute to the European Green Deal to achieve zero net emissions in
all sectors by 2050.
PARTNERS ANNOUNCE HUGE CHEMICAL RECYCLING
FACILITY
What is being hailed as the largest chemical recycling plant for plas-
tics in Europe has been announced by chemical giant Dow and spe-
cialist partner Mura Technology.
A new facility at Dow's Böhlen site in Germany – the latest in a series of
planned facilities across the US and Europe to develop the chemical
recycling of plastics – is targeted for a final investment decision by the
end of 2023.
Mura's new Böhlen facility in Germany, which is expected to be opera-
tional by 2025, would deliver approximately 120 000 tonnes per
annum. This and the other facilities planned across Europe and the US.
would collectively add as much as 600 000 tonnes per annum of capac-
ity by 2030 – and position Dow to become the largest consumer of cir-
cular feedstock for polyethylene production globally.
Mura's unique HydroPRS recycling process uses supercritical steam to
convert most forms of plastics – including flexible and multi-layer plas-
tics – back into the original oils and chemicals from which they were
made. These can then be used to create new, virgin-equivalent plastic
products suitable for food contact packaging.
The planned facility builds on Dow's ongoing collaboration with Mura,
first announced in 2021, with an initial project to construct the world's
first plant using HydroPRS, located on Teesside, UK, which is expected
be operational in 2023 with an initial 20 000 tonnes per annum produc-
tion line.
CAN BALERS AND SORTERS ACHIEVE 'GREEN' STA-
TUS?
Recyclers could benefit from financial incentives if their materials,
machinery and equipment are recognised as 'environmental goods'
contributing to environmental and climate protection goals.
Members of the Bureau of International Recycling (BIR) were told at their
Convention in Dubai that the World Trade Organization (WTO) wants to
compile a list of 'environmental goods' and BIR is seeking recognition
for those used in the recycling industry.
Alev Somer, BIR's deputy director for environment and trade, said
upcoming negotiations on an Environmental Goods Agreement (EGA)
were 'a golden opportunity for us'. She explained that the EGA initiative
was first kicked off in 2014 but momentum had been lost after 2016.
Efforts had now been relaunched by the WTO which wants to reduce
trade barriers and limit tariffs for environmental goods.
'We would like to be proactive in that discussion and any feedback you
have would be very appreciated,' she told the convention. 'We would
like to have the most recycled materials we can put into that list of envi-
ronmental goods and we need to finalise that quite quickly.'
Meanwhile, implementing proposed changes to EU's waste shipment
regulations was questioned by Emmanuel Katrakis, secretary general of
EuRIC, the umbrella organisation for European Recycling Industries.
Revision of the Waste Shipment Regulation (EC) No 1013/2006 seeks to
establish a centralised and harmonised digital system intra-EU shipments
for reuse and/or recycling while tackling illegal shipments and, for ship-
ments leaving the EU, improving the standards of recycling in importing
countries. A list would be drawn up of countries to which exports are
allowed and receiving companies would have to be audited.
Katrakis argued it was the wrong time for such change: 'We should slow
down a bit and step back and fix the energy crisis before we go too fast
and too full,' he said. His concern was shared by BIR director general
Arnaud Brunet who told the session: 'BIR stands by both the exporters
and the importers who need access to these shipments.'
Committee chairman Olivier François argued that quantifying the recy-
cling industry's worth would help the media and public have a greater
awareness of its role. Quoting the EU steel industry, he said ferrous recy-
cling accounted for nearly 40% of the overall recycling sector, employed
300, 000 people and was worth EUR 40 billion. Meanwhile, EU steel
mills, considered a very large industry, were worth EUR 97 billion and
employed 326 000.
'Aside from a few experts inside our companies, nobody knows what we
are doing and the economic weight of our industry is always underesti-
mated,' François said.
10-11-12-13-14-15_trendsupdates.indd 15 09-11-2022 15:24