Recycling International November/December issue | 2022
Subscribe
Page 13 from: Recycling International November/December issue | 2022
TRENDS & UPDATES 13recyclinginternational.com | November/December | 2022 UK'S BRITANIACREST RECYCLING ACQUIRED French-owned renewable energy producer Qair has moved into the UK's energy- from-waste sector for the first tim...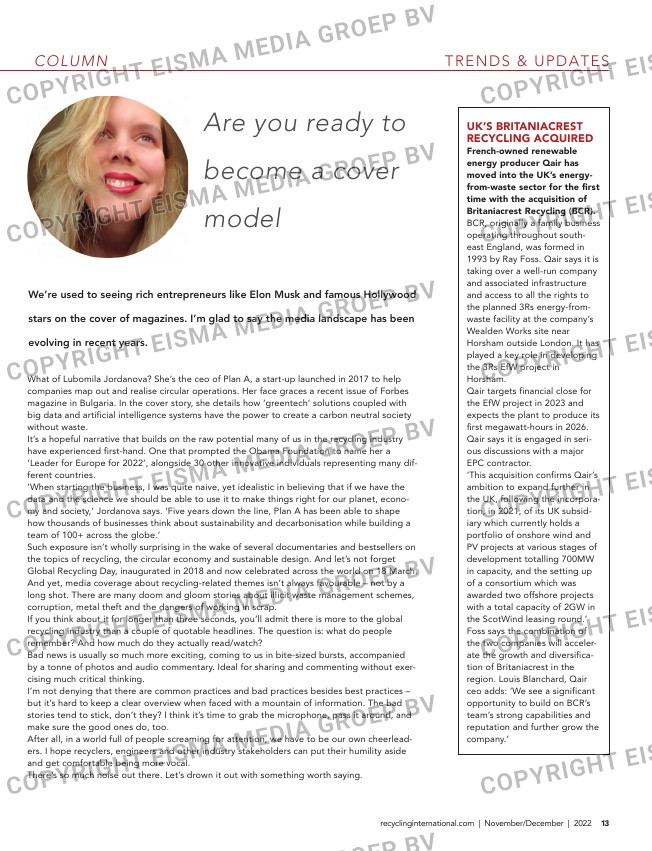 TRENDS & UPDATES
13recyclinginternational.com | November/December | 2022
UK'S BRITANIACREST
RECYCLING ACQUIRED
French-owned renewable
energy producer Qair has
moved into the UK's energy-
from-waste sector for the first
time with the acquisition of
Britaniacrest Recycling (BCR).
BCR, originally a family business
operating throughout south-
east England, was formed in
1993 by Ray Foss. Qair says it is
taking over a well-run company
and associated infrastructure
and access to all the rights to
the planned 3Rs energy-from-
waste facility at the company's
Wealden Works site near
Horsham outside London. It has
played a key role in developing
the 3Rs EfW project in
Horsham.
Qair targets financial close for
the EfW project in 2023 and
expects the plant to produce its
first megawatt-hours in 2026.
Qair says it is engaged in seri-
ous discussions with a major
EPC contractor.
'This acquisition confirms Qair's
ambition to expand further in
the UK, following the incorpora-
tion, in 2021, of its UK subsid-
iary which currently holds a
portfolio of onshore wind and
PV projects at various stages of
development totalling 700MW
in capacity, and the setting up
of a consortium which was
awarded two offshore projects
with a total capacity of 2GW in
the ScotWind leasing round.'
Foss says the combination of
the two companies will acceler-
ate the growth and diversifica-
tion of Britaniacrest in the
region. Louis Blanchard, Qair
ceo adds: 'We see a significant
opportunity to build on BCR's
team's strong capabilities and
reputation and further grow the
company.'
RENAULT'S USED PARTS FACILITY
TO BOOST REUSE IN AUTOMO-
TIVE SECTOR
Renault Trucks has built a factory for used
parts in France, inspired by a circular
economy business model.
Renault says offering a used parts hub is
'the logical next step' following its used
trucks repurposing and remanufacturing
operations at Bourg-en-Bresse and
Limoges. At the new facility in Vénissieux,
the brand's trucks will be dismantled and
their parts reused.
This 3 000m2 plant, built as close as possible
to the logistics centre, will handle Renault
Trucks vehicles with high mileages, along
with some parts that still have substantial
potential for reuse. Once the parts have
been removed, other components will be
recycled. Rails, for example, will be cut up
and sent to a nearby foundry and extracted
metal will be used to manufacture new vehi-
cles.
The components intended for reuse will then
be checked, cleaned and labelled for listing
and traceability purposes. They will then be
sent to the nearby Renault Trucks spare
parts store, as with new spares.
The items marketed under the label 'Used
Parts by Renault Trucks' will be made avail-
able to dealers on the manufacturer's online
marketplace. They will be covered by a man-
ufacturer's warranty and their cost will be
significantly lower compared to new.
The initiative was backed by a preliminary
feasibility study conducted in 2020 by
Renault in tandem with the specialist Indra
Automobile Recycling and Ademe, the
French environment and energy manage-
ment agency.
What of Lubomila Jordanova? She's the ceo of Plan A, a start-up launched in 2017 to help
companies map out and realise circular operations. Her face graces a recent issue of Forbes
magazine in Bulgaria. In the cover story, she details how 'greentech' solutions coupled with
big data and artificial intelligence systems have the power to create a carbon neutral society
without waste.
It's a hopeful narrative that builds on the raw potential many of us in the recycling industry
have experienced first-hand. One that prompted the Obama Foundation to name her a
'Leader for Europe for 2022', alongside 30 other innovative individuals representing many dif-
ferent countries.
'When starting the business, I was quite naive, yet idealistic in believing that if we have the
data and the science we should be able to use it to make things right for our planet, econo-
my and society,' Jordanova says. 'Five years down the line, Plan A has been able to shape
how thousands of businesses think about sustainability and decarbonisation while building a
team of 100+ across the globe.'
Such exposure isn't wholly surprising in the wake of several documentaries and bestsellers on
the topics of recycling, the circular economy and sustainable design. And let's not forget
Global Recycling Day, inaugurated in 2018 and now celebrated across the world on 18 March.
And yet, media coverage about recycling-related themes isn't always favourable – not by a
long shot. There are many doom and gloom stories about illicit waste management schemes,
corruption, metal theft and the dangers of working in scrap.
If you think about it for longer than three seconds, you'll admit there is more to the global
recycling industry than a couple of quotable headlines. The question is: what do people
remember? And how much do they actually read/watch?
Bad news is usually so much more exciting, coming to us in bite-sized bursts, accompanied
by a tonne of photos and audio commentary. Ideal for sharing and commenting without exer-
cising much critical thinking.
I'm not denying that there are common practices and bad practices besides best practices –
but it's hard to keep a clear overview when faced with a mountain of information. The bad
stories tend to stick, don't they? I think it's time to grab the microphone, pass it around, and
make sure the good ones do, too.
After all, in a world full of people screaming for attention, we have to be our own cheerlead-
ers. I hope recyclers, engineers and other industry stakeholders can put their humility aside
and get comfortable being more vocal.
There's so much noise out there. Let's drown it out with something worth saying.
COLUMN

Are you ready to

become a cover

model

We're used to seeing rich entrepreneurs like Elon Musk and famous Hollywood
stars on the cover of magazines. I'm glad to say the media landscape has been
evolving in recent years.
10-11-12-13-14-15_trendsupdates.indd 13 09-11-2022 15:23