Recycling International November/December issue | 2022
Subscribe
Page 11 from: Recycling International November/December issue | 2022
TRENDS & UPDATES 11recyclinginternational.com | November/December | 2022 Fotobijschrift EUROPE'S RECYCLERS CRY FOR HELP IN ENERGY CRISIS The dramatic jump in energy prices has forced European recycling companies to reduce or...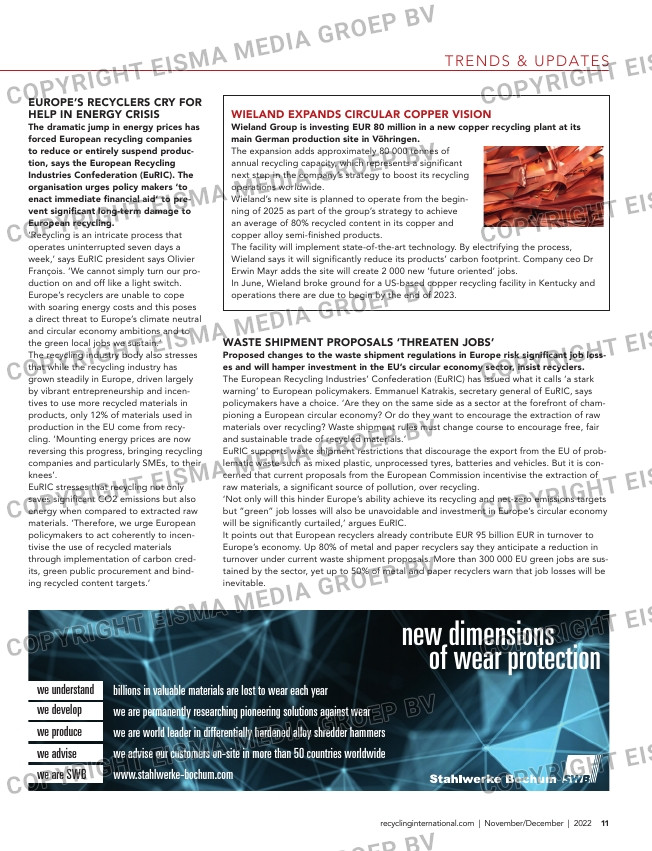 TRENDS & UPDATES
11recyclinginternational.com | November/December | 2022
Fotobijschrift
EUROPE'S RECYCLERS CRY FOR
HELP IN ENERGY CRISIS
The dramatic jump in energy prices has
forced European recycling companies
to reduce or entirely suspend produc-
tion, says the European Recycling
Industries Confederation (EuRIC). The
organisation urges policy makers 'to
enact immediate financial aid' to pre-
vent significant long-term damage to
European recycling.
'Recycling is an intricate process that
operates uninterrupted seven days a
week,' says EuRIC president says Olivier
François. 'We cannot simply turn our pro-
duction on and off like a light switch.
Europe's recyclers are unable to cope
with soaring energy costs and this poses
a direct threat to Europe's climate neutral
and circular economy ambitions and to
the green local jobs we sustain.'
The recycling industry body also stresses
that while the recycling industry has
grown steadily in Europe, driven largely
by vibrant entrepreneurship and incen-
tives to use more recycled materials in
products, only 12% of materials used in
production in the EU come from recy-
cling. 'Mounting energy prices are now
reversing this progress, bringing recycling
companies and particularly SMEs, to their
knees'.
EuRIC stresses that recycling not only
saves significant CO2 emissions but also
energy when compared to extracted raw
materials. 'Therefore, we urge European
policymakers to act coherently to incen-
tivise the use of recycled materials
through implementation of carbon cred-
its, green public procurement and bind-
ing recycled content targets.'
WASTE SHIPMENT PROPOSALS 'THREATEN JOBS'
Proposed changes to the waste shipment regulations in Europe risk significant job loss-
es and will hamper investment in the EU's circular economy sector, insist recyclers.
The European Recycling Industries' Confederation (EuRIC) has issued what it calls 'a stark
warning' to European policymakers. Emmanuel Katrakis, secretary general of EuRIC, says
policymakers have a choice. 'Are they on the same side as a sector at the forefront of cham-
pioning a European circular economy? Or do they want to encourage the extraction of raw
materials over recycling? Waste shipment rules must change course to encourage free, fair
and sustainable trade of recycled materials.'
EuRIC supports waste shipment restrictions that discourage the export from the EU of prob-
lematic waste such as mixed plastic, unprocessed tyres, batteries and vehicles. But it is con-
cerned that current proposals from the European Commission incentivise the extraction of
raw materials, a significant source of pollution, over recycling.
'Not only will this hinder Europe's ability achieve its recycling and net-zero emissions targets
but "green" job losses will also be unavoidable and investment in Europe's circular economy
will be significantly curtailed,' argues EuRIC.
It points out that European recyclers already contribute EUR 95 billion EUR in turnover to
Europe's economy. Up 80% of metal and paper recyclers say they anticipate a reduction in
turnover under current waste shipment proposals. More than 300 000 EU green jobs are sus-
tained by the sector, yet up to 50% of metal and paper recyclers warn that job losses will be
inevitable.
new dimensions
of wear protection
we understand
we produce
we advise
we are SWB
billions in valuable materials are lost to wear each year
we advise our customers on-site in more than 50 countries worldwide
we are world leader in differentially hardened alloy shredder hammers
we are permanently researching pioneering solutions against wear
www.stahlwerke-bochum.com
we develop
BETTER TRANSPORT WILL BOOST
GULF STEEL PRODUCERS
Iron and steel producers in the Gulf need an
improved and expanded transportation system
to boost competitiveness in the global market,
delegates at the Saudi International Iron &
Steel Conference 2022 in Riyadh have been
told.
Amsteel chief executive Onur Yigiter acknowl-
edged that Gulf Cooperation Council (GCC) pro-
ducers enjoy comparatively low energy supply
rates, making their production costs highly com-
petitive. But the industry still had 'a long way to
go' in terms of available transportation infrastruc-
ture, he said in a report of proceedings from event
partner Kallanish Commodities.
'We need a modern, upgraded transportation
infrastructure, which will reduce transportation
costs, in order to realise the potential,' Yigiter
added, noting that GCC producers were pursuing
the task of increased competitiveness, having
already reduced the time of discharging cargoes
at ports.
But he warned they were still behind leading low-
cost producers benefitting from facilities close to
their primary raw material resources and ports
such as in Brazil, the CIS and some Chinese mills.
'If the plant is situated in Riyadh, it will be less
competitive compared to those producers,' he
concluded. 'We need more professional transpor-
tation companies and producers, from trucks, to
infrastructure networks, and to ports.'
The Saudi 2030 Vision programme supports these
competitive efforts and it is estimated it will take
around ten years for GCC producers to become
the lowest-cost producers globally.
The GCC, more formally known at the
Cooperation Council for the Arab States of the
Gulf, is a regional, intergovernmental, political,
and economic union comprising Bahrain, Kuwait,
Oman, Qatar, Saudi Arabia, and the United Arab
Emirates.
WIELAND EXPANDS CIRCULAR COPPER VISION
Wieland Group is investing EUR 80 million in a new copper recycling plant at its
main German production site in Vöhringen.
The expansion adds approximately 80 000 tonnes of
annual recycling capacity, which represents a significant
next step in the company's strategy to boost its recycling
operations worldwide.
Wieland's new site is planned to operate from the begin-
ning of 2025 as part of the group's strategy to achieve
an average of 80% recycled content in its copper and
copper alloy semi-finished products.
The facility will implement state-of-the-art technology. By electrifying the process,
Wieland says it will significantly reduce its products' carbon footprint. Company ceo Dr
Erwin Mayr adds the site will create 2 000 new 'future oriented' jobs.
In June, Wieland broke ground for a US-based copper recycling facility in Kentucky and
operations there are due to begin by the end of 2023.
10-11-12-13-14-15_trendsupdates.indd 11 09-11-2022 15:23