West Coast report + Plastics Special
Subscribe
Page 9 from: West Coast report + Plastics Special
TRENDS & UPDATES 9recyclinginternational.com | July/August | 2019 RUSSIA SHOWS HOW TO RECYCLE MILITARY BATTERIES Submarines and military fighters are powered by large alkaline batteries weighing almost 14 tonnes. Although such b...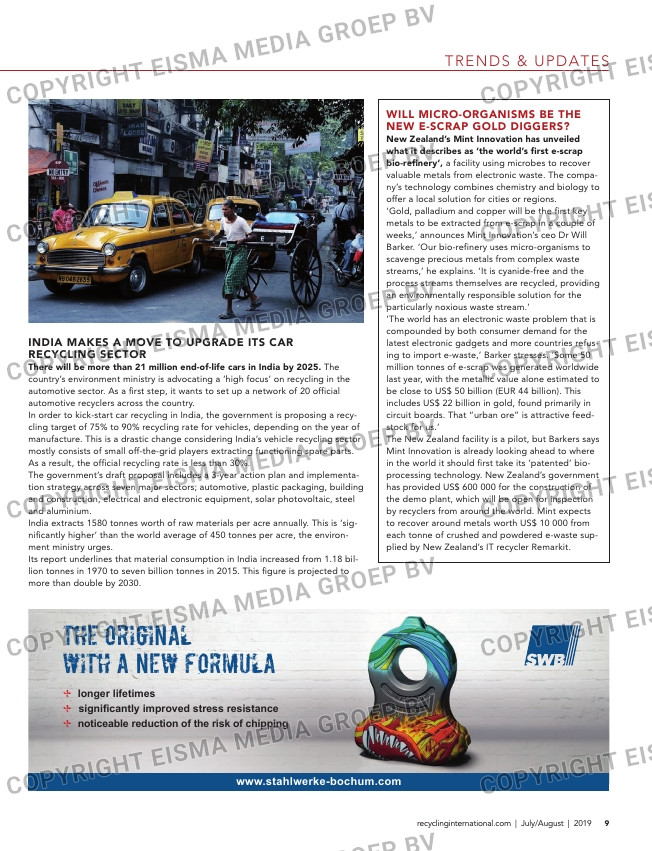 TRENDS & UPDATES
9recyclinginternational.com | July/August | 2019
RUSSIA SHOWS HOW TO RECYCLE MILITARY
BATTERIES
Submarines and military fighters are powered by large alkaline
batteries weighing almost 14 tonnes. Although such batteries last
for up to 12 years, scientists from Moscow believe they have a
future after recycling.
The National University of Science and Technology (NUST) in Russia
has developed a method to recover silver from bulky end-of-life
batteries serving military applications. The precious metal can be
used to create new high-grade batteries for submarines as well as
aircraft.
The Russian scientists say 'heavy-duty' batteries contain roughly
seven tonnes of pure silver plates. In the last decade, local manu-
facturers of silver-zinc batteries started adding 10-15% lead to the
silver. 'This lowers the costs and does not affect the performance of
the product but almost completely blocks the process of subse-
quent recycling,' the NUST specialists point out.
The university says its 'innovative cascade method' for purifying sil-
ver from lead-containing batteries now allows secondary use that
can save millions of dollars for each one produced.
Tests have been successfully conducted at the JSC Shchelkovo Plant
of Secondary Precious Metals. Here, the silver was melted in a two-
stage process, after which lead was removed and a commercial
product of 99.99% purity is obtained from raw materials with 85%
silver content. 'The pure product corresponds to all state stan-
dards,' it is reported. Very little new equipment has had to be
installed at the facility, apart from a low-cost, high-speed, melt
cooling unit.
INDIA MAKES A MOVE TO UPGRADE ITS CAR
RECYCLING SECTOR
There will be more than 21 million end-of-life cars in India by 2025. The
country's environment ministry is advocating a 'high focus' on recycling in the
automotive sector. As a first step, it wants to set up a network of 20 official
automotive recyclers across the country.
In order to kick-start car recycling in India, the government is proposing a recy-
cling target of 75% to 90% recycling rate for vehicles, depending on the year of
manufacture. This is a drastic change considering India's vehicle recycling sector
mostly consists of small off-the-grid players extracting functioning spare parts.
As a result, the official recycling rate is less than 30%.
The government's draft proposal includes a 3-year action plan and implementa-
tion strategy across seven major sectors; automotive, plastic packaging, building
and construction, electrical and electronic equipment, solar photovoltaic, steel
and aluminium.
India extracts 1580 tonnes worth of raw materials per acre annually. This is 'sig-
nificantly higher' than the world average of 450 tonnes per acre, the environ-
ment ministry urges.
Its report underlines that material consumption in India increased from 1.18 bil-
lion tonnes in 1970 to seven billion tonnes in 2015. This figure is projected to
more than double by 2030.
WILL MICRO-ORGANISMS BE THE
NEW E-SCRAP GOLD DIGGERS?
New Zealand's Mint Innovation has unveiled
what it describes as 'the world's first e-scrap
bio-refinery', a facility using microbes to recover
valuable metals from electronic waste. The compa-
ny's technology combines chemistry and biology to
offer a local solution for cities or regions.
'Gold, palladium and copper will be the first key
metals to be extracted from e-scrap in a couple of
weeks,' announces Mint Innovation's ceo Dr Will
Barker. 'Our bio-refinery uses micro-organisms to
scavenge precious metals from complex waste
streams,' he explains. 'It is cyanide-free and the
process streams themselves are recycled, providing
an environmentally responsible solution for the
particularly noxious waste stream.'
'The world has an electronic waste problem that is
compounded by both consumer demand for the
latest electronic gadgets and more countries refus-
ing to import e-waste,' Barker stresses. 'Some 50
million tonnes of e-scrap was generated worldwide
last year, with the metallic value alone estimated to
be close to US$ 50 billion (EUR 44 billion). This
includes US$ 22 billion in gold, found primarily in
circuit boards. That "urban ore" is attractive feed-
stock for us.'
The New Zealand facility is a pilot, but Barkers says
Mint Innovation is already looking ahead to where
in the world it should first take its 'patented' bio-
processing technology. New Zealand's government
has provided US$ 600 000 for the construction of
the demo plant, which will be open for inspection
by recyclers from around the world. Mint expects
to recover around metals worth US$ 10 000 from
each tonne of crushed and powdered e-waste sup-
plied by New Zealand's IT recycler Remarkit.
www.stahlwerke-bochum.com

THE ORIGINAL
WITH A NEW FORMULA
+ longer lifetimes
+ significantly improved stress resistance
+ noticeable reduction of the risk of chipping

08-09-10-11-12-13_trendsenupdates.indd 9 08-08-19 11:01