West Coast report + Plastics Special
Subscribe
Page 87 from: West Coast report + Plastics Special
BECK'S Chewing over people versus plastics Although plastic is seen by a growing number of peo- ple as the Devil's material killing our planet, it is hard to imagine how modern societies can do without it. But to tackle th...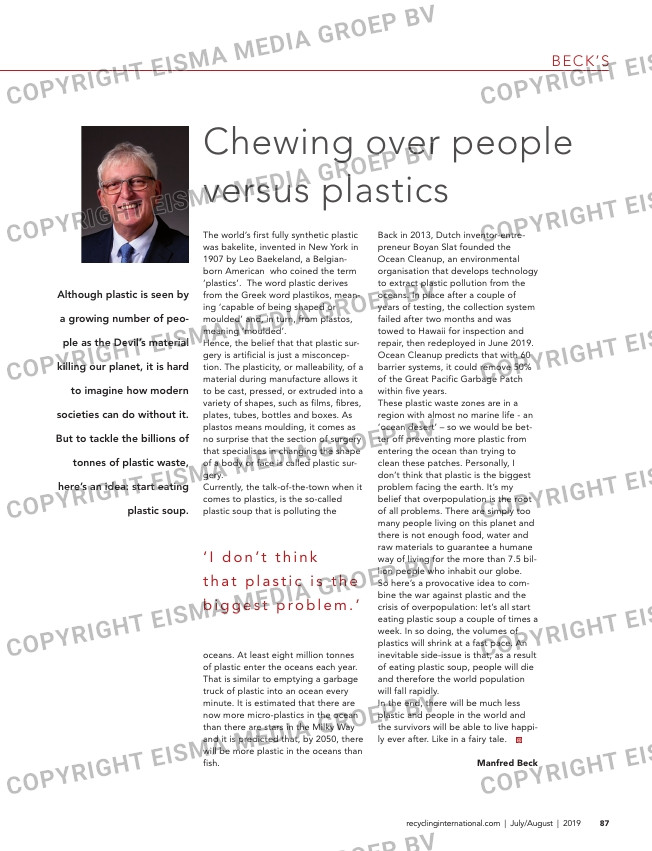 BECK'S
Chewing over people
versus plastics
Although plastic is seen by
a growing number of peo-
ple as the Devil's material
killing our planet, it is hard
to imagine how modern
societies can do without it.
But to tackle the billions of
tonnes of plastic waste,
here's an idea: start eating
plastic soup.
The world's first fully synthetic plastic
was bakelite, invented in New York in
1907 by Leo Baekeland, a Belgian-
born American who coined the term
'plastics'. The word plastic derives
from the Greek word plastikos, mean-
ing 'capable of being shaped or
moulded' and, in turn, from plastos,
meaning 'moulded'.
Hence, the belief that that plastic sur-
gery is artificial is just a misconcep-
tion. The plasticity, or malleability, of a
material during manufacture allows it
to be cast, pressed, or extruded into a
variety of shapes, such as films, fibres,
plates, tubes, bottles and boxes. As
plastos means moulding, it comes as
no surprise that the section of surgery
that specialises in changing the shape
of a body or face is called plastic sur-
gery.
Currently, the talk-of-the-town when it
comes to plastics, is the so-called
plastic soup that is polluting the
oceans. At least eight million tonnes
of plastic enter the oceans each year.
That is similar to emptying a garbage
truck of plastic into an ocean every
minute. It is estimated that there are
now more micro-plastics in the ocean
than there are stars in the Milky Way
and it is predicted that, by 2050, there
will be more plastic in the oceans than
fish.
Back in 2013, Dutch inventor-entre-
preneur Boyan Slat founded the
Ocean Cleanup, an environmental
organisation that develops technology
to extract plastic pollution from the
oceans. In place after a couple of
years of testing, the collection system
failed after two months and was
towed to Hawaii for inspection and
repair, then redeployed in June 2019.
Ocean Cleanup predicts that with 60
barrier systems, it could remove 50%
of the Great Pacific Garbage Patch
within five years.
These plastic waste zones are in a
region with almost no marine life – an
'ocean desert' – so we would be bet-
ter off preventing more plastic from
entering the ocean than trying to
clean these patches. Personally, I
don't think that plastic is the biggest
problem facing the earth. It's my
belief that overpopulation is the root
of all problems. There are simply too
many people living on this planet and
there is not enough food, water and
raw materials to guarantee a humane
way of living for the more than 7.5 bil-
lion people who inhabit our globe.
So here's a provocative idea to com-
bine the war against plastic and the
crisis of overpopulation: let's all start
eating plastic soup a couple of times a
week. In so doing, the volumes of
plastics will shrink at a fast pace. An
inevitable side-issue is that, as a result
of eating plastic soup, people will die
and therefore the world population
will fall rapidly.
In the end, there will be much less
plastic and people in the world and
the survivors will be able to live happi-
ly ever after. Like in a fairy tale.
Manfred Beck
' I d o n ' t t h i n k
t h a t p l a s t i c i s t h e
b i g g e s t p ro b l e m . '
87recyclinginternational.com | July/August | 2019
87_becks.indd 87 08-08-19 11:48