West Coast report + Plastics Special
Subscribe
Page 84 from: West Coast report + Plastics Special
PLASTICSMARKET ANALYSIS Change in the air as import restrictions bite The growing list of Asian countries bearing down on low-quality scrap is forcing Western exporters to develop new strategies. Export of plastic scrap from European...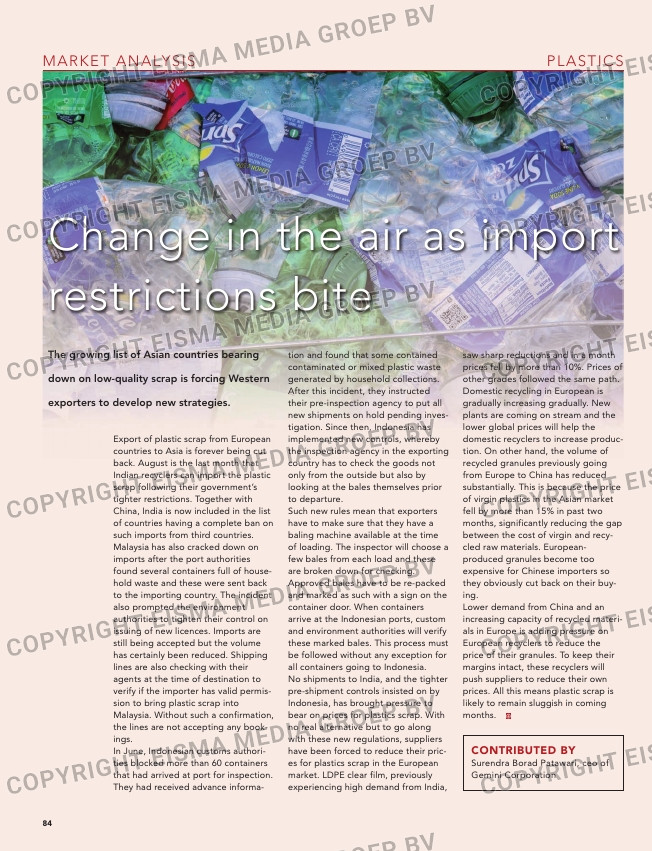 PLASTICSMARKET ANALYSIS
Change in the air as import
restrictions bite
The growing list of Asian countries bearing
down on low-quality scrap is forcing Western
exporters to develop new strategies.
Export of plastic scrap from European
countries to Asia is forever being cut
back. August is the last month that
Indian recyclers can import the plastic
scrap following their government's
tighter restrictions. Together with
China, India is now included in the list
of countries having a complete ban on
such imports from third countries.
Malaysia has also cracked down on
imports after the port authorities
found several containers full of house-
hold waste and these were sent back
to the importing country. The incident
also prompted the environment
authorities to tighten their control on
issuing of new licences. Imports are
still being accepted but the volume
has certainly been reduced. Shipping
lines are also checking with their
agents at the time of destination to
verify if the importer has valid permis-
sion to bring plastic scrap into
Malaysia. Without such a confirmation,
the lines are not accepting any book-
ings.
In June, Indonesian customs authori-
ties blocked more than 60 containers
that had arrived at port for inspection.
They had received advance informa-
CONTRIBUTED BY
Surendra Borad Patawari, ceo of
Gemini Corporation
tion and found that some contained
contaminated or mixed plastic waste
generated by household collections.
After this incident, they instructed
their pre-inspection agency to put all
new shipments on hold pending inves-
tigation. Since then, Indonesia has
implemented new controls, whereby
the inspection agency in the exporting
country has to check the goods not
only from the outside but also by
looking at the bales themselves prior
to departure.
Such new rules mean that exporters
have to make sure that they have a
baling machine available at the time
of loading. The inspector will choose a
few bales from each load and these
are broken down for checking.
Approved bales have to be re-packed
and marked as such with a sign on the
container door. When containers
arrive at the Indonesian ports, custom
and environment authorities will verify
these marked bales. This process must
be followed without any exception for
all containers going to Indonesia.
No shipments to India, and the tighter
pre-shipment controls insisted on by
Indonesia, has brought pressure to
bear on prices for plastics scrap. With
no real alternative but to go along
with these new regulations, suppliers
have been forced to reduce their pric-
es for plastics scrap in the European
market. LDPE clear film, previously
experiencing high demand from India,
saw sharp reductions and in a month
prices fell by more than 10%. Prices of
other grades followed the same path.
Domestic recycling in European is
gradually increasing gradually. New
plants are coming on stream and the
lower global prices will help the
domestic recyclers to increase produc-
tion. On other hand, the volume of
recycled granules previously going
from Europe to China has reduced
substantially. This is because the price
of virgin plastics in the Asian market
fell by more than 15% in past two
months, significantly reducing the gap
between the cost of virgin and recy-
cled raw materials. European-
produced granules become too
expensive for Chinese importers so
they obviously cut back on their buy-
ing.
Lower demand from China and an
increasing capacity of recycled materi-
als in Europe is adding pressure on
European recyclers to reduce the
price of their granules. To keep their
margins intact, these recyclers will
push suppliers to reduce their own
prices. All this means plastic scrap is
likely to remain sluggish in coming
months.
84
84_ma-plastics.indd 84 08-08-19 11:22