West Coast report + Plastics Special
Subscribe
Page 83 from: West Coast report + Plastics Special
TEXTILES 83recyclinginternational.com | July/August | 2019 CONTRIBUTING TO THE RECOVERED PAPER MARKET ANALYSIS: Ken McEntee, publisher of The Paper Stock Report THE BIR VIEW Jean-Luc Petithuguenin, president of the BIR recovered ...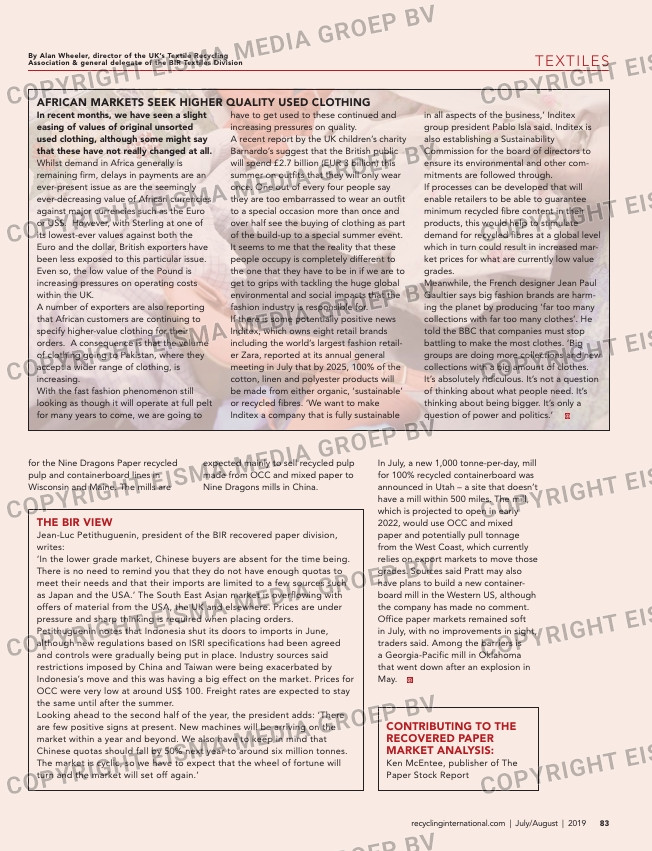 TEXTILES
83recyclinginternational.com | July/August | 2019
CONTRIBUTING TO THE
RECOVERED PAPER
MARKET ANALYSIS:
Ken McEntee, publisher of The
Paper Stock Report
THE BIR VIEW
Jean-Luc Petithuguenin, president of the BIR recovered paper division,
writes:
'In the lower grade market, Chinese buyers are absent for the time being.
There is no need to remind you that they do not have enough quotas to
meet their needs and that their imports are limited to a few sources such
as Japan and the USA.' The South East Asian market is overflowing with
offers of material from the USA, the UK and elsewhere. Prices are under
pressure and sharp thinking is required when placing orders.
Petithuguenin notes that Indonesia shut its doors to imports in June,
although new regulations based on ISRI specifications had been agreed
and controls were gradually being put in place. Industry sources said
restrictions imposed by China and Taiwan were being exacerbated by
Indonesia's move and this was having a big effect on the market. Prices for
OCC were very low at around US$ 100. Freight rates are expected to stay
the same until after the summer.
Looking ahead to the second half of the year, the president adds: 'There
are few positive signs at present. New machines will be arriving on the
market within a year and beyond. We also have to keep in mind that
Chinese quotas should fall by 50% next year to around six million tonnes.
The market is cyclic, so we have to expect that the wheel of fortune will
turn and the market will set off again.'
By Alan Wheeler, director of the UK's Textile Recycling
Association & general delegate of the BIR Textiles Division
AFRICAN MARKETS SEEK HIGHER QUALITY USED CLOTHING
In recent months, we have seen a slight
easing of values of original unsorted
used clothing, although some might say
that these have not really changed at all.
Whilst demand in Africa generally is
remaining firm, delays in payments are an
ever-present issue as are the seemingly
ever-decreasing value of African currencies
against major currencies such as the Euro
or US$. However, with Sterling at one of
its lowest-ever values against both the
Euro and the dollar, British exporters have
been less exposed to this particular issue.
Even so, the low value of the Pound is
increasing pressures on operating costs
within the UK.
A number of exporters are also reporting
that African customers are continuing to
specify higher-value clothing for their
orders. A consequence is that the volume
of clothing going to Pakistan, where they
accept a wider range of clothing, is
increasing.
With the fast fashion phenomenon still
looking as though it will operate at full pelt
for many years to come, we are going to
have to get used to these continued and
increasing pressures on quality.
A recent report by the UK children's charity
Barnardo's suggest that the British public
will spend £2.7 billion (EUR 3 billion) this
summer on outfits that they will only wear
once. One out of every four people say
they are too embarrassed to wear an outfit
to a special occasion more than once and
over half see the buying of clothing as part
of the build-up to a special summer event.
It seems to me that the reality that these
people occupy is completely different to
the one that they have to be in if we are to
get to grips with tackling the huge global
environmental and social impacts that the
fashion industry is responsible for.
If there is some potentially positive news
Inditex, which owns eight retail brands
including the world's largest fashion retail-
er Zara, reported at its annual general
meeting in July that by 2025, 100% of the
cotton, linen and polyester products will
be made from either organic, 'sustainable'
or recycled fibres. 'We want to make
Inditex a company that is fully sustainable
in all aspects of the business,' Inditex
group president Pablo Isla said. Inditex is
also establishing a Sustainability
Commission for the board of directors to
ensure its environmental and other com-
mitments are followed through.
If processes can be developed that will
enable retailers to be able to guarantee
minimum recycled fibre content in their
products, this would help to stimulate
demand for recycled fibres at a global level
which in turn could result in increased mar-
ket prices for what are currently low value
grades.
Meanwhile, the French designer Jean Paul
Gaultier says big fashion brands are harm-
ing the planet by producing 'far too many
collections with far too many clothes'. He
told the BBC that companies must stop
battling to make the most clothes. 'Big
groups are doing more collections and new
collections with a big amount of clothes.
It's absolutely ridiculous. It's not a question
of thinking about what people need. It's
thinking about being bigger. It's only a
question of power and politics.'
for the Nine Dragons Paper recycled
pulp and containerboard lines in
Wisconsin and Maine. The mills are
expected mainly to sell recycled pulp
made from OCC and mixed paper to
Nine Dragons mills in China.
In July, a new 1,000 tonne-per-day, mill
for 100% recycled containerboard was
announced in Utah – a site that doesn't
have a mill within 500 miles. The mill,
which is projected to open in early
2022, would use OCC and mixed
paper and potentially pull tonnage
from the West Coast, which currently
relies on export markets to move those
grades. Sources said Pratt may also
have plans to build a new container-
board mill in the Western US, although
the company has made no comment.
Office paper markets remained soft
in July, with no improvements in sight,
traders said. Among the barriers is
a Georgia-Pacific mill in Oklahoma
that went down after an explosion in
May.
82-83_mapapertextiles.indd 83 08-08-19 11:22