West Coast report + Plastics Special
Subscribe
Page 76 from: West Coast report + Plastics Special
MARKET ANALYSIS Nickel outperforms but stainless sector under pressure Strong mid-year prices for nickel reflect higher stainless steel production in China and Indonesia but Europe cries foul over cheap imports. of 2018, based on dat...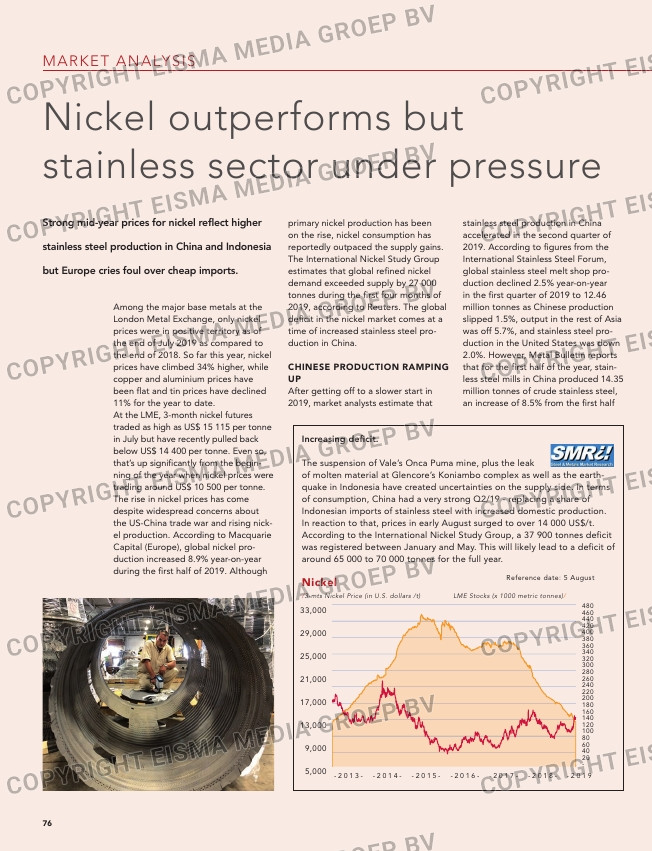 MARKET ANALYSIS
Nickel outperforms but
stainless sector under pressure
Strong mid-year prices for nickel reflect higher
stainless steel production in China and Indonesia
but Europe cries foul over cheap imports.
of 2018, based on data from the China
Stainless Steel Council.
The ramping up of Chinese stain-
less steel production in the second
quarter, along with increased output
in Indonesia, have been key driv-
ers for the global stainless steel and
scrap industries. In the latest BIR
World Mirror, Vegas Yang of HSKU
Raw Material and Mahiar R. Patel
from Cronimet in Singapore report
that 'Asian mills' demand for stain-
less scrap has stabilised but Indonesia
TS Stainless is still producing at full
speed'.
Nickel, nickel pig iron, and stainless
steel market developments in Asia con-
tinue to have disproportionately large
implications for market participants in
Europe and the United States.
CHALLENGING CONDITIONS IN
EUROPE
In Europe, concerns about slowing
German manufacturing output and
potential Brexit ramifications continue
to weigh on commodity market senti-
ment. The unintended consequences
of protectionist trade measures are
also causing market disruptions.
According to Joost Van Kleef from
Oryx Stainless in the Netherlands the
European market for stainless finished
goods is faces cheap imports originat-
ing mainly from Indonesia. 'This is lead-
ing to unrelenting cost pressure, lower
order intakes and thus lower capacity
utilisation rates,' he says. 'As a conse-
quence, one of the major EU stainless
producers has announced job cuts of
more than 10% at its main facility.'
Import competition and rising raw
material costs are some of the major
factors affecting European stainless
steel producers. 'The market remains
challenging. Many market participants
are expecting some correction soon
in the nickel price, which would have
its usual effect on the availability of
stainless scrap.' Van Kleef adds. There
are reports the EU is considering new
duties on imported steel (see box).
MIXED US REPORTS
In the United States, rising nickel prices
have generally been accompanied
stainless steel production in China
accelerated in the second quarter of
2019. According to figures from the
International Stainless Steel Forum,
global stainless steel melt shop pro-
duction declined 2.5% year-on-year
in the first quarter of 2019 to 12.46
million tonnes as Chinese production
slipped 1.5%, output in the rest of Asia
was off 5.7%, and stainless steel pro-
duction in the United States was down
2.0%. However, Metal Bulletin reports
that for the first half of the year, stain-
less steel mills in China produced 14.35
million tonnes of crude stainless steel,
an increase of 8.5% from the first half
76
Among the major base metals at the
London Metal Exchange, only nickel
prices were in positive territory as of
the end of July 2019 as compared to
the end of 2018. So far this year, nickel
prices have climbed 34% higher, while
copper and aluminium prices have
been flat and tin prices have declined
11% for the year to date.
At the LME, 3-month nickel futures
traded as high as US$ 15 115 per tonne
in July but have recently pulled back
below US$ 14 400 per tonne. Even so,
that's up significantly from the begin-
ning of the year when nickel prices were
trading around US$ 10 500 per tonne.
The rise in nickel prices has come
despite widespread concerns about
the US-China trade war and rising nick-
el production. According to Macquarie
Capital (Europe), global nickel pro-
duction increased 8.9% year-on-year
during the first half of 2019. Although
Increasing deficit.
The suspension of Vale's Onca Puma mine, plus the leak
of molten material at Glencore's Koniambo complex as well as the earth-
quake in Indonesia have created uncertainties on the supply side. In terms
of consumption, China had a very strong Q2/19 – replacing a share of
Indonesian imports of stainless steel with increased domestic production.
In reaction to that, prices in early August surged to over 14 000 US$/t.
According to the International Nickel Study Group, a 37 900 tonnes deficit
was registered between January and May. This will likely lead to a deficit of
around 65 000 to 70 000 tonnes for the full year.
Nickel
/3-mts Nickel Price (in U.S. dollars /t) LME Stocks (x 1000 metric tonnes)/

– 2 0 1 3 – – 2 0 1 4 – – 2 0 1 5 – – 2 0 1 6 – – 2 0 1 7 – – 2 0 1 8 – – 2 0 1 9
Reference date: 5 August
480
460
440
420
400
380
360
340
320
300
280
260
240
220
200
180
160
140
120
100
80
60
40
20
–
33,000
29,000
25,000
21,000
17,000
13,000
9,000
5,000
primary nickel production has been
on the rise, nickel consumption has
reportedly outpaced the supply gains.
The International Nickel Study Group
estimates that global refined nickel
demand exceeded supply by 27 000
tonnes during the first four months of
2019, according to Reuters. The global
deficit in the nickel market comes at a
time of increased stainless steel pro-
duction in China.
CHINESE PRODUCTION RAMPING
UP
After getting off to a slower start in
2019, market analysts estimate that
76-77_manickelstainless.indd 76 08-08-19 11:21