West Coast report + Plastics Special
Subscribe
Page 71 from: West Coast report + Plastics Special
TRENDS & UPDATES 71recyclinginternational.com | July/August | 2019 CASH BOOST FOR PLASTIC AND TEXTILE RECY- CLING IDEAS Innovators are being urged to bid for UK Government grants that could result in smarter recycling of textiles...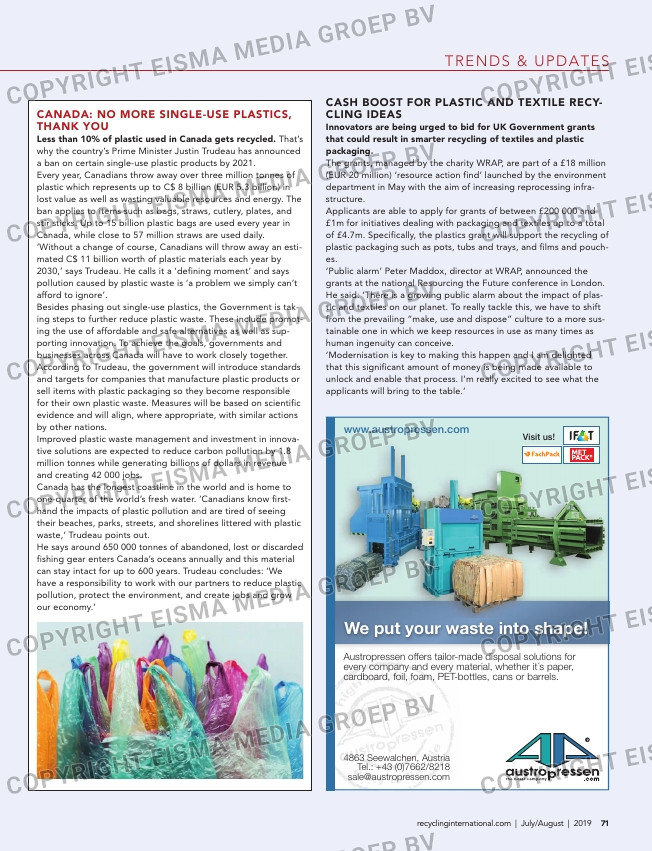 TRENDS & UPDATES
71recyclinginternational.com | July/August | 2019
CASH BOOST FOR PLASTIC AND TEXTILE RECY-
CLING IDEAS
Innovators are being urged to bid for UK Government grants
that could result in smarter recycling of textiles and plastic
packaging.
The grants, managed by the charity WRAP, are part of a £18 million
(EUR 20 million) 'resource action find' launched by the environment
department in May with the aim of increasing reprocessing infra-
structure.
Applicants are able to apply for grants of between £200 000 and
£1m for initiatives dealing with packaging and textiles up to a total
of £4.7m. Specifically, the plastics grant will support the recycling of
plastic packaging such as pots, tubs and trays, and films and pouch-
es.
'Public alarm' Peter Maddox, director at WRAP, announced the
grants at the national Resourcing the Future conference in London.
He said: 'There is a growing public alarm about the impact of plas-
tic and textiles on our planet. To really tackle this, we have to shift
from the prevailing "make, use and dispose" culture to a more sus-
tainable one in which we keep resources in use as many times as
human ingenuity can conceive.
'Modernisation is key to making this happen and I am delighted
that this significant amount of money is being made available to
unlock and enable that process. I'm really excited to see what the
applicants will bring to the table.'
CANADA: NO MORE SINGLE-USE PLASTICS,
THANK YOU
Less than 10% of plastic used in Canada gets recycled. That's
why the country's Prime Minister Justin Trudeau has announced
a ban on certain single-use plastic products by 2021.
Every year, Canadians throw away over three million tonnes of
plastic which represents up to C$ 8 billion (EUR 5.3 billion) in
lost value as well as wasting valuable resources and energy. The
ban applies to items such as bags, straws, cutlery, plates, and
stir sticks. Up to 15 billion plastic bags are used every year in
Canada, while close to 57 million straws are used daily.
'Without a change of course, Canadians will throw away an esti-
mated C$ 11 billion worth of plastic materials each year by
2030,' says Trudeau. He calls it a 'defining moment' and says
pollution caused by plastic waste is 'a problem we simply can't
afford to ignore'.
Besides phasing out single-use plastics, the Government is tak-
ing steps to further reduce plastic waste. These include promot-
ing the use of affordable and safe alternatives as well as sup-
porting innovation. To achieve the goals, governments and
businesses across Canada will have to work closely together.
According to Trudeau, the government will introduce standards
and targets for companies that manufacture plastic products or
sell items with plastic packaging so they become responsible
for their own plastic waste. Measures will be based on scientific
evidence and will align, where appropriate, with similar actions
by other nations.
Improved plastic waste management and investment in innova-
tive solutions are expected to reduce carbon pollution by 1.8
million tonnes while generating billions of dollars in revenue
and creating 42 000 jobs.
Canada has the longest coastline in the world and is home to
one-quarter of the world's fresh water. 'Canadians know first-
hand the impacts of plastic pollution and are tired of seeing
their beaches, parks, streets, and shorelines littered with plastic
waste,' Trudeau points out.
He says around 650 000 tonnes of abandoned, lost or discarded
fishing gear enters Canada's oceans annually and this material
can stay intact for up to 600 years. Trudeau concludes: 'We
have a responsibility to work with our partners to reduce plastic
pollution, protect the environment, and create jobs and grow
our economy.'
LEADING TECHNOLOGIES FOR WEEE
ANDRITZ's innovative Cross-Flow
Shredder QZ breaks down different
composite materials quickly and gently
with rotating chains so that the individual
fractions are exposed and can easily
be sorted. Parts containing hazardous
substances are left intact, while
potentially harmful gases are collected
in compliance with WEEELABEX and
CENELEC requirements. This single-stage
process with high economic efficiency is
conducted in a fully encapsulated system
warranting high throughput and rapid
access to extremely clean fractions while
reducing costs for energy consumption and
maintenance. For more information please
contact us: [email protected]
ANDRITZ AG ⁄ Stattegger Strasse 18 ⁄ 8045 Graz ⁄ Austria ⁄ andritz.com/recycling
RECOVER RAW
MATERIALS

MAINTAIN VALUES

RECYCLING Austropressen offers tailor-made disposal solutions for
every company and every material, whether it´s paper,
cardboard, foil, foam, PET-bottles, cans or barrels.
4863 Seewalchen, Austria
Tel.: +43 (0)7662/8218
We put your waste into shape!
www.austropressen.com
Visit us!
70-71_trendsenupdates kopie.indd 71 08-08-19 11:20