West Coast report + Plastics Special
Subscribe
Page 65 from: West Coast report + Plastics Special
PLASTICS SPECIAL 65recyclinginternational.com | July/August | 2019 On a mission to spread the message of recycling At a very young age, Kanika Patawari, daughter of renowned entrepreneur and plastics recy- cler Surendra Borad Pa...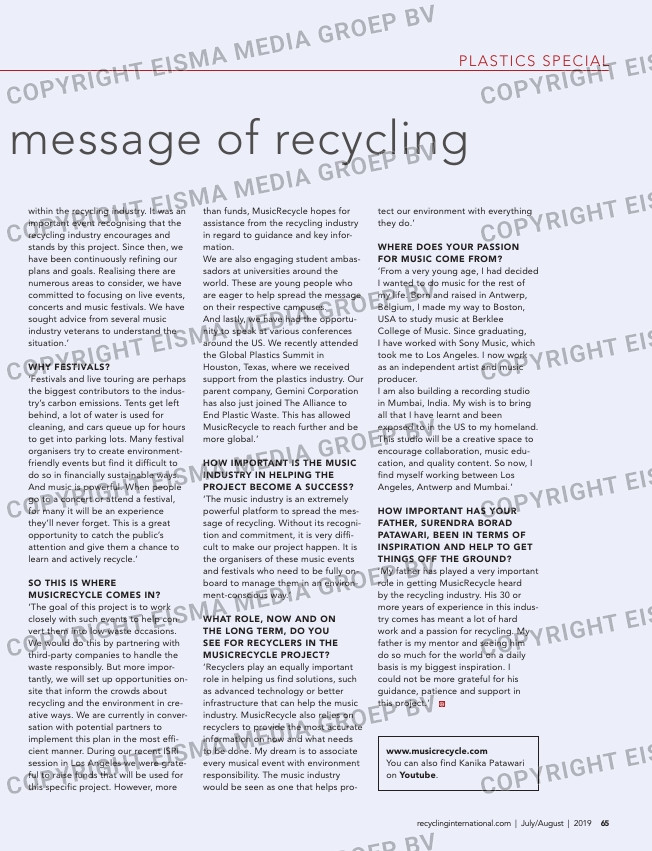 PLASTICS SPECIAL
65recyclinginternational.com | July/August | 2019
On a mission to spread the message of recycling
At a very young age, Kanika
Patawari, daughter of renowned
entrepreneur and plastics recy-
cler Surendra Borad Patawari,
decided she wanted music to be
at the centre of her life. Today,
her passion meets the global
challenges of recycling with the
MusicRecycle project: 'Music is
powerful.'
within the recycling industry. It was an
important event recognising that the
recycling industry encourages and
stands by this project. Since then, we
have been continuously refining our
plans and goals. Realising there are
numerous areas to consider, we have
committed to focusing on live events,
concerts and music festivals. We have
sought advice from several music
industry veterans to understand the
situation.'
WHY FESTIVALS?
'Festivals and live touring are perhaps
the biggest contributors to the indus-
try's carbon emissions. Tents get left
behind, a lot of water is used for
cleaning, and cars queue up for hours
to get into parking lots. Many festival
organisers try to create environment-
friendly events but find it difficult to
do so in financially sustainable ways.
And music is powerful. When people
go to a concert or attend a festival,
for many it will be an experience
they'll never forget. This is a great
opportunity to catch the public's
attention and give them a chance to
learn and actively recycle.'
SO THIS IS WHERE
MUSICRECYCLE COMES IN?
'The goal of this project is to work
closely with such events to help con-
vert them into low-waste occasions.
We would do this by partnering with
third-party companies to handle the
waste responsibly. But more impor-
tantly, we will set up opportunities on-
site that inform the crowds about
recycling and the environment in cre-
ative ways. We are currently in conver-
sation with potential partners to
implement this plan in the most effi-
cient manner. During our recent ISRI
session in Los Angeles we were grate-
ful to raise funds that will be used for
this specific project. However, more
than funds, MusicRecycle hopes for
assistance from the recycling industry
in regard to guidance and key infor-
mation.
We are also engaging student ambas-
sadors at universities around the
world. These are young people who
are eager to help spread the message
on their respective campuses.
And lastly, we have had the opportu-
nity to speak at various conferences
around the US. We recently attended
the Global Plastics Summit in
Houston, Texas, where we received
support from the plastics industry. Our
parent company, Gemini Corporation
has also just joined The Alliance to
End Plastic Waste. This has allowed
MusicRecycle to reach further and be
more global.'
HOW IMPORTANT IS THE MUSIC
INDUSTRY IN HELPING THE
PROJECT BECOME A SUCCESS?
'The music industry is an extremely
powerful platform to spread the mes-
sage of recycling. Without its recogni-
tion and commitment, it is very diffi-
cult to make our project happen. It is
the organisers of these music events
and festivals who need to be fully on-
board to manage them in an environ-
ment-conscious way.'
WHAT ROLE, NOW AND ON
THE LONG TERM, DO YOU
SEE FOR RECYCLERS IN THE
MUSICRECYCLE PROJECT?
'Recyclers play an equally important
role in helping us find solutions, such
as advanced technology or better
infrastructure that can help the music
industry. MusicRecycle also relies on
recyclers to provide the most accurate
information on how and what needs
to be done. My dream is to associate
every musical event with environment
responsibility. The music industry
would be seen as one that helps pro-
tect our environment with everything
they do.'
WHERE DOES YOUR PASSION
FOR MUSIC COME FROM?
'From a very young age, I had decided
I wanted to do music for the rest of
my life. Born and raised in Antwerp,
Belgium, I made my way to Boston,
USA to study music at Berklee
College of Music. Since graduating,
I have worked with Sony Music, which
took me to Los Angeles. I now work
as an independent artist and music
producer.
I am also building a recording studio
in Mumbai, India. My wish is to bring
all that I have learnt and been
exposed to in the US to my homeland.
This studio will be a creative space to
encourage collaboration, music edu-
cation, and quality content. So now, I
find myself working between Los
Angeles, Antwerp and Mumbai.'
HOW IMPORTANT HAS YOUR
FATHER, SURENDRA BORAD
PATAWARI, BEEN IN TERMS OF
INSPIRATION AND HELP TO GET
THINGS OFF THE GROUND?
'My father has played a very important
role in getting MusicRecycle heard
by the recycling industry. His 30 or
more years of experience in this indus-
try comes has meant a lot of hard
work and a passion for recycling. My
father is my mentor and seeing him
do so much for the world on a daily
basis is my biggest inspiration. I
could not be more grateful for his
guidance, patience and support in
this project.'
www.musicrecycle.com
You can also find Kanika Patawari
on Youtube.
64-65_kanikapatawari.indd 65 08-08-19 11:18