West Coast report + Plastics Special
Subscribe
Page 56 from: West Coast report + Plastics Special
A U T H O R Kirstin Linnenkoper 56 Prada proves how to tackle plastic waste with style Dutch tech leads Unilever towards PET recycling Italian firm Aquafil has partnered-up with couture designer Prada to prove recy- cled plastics an...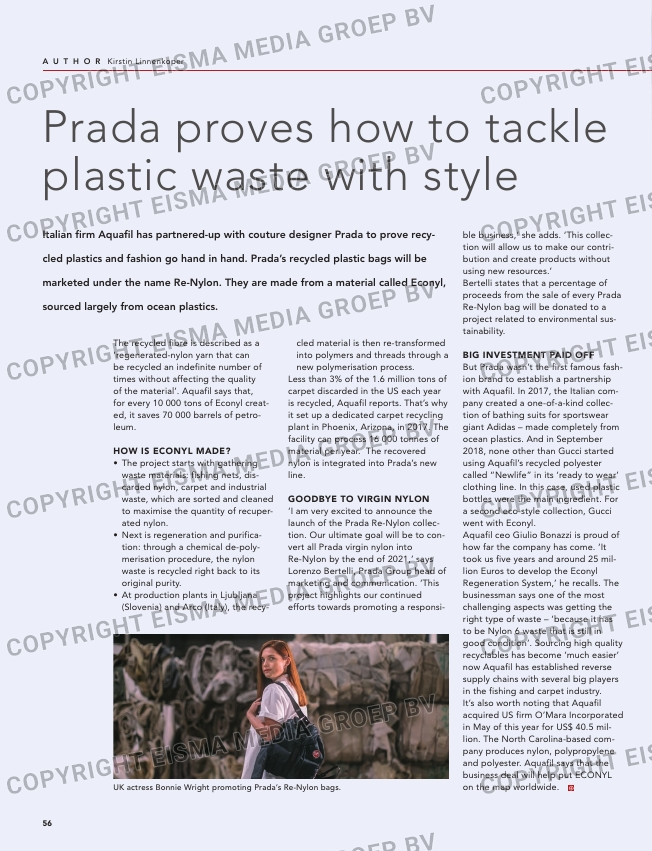 A U T H O R Kirstin Linnenkoper
56
Prada proves how to tackle
plastic waste with style
Dutch tech leads Unilever
towards PET recycling
Italian firm Aquafil has partnered-up with couture designer Prada to prove recy-
cled plastics and fashion go hand in hand. Prada's recycled plastic bags will be
marketed under the name Re-Nylon. They are made from a material called Econyl,
sourced largely from ocean plastics.
Around 2.5 billion people use Unilever products every day. The pro-
ducer acknowledges that this creates a major polyethylene (PET)
waste stream and has therefore recently joined forces with Dutch
plastics recycler Ioniqa.
The recycled fibre is described as a
'regenerated-nylon yarn that can
be recycled an indefinite number of
times without affecting the quality
of the material'. Aquafil says that,
for every 10 000 tons of Econyl creat-
ed, it saves 70 000 barrels of petro-
leum.
HOW IS ECONYL MADE?
• The project starts with gathering
waste materials: fishing nets, dis-
carded nylon, carpet and industrial
waste, which are sorted and cleaned
to maximise the quantity of recuper-
ated nylon.
• Next is regeneration and purifica-
tion: through a chemical de-poly-
merisation procedure, the nylon
waste is recycled right back to its
original purity.
• At production plants in Ljubljana
(Slovenia) and Arco (Italy), the recy-
cled material is then re-transformed
into polymers and threads through a
new polymerisation process.
Less than 3% of the 1.6 million tons of
carpet discarded in the US each year
is recycled, Aquafil reports. That's why
it set up a dedicated carpet recycling
plant in Phoenix, Arizona, in 2017. The
facility can process 16 000 tonnes of
material per year. The recovered
nylon is integrated into Prada's new
line.
GOODBYE TO VIRGIN NYLON
'I am very excited to announce the
launch of the Prada Re-Nylon collec-
tion. Our ultimate goal will be to con-
vert all Prada virgin nylon into
Re-Nylon by the end of 2021,' says
Lorenzo Bertelli, Prada Group head of
marketing and communication. 'This
project highlights our continued
efforts towards promoting a responsi-
ble business,' she adds. 'This collec-
tion will allow us to make our contri-
bution and create products without
using new resources.'
Bertelli states that a percentage of
proceeds from the sale of every Prada
Re-Nylon bag will be donated to a
project related to environmental sus-
tainability.
BIG INVESTMENT PAID OFF
But Prada wasn't the first famous fash-
ion brand to establish a partnership
with Aquafil. In 2017, the Italian com-
pany created a one-of-a-kind collec-
tion of bathing suits for sportswear
giant Adidas – made completely from
ocean plastics. And in September
2018, none other than Gucci started
using Aquafil's recycled polyester
called "Newlife" in its 'ready to wear'
clothing line. In this case, used plastic
bottles were the main ingredient. For
a second eco-style collection, Gucci
went with Econyl.
Aquafil ceo Giulio Bonazzi is proud of
how far the company has come. 'It
took us five years and around 25 mil-
lion Euros to develop the Econyl
Regeneration System,' he recalls. The
businessman says one of the most
challenging aspects was getting the
right type of waste – 'because it has
to be Nylon 6 waste that is still in
good condition'. Sourcing high quality
recyclables has become 'much easier'
now Aquafil has established reverse
supply chains with several big players
in the fishing and carpet industry.
It's also worth noting that Aquafil
acquired US firm O'Mara Incorporated
in May of this year for US$ 40.5 mil-
lion. The North Carolina-based com-
pany produces nylon, polypropylene
and polyester. Aquafil says that the
business deal will help put ECONYL
on the map worldwide. UK actress Bonnie Wright promoting Prada's Re-Nylon bags.
ADDING
VALUE
Also at

EMO Ha
nnover!

Hall 7, S
tand D7

1 VISIT U
S!
www.briquetting.com/contact/ Ruf Maschinenbau GmbH & Co.KG | Tel. +49 (0) 8268/9090-20 | [email protected]
BENEFITING
B R I Q U E T T I N G

Briquette chips, dust and sludge from aluminium, cast-iron, steel, copper alloy and many other materials.
recovery of cooling
lubricants
Simplifi ed logistics –
reduced transport costs
Additional revenue
for briquettes
Defi ned scrap
quality
volume reduction
RUF_M14_RecInt_205x64_GB_EMO.indd 1 17.07.19 22:35
Unilever owns more than 300 factories
worldwide, with operations in more
than 100 countries. Its turnover was
EUR 52 billion in 2018, up 5% on the
previous year. Unilever invests roughly
EUR 1 bn in R&D annually and its scien-
tists have been focussing on eco-design
and the 'smarter' use of materials.
'Only around 14% of PET is recycled in
Europe,' says Sanjeev Das, a packaging
specialist at Unilever. Principal factors
are a lack of infrastructure to collect
and sort discarded plastic and techni-
cal constraints. 'Recycling coloured or
contaminated plastic has proved
extremely challenging,' Das adds.
MOLECULAR BREAKDOWN
The good news is that Unilever is col-
laborating with Dutch start-up company
Ioniqa to maximise the recycling poten-
56-57_producersrecycledproducts.indd 56 08-08-19 11:16