West Coast report + Plastics Special
Subscribe
Page 52 from: West Coast report + Plastics Special
A U T H O R Kristine Berg 52 Sailing to the heart of the plastic wasteland 'The ocean is such a special place. We are all connected to it. Growing up along the Norwegian fjords, I spent all my summers on or in the water,' says Kri...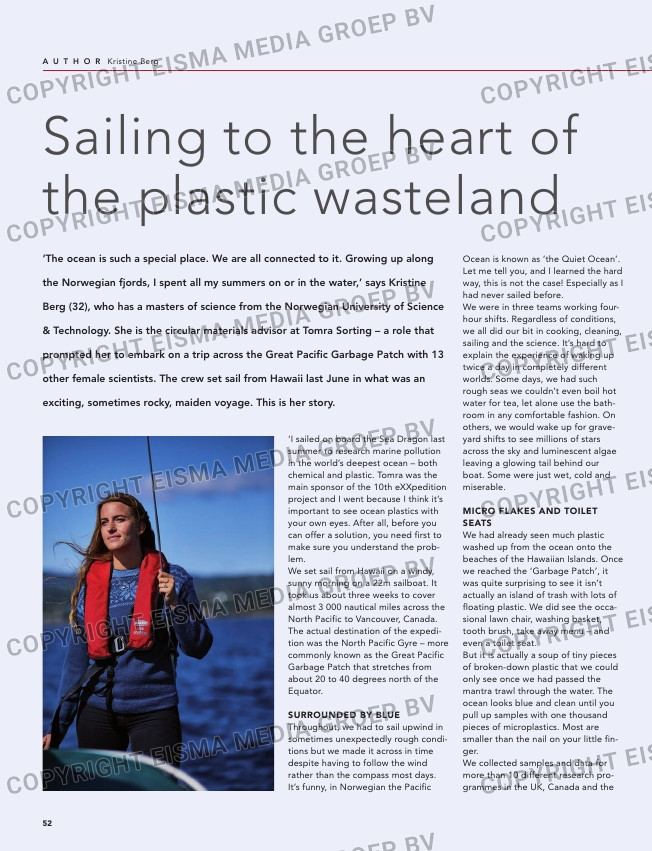 A U T H O R Kristine Berg
52
Sailing to the heart of
the plastic wasteland
'The ocean is such a special place. We are all connected to it. Growing up along
the Norwegian fjords, I spent all my summers on or in the water,' says Kristine
Berg (32), who has a masters of science from the Norwegian University of Science
& Technology. She is the circular materials advisor at Tomra Sorting – a role that
prompted her to embark on a trip across the Great Pacific Garbage Patch with 13
other female scientists. The crew set sail from Hawaii last June in what was an
exciting, sometimes rocky, maiden voyage. This is her story.
US. Our work included trawling for
microplastics, visual registration of
larger pieces of debris, surface water
samples and testing for airborne
micro-plastic contamination.
LIFE ON MARS
We also attached a GPS tracker with
NASA technology to a system of
'ghost nets' (abandoned fishing nets
and ropes) to map how bigger pieces
of plastic behave in the open ocean.
As chemical pollution is also definitely
associated with marine litter, we even
tested our hair for mercury levels.
Our skipper Emily Penn found out that
29 of the 35 chemicals we tested for
were in her system, possibly because
she was eating fish.
The entire experience was surreal, like
being on Mars and seeing flipflops
and coffee cups flying around. It was
hard to grasp the disconnect between
the amazing beauty of deep blue
oceans, dolphins and albatrosses, and
knowing there are millions of pieces
of plastic out there.
TELEPORTING TO ANOTHER
WORLD
Sailing into the night, we crossed the
shipping lane from California to China.
Here we met a massive tanker – the
first ship we'd seen since leaving
Hawaii. This made us stop and think
about our consumption-based life-
styles. But we also realised how abso-
lutely brilliant it had been to be com-
pletely remote, away from everything.
Being out on sea, it's like teleportat-
ing to another world. As we passed
the tanker, we were hit by a wall of
exhaust fumes. It smelled like every-
thing we had escaped for two weeks.
One of the most powerful moments
came towards the very end of the trip,
when I was at the helm. It was around
5am in the morning, the moon was
setting behind us and I saw the sun
coming up in front of us, burning a
vibrant red. The wind was 40 knots
and waves were 4-5 metres high. We
had to keep the main sail reefed
almost all the way down.
Waves washed over us with so much
water that I once literally had to hold
my breath as I ducked. But the boat
'I sailed on board the Sea Dragon last
summer to research marine pollution
in the world's deepest ocean – both
chemical and plastic. Tomra was the
main sponsor of the 10th eXXpedition
project and I went because I think it's
important to see ocean plastics with
your own eyes. After all, before you
can offer a solution, you need first to
make sure you understand the prob-
lem.
We set sail from Hawaii on a windy,
sunny morning on a 22m sailboat. It
took us about three weeks to cover
almost 3 000 nautical miles across the
North Pacific to Vancouver, Canada.
The actual destination of the expedi-
tion was the North Pacific Gyre – more
commonly known as the Great Pacific
Garbage Patch that stretches from
about 20 to 40 degrees north of the
Equator.
SURROUNDED BY BLUE
Throughout, we had to sail upwind in
sometimes unexpectedly rough condi-
tions but we made it across in time
despite having to follow the wind
rather than the compass most days.
It's funny, in Norwegian the Pacific
Ocean is known as 'the Quiet Ocean'.
Let me tell you, and I learned the hard
way, this is not the case! Especially as I
had never sailed before.
We were in three teams working four-
hour shifts. Regardless of conditions,
we all did our bit in cooking, cleaning,
sailing and the science. It's hard to
explain the experience of waking up
twice a day in completely different
worlds. Some days, we had such
rough seas we couldn't even boil hot
water for tea, let alone use the bath-
room in any comfortable fashion. On
others, we would wake up for grave-
yard shifts to see millions of stars
across the sky and luminescent algae
leaving a glowing tail behind our
boat. Some were just wet, cold and
miserable.
MICRO FLAKES AND TOILET
SEATS
We had already seen much plastic
washed up from the ocean onto the
beaches of the Hawaiian Islands. Once
we reached the 'Garbage Patch', it
was quite surprising to see it isn't
actually an island of trash with lots of
floating plastic. We did see the occa-
sional lawn chair, washing basket,
tooth brush, take away menu – and
even a toilet seat.
But it is actually a soup of tiny pieces
of broken-down plastic that we could
only see once we had passed the
mantra trawl through the water. The
ocean looks blue and clean until you
pull up samples with one thousand
pieces of microplastics. Most are
smaller than the nail on your little fin-
ger.
We collected samples and data for
more than 10 different research pro-
grammes in the UK, Canada and the
52-53_oceanplasticsbestpractices.indd 52 08-08-19 11:15