West Coast report + Plastics Special
Subscribe
Page 51 from: West Coast report + Plastics Special
TECHNOLOGY EXPERTS Steinert's black plastics sorting technology closes the gap between waste and new products Imaging (HSI) technology, which supersedes the point-to-point scanners previously usually used and, thanks to its finer res...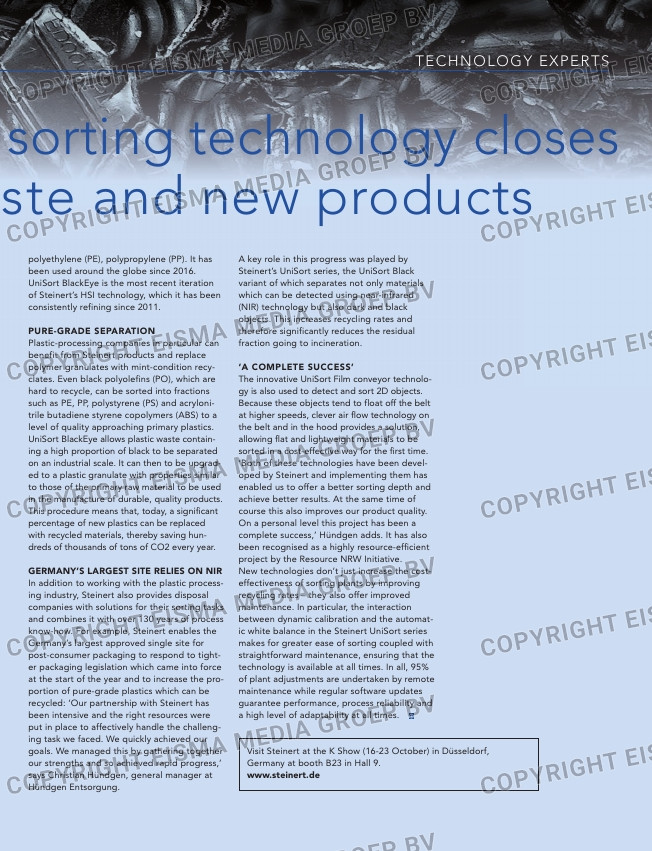 TECHNOLOGY EXPERTS
Steinert's black plastics sorting technology closes
the gap between waste and new products
Imaging (HSI) technology, which supersedes
the point-to-point scanners previously usually
used and, thanks to its finer resolution, covers
256 rather than the usual 16 measuring points
in the spectrum. It can evaluate even the
slightest differences in the chemical composi-
tion of the materials being processed.
In 2014, Steinert employed it UniSort Black tech-
nology to be the first company to be able to
detect and therefore positively sort black plas-
tics. This improved recycling rates and reduced
the residual fractions going to incineration.
In 2015, Steinert launched UniSort Film, a con-
veyor belt technology for high-performance
2D sorting at 4.5 metres per second. Together
with UniSort Black, this remains the only
machine available today for sorting black film.
At the same time, initial testing was underway
on UniSort BlackEye, the world's first machine
for pure-grade detection and sorting of black
polyethylene (PE), polypropylene (PP). It has
been used around the globe since 2016.
UniSort BlackEye is the most recent iteration
of Steinert's HSI technology, which it has been
consistently refining since 2011.
PURE-GRADE SEPARATION
Plastic-processing companies in particular can
benefit from Steinert products and replace
polymer granulates with mint-condition recy-
clates. Even black polyolefins (PO), which are
hard to recycle, can be sorted into fractions
such as PE, PP, polystyrene (PS) and acryloni-
trile butadiene styrene copolymers (ABS) to a
level of quality approaching primary plastics.
UniSort BlackEye allows plastic waste contain-
ing a high proportion of black to be separated
on an industrial scale. It can then to be upgrad-
ed to a plastic granulate with properties similar
to those of the primary raw material to be used
in the manufacture of durable, quality products.
This procedure means that, today, a significant
percentage of new plastics can be replaced
with recycled materials, thereby saving hun-
dreds of thousands of tons of CO2 every year.
GERMANY'S LARGEST SITE RELIES ON NIR
In addition to working with the plastic process-
ing industry, Steinert also provides disposal
companies with solutions for their sorting tasks
and combines it with over 130 years of process
know-how. For example, Steinert enables the
Germany's largest approved single site for
post-consumer packaging to respond to tight-
er packaging legislation which came into force
at the start of the year and to increase the pro-
portion of pure-grade plastics which can be
recycled: 'Our partnership with Steinert has
been intensive and the right resources were
put in place to affectively handle the challeng-
ing task we faced. We quickly achieved our
goals. We managed this by gathering together
our strengths and so achieved rapid progress,'
says Christian Hündgen, general manager at
Hündgen Entsorgung.
A key role in this progress was played by
Steinert's UniSort series, the UniSort Black
variant of which separates not only materials
which can be detected using near-infrared
(NIR) technology but also dark and black
objects. This increases recycling rates and
therefore significantly reduces the residual
fraction going to incineration.
'A COMPLETE SUCCESS'
The innovative UniSort Film conveyor technolo-
gy is also used to detect and sort 2D objects.
Because these objects tend to float off the belt
at higher speeds, clever air flow technology on
the belt and in the hood provides a solution,
allowing flat and lightweight materials to be
sorted in a cost-effective way for the first time.
'Both of these technologies have been devel-
oped by Steinert and implementing them has
enabled us to offer a better sorting depth and
achieve better results. At the same time of
course this also improves our product quality.
On a personal level this project has been a
complete success,' Hündgen adds. It has also
been recognised as a highly resource-efficient
project by the Resource NRW Initiative.
New technologies don't just increase the cost-
effectiveness of sorting plants by improving
recycling rates – they also offer improved
maintenance. In particular, the interaction
between dynamic calibration and the automat-
ic white balance in the Steinert UniSort series
makes for greater ease of sorting coupled with
straightforward maintenance, ensuring that the
technology is available at all times. In all, 95%
of plant adjustments are undertaken by remote
maintenance while regular software updates
guarantee performance, process reliability and
a high level of adaptability at all times.
Visit Steinert at the K Show (16-23 October) in Düsseldorf,
Germany at booth B23 in Hall 9.
www.steinert.de
50-51_steinert.indd 51 08-08-19 11:15