West Coast report + Plastics Special
Subscribe
Page 49 from: West Coast report + Plastics Special
PLASTICS SPECIAL 49recyclinginternational.com | July/August | 2019 Asian countries to process e-scrap plastics. But within six months, some of these countries had banned such imports leaving Malaysia as the only significant end m...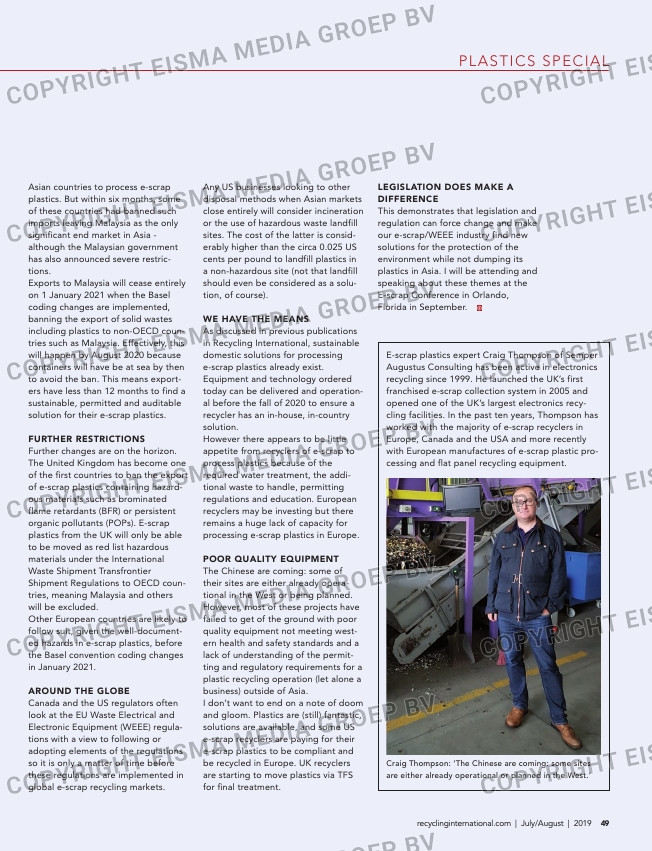 PLASTICS SPECIAL
49recyclinginternational.com | July/August | 2019
Asian countries to process e-scrap
plastics. But within six months, some
of these countries had banned such
imports leaving Malaysia as the only
significant end market in Asia –
although the Malaysian government
has also announced severe restric-
tions.
Exports to Malaysia will cease entirely
on 1 January 2021 when the Basel
coding changes are implemented,
banning the export of solid wastes
including plastics to non-OECD coun-
tries such as Malaysia. Effectively, this
will happen by August 2020 because
containers will have be at sea by then
to avoid the ban. This means export-
ers have less than 12 months to find a
sustainable, permitted and auditable
solution for their e-scrap plastics.
FURTHER RESTRICTIONS
Further changes are on the horizon.
The United Kingdom has become one
of the first countries to ban the export
of e-scrap plastics containing hazard-
ous materials such as brominated
flame retardants (BFR) or persistent
organic pollutants (POPs). E-scrap
plastics from the UK will only be able
to be moved as red list hazardous
materials under the International
Waste Shipment Transfrontier
Shipment Regulations to OECD coun-
tries, meaning Malaysia and others
will be excluded.
Other European countries are likely to
follow suit, given the well-document-
ed hazards in e-scrap plastics, before
the Basel convention coding changes
in January 2021.
AROUND THE GLOBE
Canada and the US regulators often
look at the EU Waste Electrical and
Electronic Equipment (WEEE) regula-
tions with a view to following or
adopting elements of the regulations
so it is only a matter of time before
these regulations are implemented in
global e-scrap recycling markets.
Any US businesses looking to other
disposal methods when Asian markets
close entirely will consider incineration
or the use of hazardous waste landfill
sites. The cost of the latter is consid-
erably higher than the circa 0.025 US
cents per pound to landfill plastics in
a non-hazardous site (not that landfill
should even be considered as a solu-
tion, of course).
WE HAVE THE MEANS
As discussed in previous publications
in Recycling International, sustainable
domestic solutions for processing
e-scrap plastics already exist.
Equipment and technology ordered
today can be delivered and operation-
al before the fall of 2020 to ensure a
recycler has an in-house, in-country
solution.
However there appears to be little
appetite from recyclers of e-scrap to
process plastics because of the
required water treatment, the addi-
tional waste to handle, permitting
regulations and education. European
recyclers may be investing but there
remains a huge lack of capacity for
processing e-scrap plastics in Europe.
POOR QUALITY EQUIPMENT
The Chinese are coming: some of
their sites are either already opera-
tional in the West or being planned.
However, most of these projects have
failed to get of the ground with poor
quality equipment not meeting west-
ern health and safety standards and a
lack of understanding of the permit-
ting and regulatory requirements for a
plastic recycling operation (let alone a
business) outside of Asia.
I don't want to end on a note of doom
and gloom. Plastics are (still) fantastic,
solutions are available, and some US
e-scrap recyclers are paying for their
e-scrap plastics to be compliant and
be recycled in Europe. UK recyclers
are starting to move plastics via TFS
for final treatment.
LEGISLATION DOES MAKE A
DIFFERENCE
This demonstrates that legislation and
regulation can force change and make
our e-scrap/WEEE industry find new
solutions for the protection of the
environment while not dumping its
plastics in Asia. I will be attending and
speaking about these themes at the
E-scrap Conference in Orlando,
Florida in September.
E-scrap plastics expert Craig Thompson of Semper
Augustus Consulting has been active in electronics
recycling since 1999. He launched the UK's first
franchised e-scrap collection system in 2005 and
opened one of the UK's largest electronics recy-
cling facilities. In the past ten years, Thompson has
worked with the majority of e-scrap recyclers in
Europe, Canada and the USA and more recently
with European manufactures of e-scrap plastic pro-
cessing and flat panel recycling equipment.
Craig Thompson: 'The Chinese are coming: some sites
are either already operational or planned in the West.'
48-49_craigthompson.indd 49 08-08-19 11:14