West Coast report + Plastics Special
Subscribe
Page 45 from: West Coast report + Plastics Special
PLASTICS SPECIAL 45recyclinginternational.com | July/August | 2019 a result, it is not possible to export plastics scrap from Europe to Thailand and Bangladesh despite the fact they have a reprocessing industry and are importing p...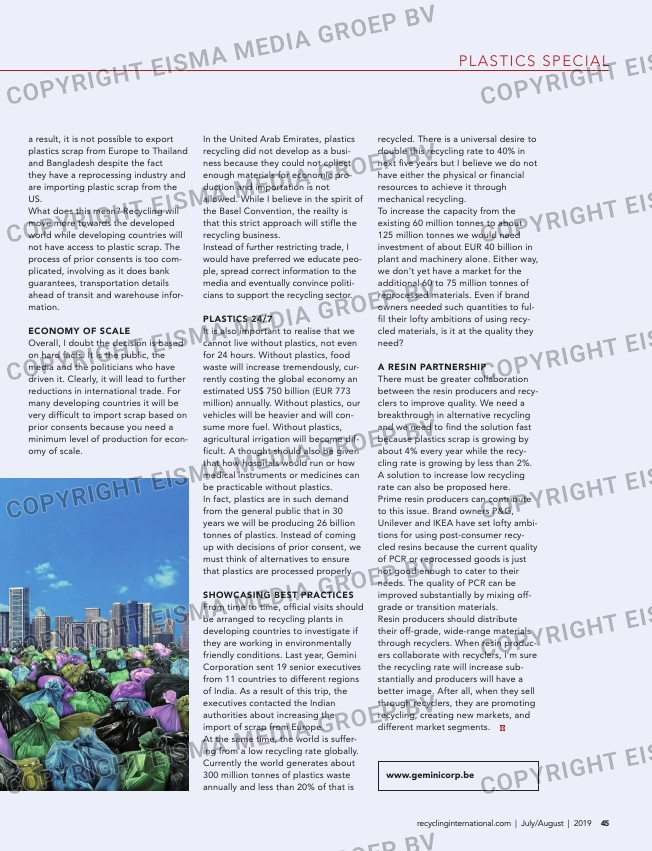 PLASTICS SPECIAL
45recyclinginternational.com | July/August | 2019
a result, it is not possible to export
plastics scrap from Europe to Thailand
and Bangladesh despite the fact
they have a reprocessing industry and
are importing plastic scrap from the
US.
What does this mean? Recycling will
move more towards the developed
world while developing countries will
not have access to plastic scrap. The
process of prior consents is too com-
plicated, involving as it does bank
guarantees, transportation details
ahead of transit and warehouse infor-
mation.
ECONOMY OF SCALE
Overall, I doubt the decision is based
on hard facts. It is the public, the
media and the politicians who have
driven it. Clearly, it will lead to further
reductions in international trade. For
many developing countries it will be
very difficult to import scrap based on
prior consents because you need a
minimum level of production for econ-
omy of scale.
In the United Arab Emirates, plastics
recycling did not develop as a busi-
ness because they could not collect
enough materials for economic pro-
duction and importation is not
allowed. While I believe in the spirit of
the Basel Convention, the reailty is
that this strict approach will stifle the
recycling business.
Instead of further restricting trade, I
would have preferred we educate peo-
ple, spread correct information to the
media and eventually convince politi-
cians to support the recycling sector.
PLASTICS 24/7
It is also important to realise that we
cannot live without plastics, not even
for 24 hours. Without plastics, food
waste will increase tremendously, cur-
rently costing the global economy an
estimated US$ 750 billion (EUR 773
million) annually. Without plastics, our
vehicles will be heavier and will con-
sume more fuel. Without plastics,
agricultural irrigation will become dif-
ficult. A thought should also be given
that how hospitals would run or how
medical instruments or medicines can
be practicable without plastics.
In fact, plastics are in such demand
from the general public that in 30
years we will be producing 26 billion
tonnes of plastics. Instead of coming
up with decisions of prior consent, we
must think of alternatives to ensure
that plastics are processed properly.
SHOWCASING BEST PRACTICES
From time to time, official visits should
be arranged to recycling plants in
developing countries to investigate if
they are working in environmentally
friendly conditions. Last year, Gemini
Corporation sent 19 senior executives
from 11 countries to different regions
of India. As a result of this trip, the
executives contacted the Indian
authorities about increasing the
import of scrap from Europe.
At the same time, the world is suffer-
ing from a low recycling rate globally.
Currently the world generates about
300 million tonnes of plastics waste
annually and less than 20% of that is
recycled. There is a universal desire to
double this recycling rate to 40% in
next five years but I believe we do not
have either the physical or financial
resources to achieve it through
mechanical recycling.
To increase the capacity from the
existing 60 million tonnes to about
125 million tonnes we would need
investment of about EUR 40 billion in
plant and machinery alone. Either way,
we don't yet have a market for the
additional 60 to 75 million tonnes of
reprocessed materials. Even if brand
owners needed such quantities to ful-
fil their lofty ambitions of using recy-
cled materials, is it at the quality they
need?
A RESIN PARTNERSHIP
There must be greater collaboration
between the resin producers and recy-
clers to improve quality. We need a
breakthrough in alternative recycling
and we need to find the solution fast
because plastics scrap is growing by
about 4% every year while the recy-
cling rate is growing by less than 2%.
A solution to increase low recycling
rate can also be proposed here.
Prime resin producers can contribute
to this issue. Brand owners P&G,
Unilever and IKEA have set lofty ambi-
tions for using post-consumer recy-
cled resins because the current quality
of PCR or reprocessed goods is just
not good enough to cater to their
needs. The quality of PCR can be
improved substantially by mixing off-
grade or transition materials.
Resin producers should distribute
their off-grade, wide-range materials
through recyclers. When resin produc-
ers collaborate with recyclers, I'm sure
the recycling rate will increase sub-
stantially and producers will have a
better image. After all, when they sell
through recyclers, they are promoting
recycling, creating new markets, and
different market segments.
www.geminicorp.be
44-45_opinion-surendrapatawari.indd 45 08-08-19 11:13