West Coast report + Plastics Special
Subscribe
Page 41 from: West Coast report + Plastics Special
PLASTICS SPECIAL 41recyclinginternational.com | July/August | 2019 'Which is nice because Eva just hap- pens to be the name of the daughter of our managing director,' Slijkhuis says with a smile. 'When the new line went into ...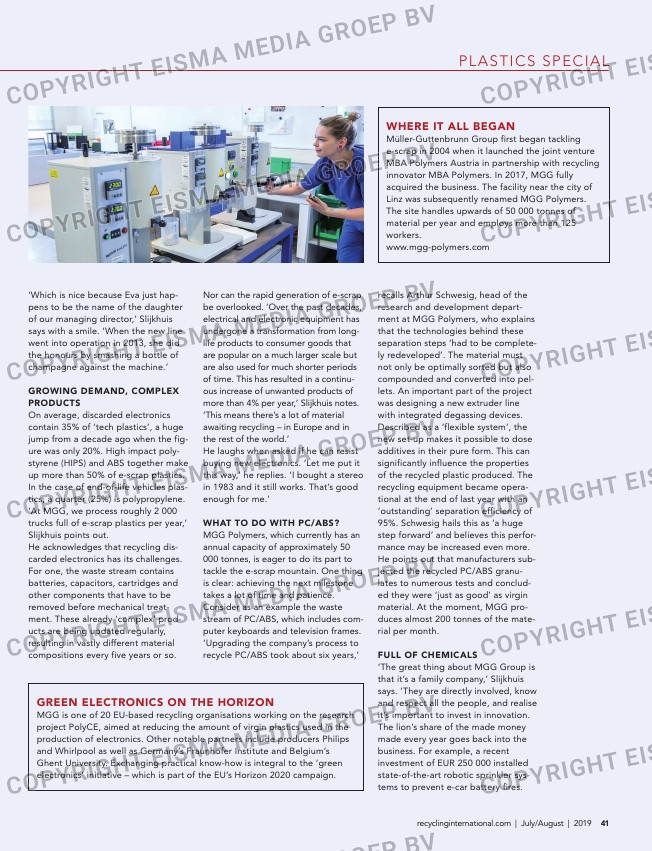 PLASTICS SPECIAL
41recyclinginternational.com | July/August | 2019
'Which is nice because Eva just hap-
pens to be the name of the daughter
of our managing director,' Slijkhuis
says with a smile. 'When the new line
went into operation in 2013, she did
the honours by smashing a bottle of
champagne against the machine.'
GROWING DEMAND, COMPLEX
PRODUCTS
On average, discarded electronics
contain 35% of 'tech plastics', a huge
jump from a decade ago when the fig-
ure was only 20%. High impact poly-
styrene (HIPS) and ABS together make
up more than 50% of e-scrap plastics.
In the case of end-of-life vehicles plas-
tics, a quarter (25%) is polypropylene.
'At MGG, we process roughly 2 000
trucks full of e-scrap plastics per year,'
Slijkhuis points out.
He acknowledges that recycling dis-
carded electronics has its challenges.
For one, the waste stream contains
batteries, capacitors, cartridges and
other components that have to be
removed before mechanical treat-
ment. These already 'complex' prod-
ucts are being updated regularly,
resulting in vastly different material
compositions every five years or so.
Nor can the rapid generation of e-scrap
be overlooked. 'Over the past decades,
electrical and electronic equipment has
undergone a transformation from long-
life products to consumer goods that
are popular on a much larger scale but
are also used for much shorter periods
of time. This has resulted in a continu-
ous increase of unwanted products of
more than 4% per year,' Slijkhuis notes.
'This means there's a lot of material
awaiting recycling – in Europe and in
the rest of the world.'
He laughs when asked if he can resist
buying new electronics. 'Let me put it
this way,' he replies. 'I bought a stereo
in 1983 and it still works. That's good
enough for me.'
WHAT TO DO WITH PC/ABS?
MGG Polymers, which currently has an
annual capacity of approximately 50
000 tonnes, is eager to do its part to
tackle the e-scrap mountain. One thing
is clear: achieving the next milestone
takes a lot of time and patience.
Consider as an example the waste
stream of PC/ABS, which includes com-
puter keyboards and television frames.
'Upgrading the company's process to
recycle PC/ABS took about six years,'
recalls Arthur Schwesig, head of the
research and development depart-
ment at MGG Polymers, who explains
that the technologies behind these
separation steps 'had to be complete-
ly redeveloped'. The material must
not only be optimally sorted but also
compounded and converted into pel-
lets. An important part of the project
was designing a new extruder line
with integrated degassing devices.
Described as a 'flexible system', the
new set-up makes it possible to dose
additives in their pure form. This can
significantly influence the properties
of the recycled plastic produced. The
recycling equipment became opera-
tional at the end of last year with an
'outstanding' separation efficiency of
95%. Schwesig hails this as 'a huge
step forward' and believes this perfor-
mance may be increased even more.
He points out that manufacturers sub-
jected the recycled PC/ABS granu-
lates to numerous tests and conclud-
ed they were 'just as good' as virgin
material. At the moment, MGG pro-
duces almost 200 tonnes of the mate-
rial per month.
FULL OF CHEMICALS
'The great thing about MGG Group is
that it's a family company,' Slijkhuis
says. 'They are directly involved, know
and respect all the people, and realise
it's important to invest in innovation.
The lion's share of the made money
made every year goes back into the
business. For example, a recent
investment of EUR 250 000 installed
state-of-the-art robotic sprinkler sys-
tems to prevent e-car battery fires.
GREEN ELECTRONICS ON THE HORIZON
MGG is one of 20 EU-based recycling organisations working on the research
project PolyCE, aimed at reducing the amount of virgin plastics used in the
production of electronics. Other notable partners include producers Philips
and Whirlpool as well as Germany's Fraunhofer Institute and Belgium's
Ghent University. Exchanging practical know-how is integral to the 'green
electronics' initiative – which is part of the EU's Horizon 2020 campaign.
WHERE IT ALL BEGAN
Müller-Guttenbrunn Group first began tackling
e-scrap in 2004 when it launched the joint venture
MBA Polymers Austria in partnership with recycling
innovator MBA Polymers. In 2017, MGG fully
acquired the business. The facility near the city of
Linz was subsequently renamed MGG Polymers.
The site handles upwards of 50 000 tonnes of
material per year and employs more than 125
workers.
www.mgg-polymers.com
40-41-42_escrapplastics-mggpolymer.indd 41 08-08-19 11:10