West Coast report + Plastics Special
Subscribe
Page 36 from: West Coast report + Plastics Special
TECHNOLOGY EXPERTS A boost - in more ways than one! 'Green boost your business' is the motto under which Komptech is presenting its communications technology Connect! and two all-new and updated machines for shredding. Th...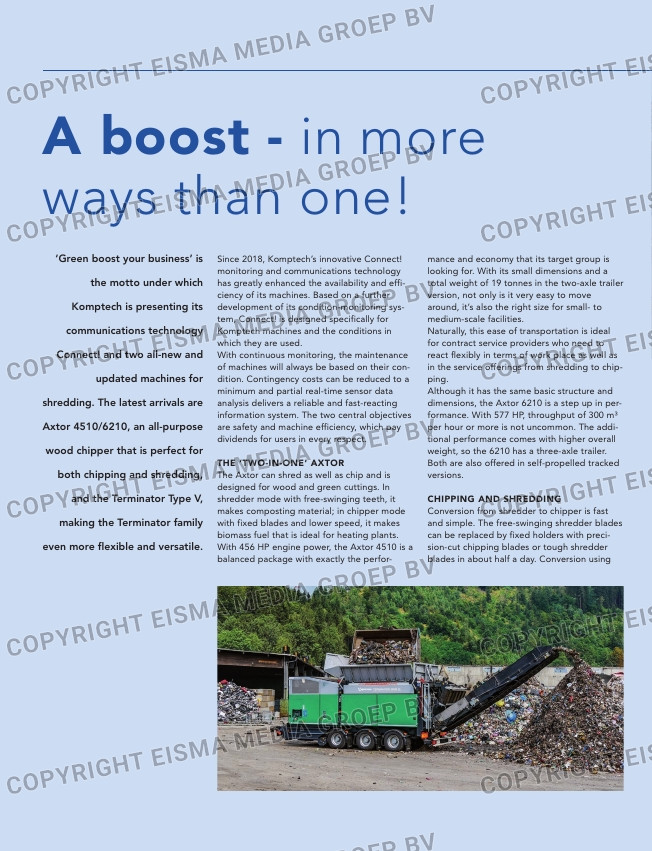 TECHNOLOGY EXPERTS
A boost – in more
ways than one!
'Green boost your business' is
the motto under which
Komptech is presenting its
communications technology
Connect! and two all-new and
updated machines for
shredding. The latest arrivals are
Axtor 4510/6210, an all-purpose
wood chipper that is perfect for
both chipping and shredding,
and the Terminator Type V,
making the Terminator family
even more flexible and versatile.
Since 2018, Komptech's innovative Connect!
monitoring and communications technology
has greatly enhanced the availability and effi-
ciency of its machines. Based on a further
development of its condition-monitoring sys-
tem, Connect! is designed specifically for
Komptech machines and the conditions in
which they are used.
With continuous monitoring, the maintenance
of machines will always be based on their con-
dition. Contingency costs can be reduced to a
minimum and partial real-time sensor data
analysis delivers a reliable and fast-reacting
information system. The two central objectives
are safety and machine efficiency, which pay
dividends for users in every respect.
THE 'TWO-IN-ONE' AXTOR
The Axtor can shred as well as chip and is
designed for wood and green cuttings. In
shredder mode with free-swinging teeth, it
makes composting material; in chipper mode
with fixed blades and lower speed, it makes
biomass fuel that is ideal for heating plants.
With 456 HP engine power, the Axtor 4510 is a
balanced package with exactly the perfor-
mance and economy that its target group is
looking for. With its small dimensions and a
total weight of 19 tonnes in the two-axle trailer
version, not only is it very easy to move
around, it's also the right size for small- to
medium-scale facilities.
Naturally, this ease of transportation is ideal
for contract service providers who need to
react flexibly in terms of work place as well as
in the service offerings from shredding to chip-
ping.
Although it has the same basic structure and
dimensions, the Axtor 6210 is a step up in per-
formance. With 577 HP, throughput of 300 m³
per hour or more is not uncommon. The addi-
tional performance comes with higher overall
weight, so the 6210 has a three-axle trailer.
Both are also offered in self-propelled tracked
versions.
CHIPPING AND SHREDDING
Conversion from shredder to chipper is fast
and simple. The free-swinging shredder blades
can be replaced by fixed holders with preci-
sion-cut chipping blades or tough shredder
blades in about half a day. Conversion using
fixed teeth is even faster, going from shred-
der to chipper mode in not more than three
hours. If two people do the work, it can be
done in half the time. The machine can be
very precisely configured for the intended
use. With the correct blades and the right
screen basket, astonishingly high through-
put with excellent fuel efficiency can be
delivered with waste wood, trunks, forestry
residue, bark or green cuttings. For exam-
ple, with woody green cuttings processed
for composting, throughput of up to 200 m³
per hour is possible.
WELL THOUGHT THROUGH
Komptech put customer needs first in
upgrading the Axtor series. One example is
its outstanding maintenance access, with
hydraulically lifting engine cover and roomy
service platform with integrated folded lad-
der. The same goes for the massive section-
al steel belt intake system, the continuous
discharge conveyor with a cone height of
4.5m, and the hydraulic tilt hopper.
Everything is designed with the user in
mind, from avoidance of leakage during
material transport, to the tough compo-
nents, to the clever details that help work
go smoothly on-site.
NEW CHIPPING DRUM OPTION
A special chipping drum makes the Axtor a
full-blooded chipper. Massive chipping
blades, widely adjustable advance and a full
36-37_komptech-technologyexperts.indd 36 06-08-19 14:34