West Coast report + Plastics Special
Subscribe
Page 33 from: West Coast report + Plastics Special
BUSINESS 33recyclinginternational.com | July/August | 2019 sive this department is but Sant insists it is justifiable on business grounds alone, as well as providing a valuable service to the local community. Those appliances desti...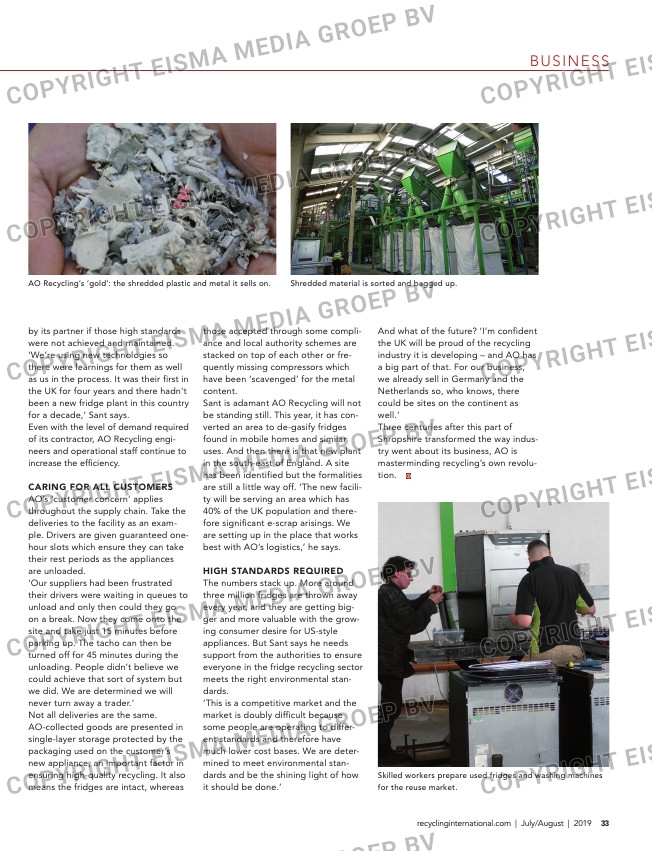 BUSINESS
33recyclinginternational.com | July/August | 2019
sive this department is but Sant insists
it is justifiable on business grounds
alone, as well as providing a valuable
service to the local community.
Those appliances destined for recy-
cling are placed on moving racks to
ensure compressor oils are drained.
CFC gases in older fridges and pen-
tane gases in more modern fridges
are also removed during the process.
The shredding also deals with blowing
agents and any pockets of trapped
gas. The company is adamant it is
among the cleanest, safest and most
environmentally friendly recycling
facilities in the UK – and collates offi-
cial data to prove it.
'ROLLS-ROYCE FACILITY'
You sometimes hear talk in the indus-
try that AO Recycling has built a
'Rolls-Royce facility', suggesting
money was no object when the proj-
ect was conceived. It's a comment
that frustrates Sant – although the
funding principles were unusual.
'It's right that we didn't tell MeWa
they could have a certain sum to build
it. We said: "It has to meet the regula-
tions so you tell us what that will
cost". The environment and legisla-
tion had to come first. But it also has
to able to do that 24/7. If we invested
"Rolls-Royce" money to achieve that
it was only because we had to be sure
it was working at 100% efficiency,
100% of the time.'
Another novel feature of the contract
was that AO was to be compensated
by its partner if those high standards
were not achieved and maintained.
'We're using new technologies so
there were learnings for them as well
as us in the process. It was their first in
the UK for four years and there hadn't
been a new fridge plant in this country
for a decade,' Sant says.
Even with the level of demand required
of its contractor, AO Recycling engi-
neers and operational staff continue to
increase the efficiency.
CARING FOR ALL CUSTOMERS
AO's 'customer concern' applies
throughout the supply chain. Take the
deliveries to the facility as an exam-
ple. Drivers are given guaranteed one-
hour slots which ensure they can take
their rest periods as the appliances
are unloaded.
'Our suppliers had been frustrated
their drivers were waiting in queues to
unload and only then could they go
on a break. Now they come onto the
site and take just 15 minutes before
parking up. The tacho can then be
turned off for 45 minutes during the
unloading. People didn't believe we
could achieve that sort of system but
we did. We are determined we will
never turn away a trader.'
Not all deliveries are the same.
AO-collected goods are presented in
single-layer storage protected by the
packaging used on the customer's
new appliance, an important factor in
ensuring high-quality recycling. It also
means the fridges are intact, whereas
those accepted through some compli-
ance and local authority schemes are
stacked on top of each other or fre-
quently missing compressors which
have been 'scavenged' for the metal
content.
Sant is adamant AO Recycling will not
be standing still. This year, it has con-
verted an area to de-gasify fridges
found in mobile homes and similar
uses. And then there is that new plant
in the south-east of England. A site
has been identified but the formalities
are still a little way off. 'The new facili-
ty will be serving an area which has
40% of the UK population and there-
fore significant e-scrap arisings. We
are setting up in the place that works
best with AO's logistics,' he says.
HIGH STANDARDS REQUIRED
The numbers stack up. More around
three million fridges are thrown away
every year, and they are getting big-
ger and more valuable with the grow-
ing consumer desire for US-style
appliances. But Sant says he needs
support from the authorities to ensure
everyone in the fridge recycling sector
meets the right environmental stan-
dards.
'This is a competitive market and the
market is doubly difficult because
some people are operating to differ-
ent standards and therefore have
much lower cost bases. We are deter-
mined to meet environmental stan-
dards and be the shining light of how
it should be done.'
And what of the future? 'I'm confident
the UK will be proud of the recycling
industry it is developing – and AO has
a big part of that. For our business,
we already sell in Germany and the
Netherlands so, who knows, there
could be sites on the continent as
well.'
Three centuries after this part of
Shropshire transformed the way indus-
try went about its business, AO is
masterminding recycling's own revolu-
tion.
Andritz MeWa was told: 'Tell us the cost of meeting the regula-
tions in full'.
Shredded material is sorted and bagged up.
Skilled workers prepare used fridges and washing machines
for the reuse market.
AO Recycling's 'gold': the shredded plastic and metal it sells on.
30-31-32-33_aofridgerecycling.indd 33 06-08-19 15:25