West Coast report + Plastics Special
Subscribe
Page 29 from: West Coast report + Plastics Special
CONFERENCE REPORT 29recyclinginternational.com | July/August | 2019 rather than allowing scrap piles to grow too big. THE SAFER THE BETTER On the topic of scrap yard safety, Alton Scott Newell III of Newell Recycling Equipment in ...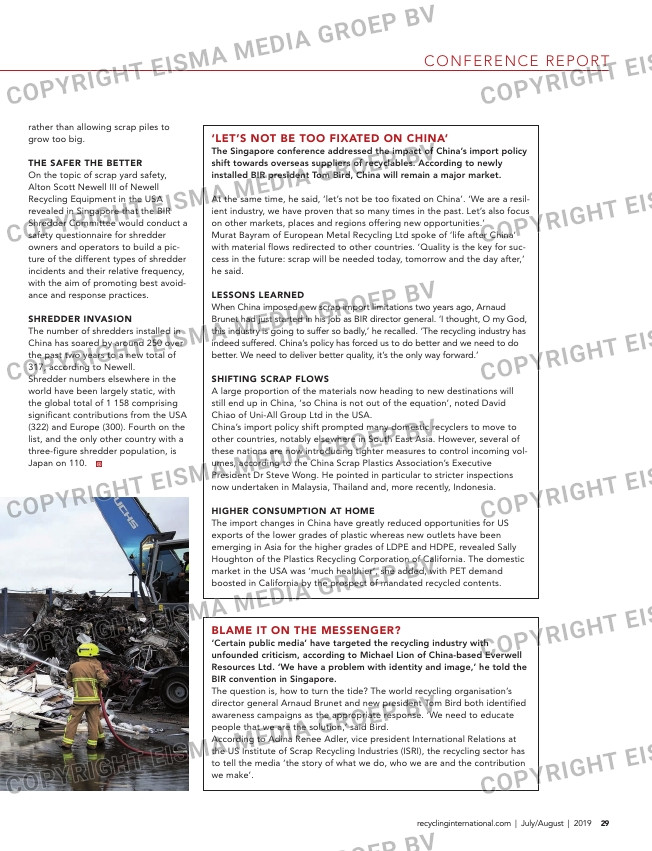 CONFERENCE REPORT
29recyclinginternational.com | July/August | 2019
rather than allowing scrap piles to
grow too big.
THE SAFER THE BETTER
On the topic of scrap yard safety,
Alton Scott Newell III of Newell
Recycling Equipment in the USA
revealed in Singapore that the BIR
Shredder Committee would conduct a
safety questionnaire for shredder
owners and operators to build a pic-
ture of the different types of shredder
incidents and their relative frequency,
with the aim of promoting best avoid-
ance and response practices.
SHREDDER INVASION
The number of shredders installed in
China has soared by around 250 over
the past two years to a new total of
317, according to Newell.
Shredder numbers elsewhere in the
world have been largely static, with
the global total of 1 158 comprising
significant contributions from the USA
(322) and Europe (300). Fourth on the
list, and the only other country with a
three-figure shredder population, is
Japan on 110.
BLAME IT ON THE MESSENGER?
'Certain public media' have targeted the recycling industry with
unfounded criticism, according to Michael Lion of China-based Everwell
Resources Ltd. 'We have a problem with identity and image,' he told the
BIR convention in Singapore.
The question is, how to turn the tide? The world recycling organisation's
director general Arnaud Brunet and new president Tom Bird both identified
awareness campaigns as the appropriate response. 'We need to educate
people that we are the solution,' said Bird.
According to Adina Renee Adler, vice president International Relations at
the US Institute of Scrap Recycling Industries (ISRI), the recycling sector has
to tell the media 'the story of what we do, who we are and the contribution
we make'.
'LET'S NOT BE TOO FIXATED ON CHINA'
The Singapore conference addressed the impact of China's import policy
shift towards overseas suppliers of recyclables. According to newly
installed BIR president Tom Bird, China will remain a major market.
At the same time, he said, 'let's not be too fixated on China'. 'We are a resil-
ient industry, we have proven that so many times in the past. Let's also focus
on other markets, places and regions offering new opportunities.'
Murat Bayram of European Metal Recycling Ltd spoke of 'life after China'
with material flows redirected to other countries. 'Quality is the key for suc-
cess in the future: scrap will be needed today, tomorrow and the day after,'
he said.
LESSONS LEARNED
When China imposed new scrap import limitations two years ago, Arnaud
Brunet had just started in his job as BIR director general. 'I thought, O my God,
this industry is going to suffer so badly,' he recalled. 'The recycling industry has
indeed suffered. China's policy has forced us to do better and we need to do
better. We need to deliver better quality, it's the only way forward.'
SHIFTING SCRAP FLOWS
A large proportion of the materials now heading to new destinations will
still end up in China, 'so China is not out of the equation', noted David
Chiao of Uni-All Group Ltd in the USA.
China's import policy shift prompted many domestic recyclers to move to
other countries, notably elsewhere in South East Asia. However, several of
these nations are now introducing tighter measures to control incoming vol-
umes, according to the China Scrap Plastics Association's Executive
President Dr Steve Wong. He pointed in particular to stricter inspections
now undertaken in Malaysia, Thailand and, more recently, Indonesia.
HIGHER CONSUMPTION AT HOME
The import changes in China have greatly reduced opportunities for US
exports of the lower grades of plastic whereas new outlets have been
emerging in Asia for the higher grades of LDPE and HDPE, revealed Sally
Houghton of the Plastics Recycling Corporation of California. The domestic
market in the USA was 'much healthier', she added, with PET demand
boosted in California by the prospect of mandated recycled contents.
26-27-28-29_bir-singapore.indd 29 08-08-19 11:08