West Coast report + Plastics Special
Subscribe
Page 17 from: West Coast report + Plastics Special
COUNTRY REPORT 17recyclinginternational.com | July/August | 2019 Lokke Pierce: 'It feels good to have the furnaces heated up again.' CASS' ELEVENTH DUMP TRAILER LINED UP FOR VEGAS It was without doubt one of the eye-catche...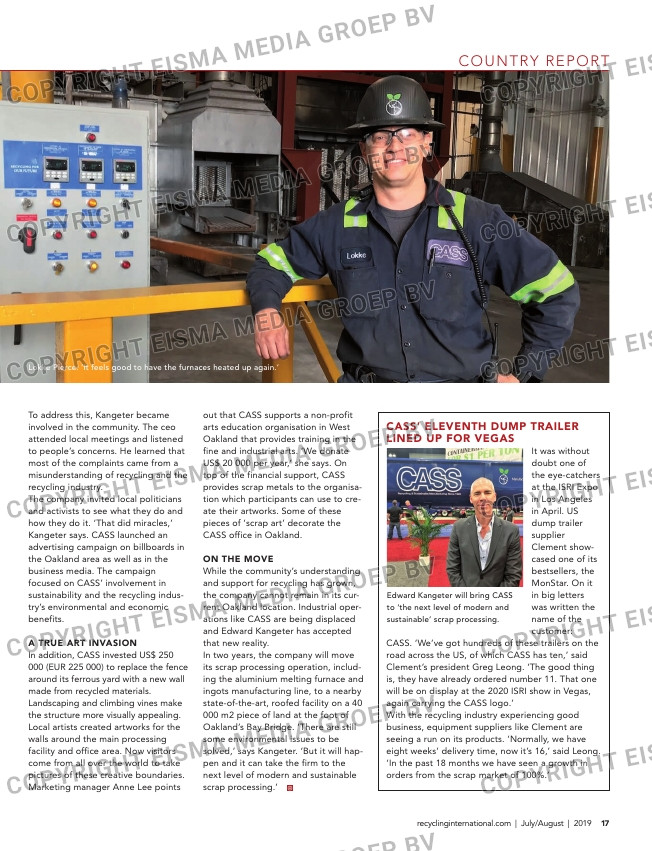 COUNTRY REPORT
17recyclinginternational.com | July/August | 2019
Lokke Pierce: 'It feels good to have the furnaces heated up again.'
CASS' ELEVENTH DUMP TRAILER
LINED UP FOR VEGAS
It was without
doubt one of
the eye-catchers
at the ISRI Expo
in Los Angeles
in April. US
dump trailer
supplier
Clement show-
cased one of its
bestsellers, the
MonStar. On it
in big letters
was written the
name of the
customer:
CASS. 'We've got hundreds of these trailers on the
road across the US, of which CASS has ten,' said
Clement's president Greg Leong. 'The good thing
is, they have already ordered number 11. That one
will be on display at the 2020 ISRI show in Vegas,
again carrying the CASS logo.'
With the recycling industry experiencing good
business, equipment suppliers like Clement are
seeing a run on its products. 'Normally, we have
eight weeks' delivery time, now it's 16,' said Leong.
'In the past 18 months we have seen a growth in
orders from the scrap market of 100%.'
quality ingots,' Pierce proudly asserts.
On a yearly basis, CASS produces
between 2 000 and 2 400 tonnes of
ingots, in 16 different alloys, predomi-
nantly supplying automotive and aero-
space industries.
'UNIQUE', SAFE PROCESS
CASS claims commitment to a manu-
facturing process that is 100% chlo-
rine-free. 'It's actually something
that is very unique and unusual about
our operation,' says Edward Kangeter.
'In fact, we are the only recycling
company in California that produces
aluminium without the use of chlo-
rine.'
Chlorine is a highly toxic & corrosive
gas. However, many secondary alu-
minium producers use chlorine gas or
chlorine containing fluxes. 'Chlorine in
toxic concentrations is known to have
a kill radius of more than three kilome-
tres and that is a risk we will never
take,' the ceo stresses.
GIVING BACK TO SOCIETY
CASS is dedicated to supporting the
surrounding community. Long before
Edward Kangeter joined CASS, its
Oakland neighbours had begun com-
plaining of noise and pollution.
To address this, Kangeter became
involved in the community. The ceo
attended local meetings and listened
to people's concerns. He learned that
most of the complaints came from a
misunderstanding of recycling and the
recycling industry.
The company invited local politicians
and activists to see what they do and
how they do it. 'That did miracles,'
Kangeter says. CASS launched an
advertising campaign on billboards in
the Oakland area as well as in the
business media. The campaign
focused on CASS' involvement in
sustainability and the recycling indus-
try's environmental and economic
benefits.
A TRUE ART INVASION
In addition, CASS invested US$ 250
000 (EUR 225 000) to replace the fence
around its ferrous yard with a new wall
made from recycled materials.
Landscaping and climbing vines make
the structure more visually appealing.
Local artists created artworks for the
walls around the main processing
facility and office area. Now visitors
come from all over the world to take
pictures of these creative boundaries.
Marketing manager Anne Lee points
out that CASS supports a non-profit
arts education organisation in West
Oakland that provides training in the
fine and industrial arts. 'We donate
US$ 20 000 per year,' she says. On
top of the financial support, CASS
provides scrap metals to the organisa-
tion which participants can use to cre-
ate their artworks. Some of these
pieces of 'scrap art' decorate the
CASS office in Oakland.
ON THE MOVE
While the community's understanding
and support for recycling has grown,
the company cannot remain in its cur-
rent Oakland location. Industrial oper-
ations like CASS are being displaced
and Edward Kangeter has accepted
that new reality.
In two years, the company will move
its scrap processing operation, includ-
ing the aluminium melting furnace and
ingots manufacturing line, to a nearby
state-of-the-art, roofed facility on a 40
000 m2 piece of land at the foot of
Oakland's Bay Bridge. 'There are still
some environmental issues to be
solved,' says Kangeter. 'But it will hap-
pen and it can take the firm to the
next level of modern and sustainable
scrap processing.'
Edward Kangeter will bring CASS
to 'the next level of modern and
sustainable' scrap processing.
14-15-16-17_countryreport-uswestcoast.indd 17 06-08-19 11:06