West Coast report + Plastics Special
Subscribe
Page 11 from: West Coast report + Plastics Special
TRENDS & UPDATES 11recyclinginternational.com | July/August | 2019 FURTHER GROWTH AWAITS RECYCLED METALS MARKET The international recycled metal market was worth around US$ 65 billion (EUR 58 billion) in 2018 and new market data ...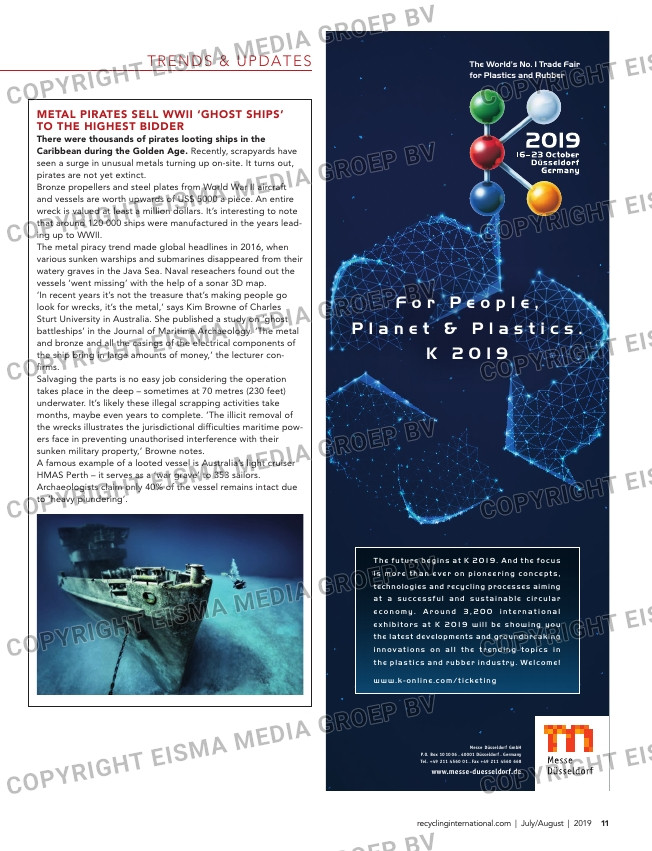 TRENDS & UPDATES
11recyclinginternational.com | July/August | 2019
FURTHER GROWTH AWAITS RECYCLED METALS MARKET
The international recycled metal market was worth around US$ 65 billion
(EUR 58 billion) in 2018 and new market data says it will grow to around US$ 85
billion by 2025.
'However, unorganised flow of metals and poor scrap collection zones are
anticipated to restrict the global market size in the coming years,' analysts at
Global Market Insights say. They point out that one notable issue is that most
developing countries have no dedicated zones for metal recycling.
Moreover, a quarter of steel used in today's automobiles today has been recy-
cled and, based on its weight, a passenger car comprises approximately 65%
steel and iron.
The research found that the recycled ferrous metal market was valued at more
than US$ 850 million last year. The analysts note that the overall recycling rate
for steel used in construction is 98% for structural and 71% for rebar & rein-
forcement applications.
METAL PIRATES SELL WWII 'GHOST SHIPS'
TO THE HIGHEST BIDDER
There were thousands of pirates looting ships in the
Caribbean during the Golden Age. Recently, scrapyards have
seen a surge in unusual metals turning up on-site. It turns out,
pirates are not yet extinct.
Bronze propellers and steel plates from World War II aircraft
and vessels are worth upwards of US$ 5000 a piece. An entire
wreck is valued at least a million dollars. It's interesting to note
that around 120 000 ships were manufactured in the years lead-
ing up to WWII.
The metal piracy trend made global headlines in 2016, when
various sunken warships and submarines disappeared from their
watery graves in the Java Sea. Naval reseachers found out the
vessels 'went missing' with the help of a sonar 3D map.
'In recent years it's not the treasure that's making people go
look for wrecks, it's the metal,' says Kim Browne of Charles
Sturt University in Australia. She published a study on 'ghost
battleships' in the Journal of Maritime Archaeology. 'The metal
and bronze and all the casings of the electrical components of
the ship bring in large amounts of money,' the lecturer con-
firms.
Salvaging the parts is no easy job considering the operation
takes place in the deep – sometimes at 70 metres (230 feet)
underwater. It's likely these illegal scrapping activities take
months, maybe even years to complete. 'The illicit removal of
the wrecks illustrates the jurisdictional difficulties maritime pow-
ers face in preventing unauthorised interference with their
sunken military property,' Browne notes.
A famous example of a looted vessel is Australia's light cruiser
HMAS Perth – it serves as a 'war grave' to 353 sailors.
Archaeologists claim only 40% of the vessel remains intact due
to 'heavy plundering'.
US INSTITUTE PUMPS MILLIONS INTO RECYCLING
RESEARCH
The US Remade Institute has provided almost US$ 6 million (EUR 5.3 mil-
lion) for 12 recycling-related projects, two of which concern recovering valu-
able materials from e-scrap.
The new recycling R&D projects bring the total of the Remade Institute's
portfolio to 31. Enhancing the recovery of metals and plastics from used
electronics is a major focus point for the researchers involved. To date, US$
15 million has been invested in the projects.
F o r P e o p l e ,

P l a n e t & P l a s t i c s .

K 2 0 1 9

Messe Düsseldorf GmbH
P.O. Box 10 10 06 _ 40001 Düsseldorf _ Germany
Tel. +49 211 4560 01 _ Fax +49 211 4560 668

www.messe-duesseldorf.de

T h e f u t u r e b e g i n s a t K 2 019 . A n d th e fo c u s
i s m o r e t h a n e ve r o n p i o n e e r i n g c o n c e p t s ,
technologies and recycl ing processes aiming
a t a s u c c e s s f u l a n d s u s t a i n a b l e c i r c u l a r
e c o n o m y . A r o u n d 3 , 2 0 0 i n t e r n a t i o n a l
e x h i b i to r s a t K 2 019 w i l l b e s h o w i n g y o u
the latest developments and groundbreaking
i n n ov a t i o n s o n a l l th e t r e n d i n g to p i c s i n
th e p l a s t i c s a n d r u b b e r i n d u s t r y . We l c o m e !
w w w . k – o n l i n e . c o m / t i cke t i n g
The World's No. 1 Trade Fair
for Plastics and Rubber

kmd1902_RC_112,5x300inkl3mm_INT.indd 1 15.07.19 10:55
08-09-10-11-12-13_trendsenupdates.indd 11 08-08-19 11:01