The summer issue is here!
Subscribe
Page 88 from: The summer issue is here!
88 PLASTICSMARKET ANALYSIS EU traders seek clarity over shipment regs Time taken by the European Commission to update policy on exports to non-OECD hits trade. Plastic scrap trade from the European Union remains sluggish in the abs...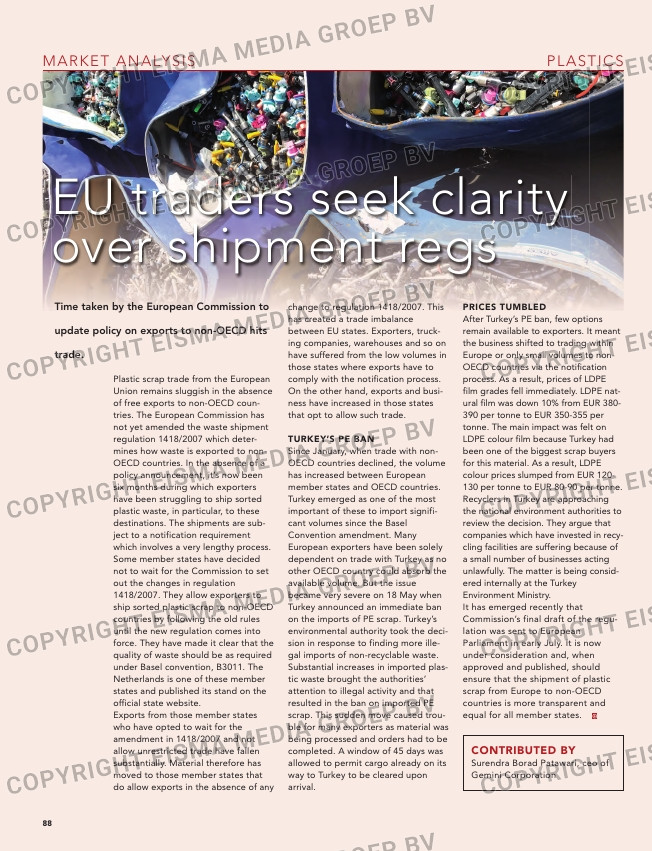 88
PLASTICSMARKET ANALYSIS
EU traders seek clarity
over shipment regs
Time taken by the European Commission to
update policy on exports to non-OECD hits
trade.
Plastic scrap trade from the European
Union remains sluggish in the absence
of free exports to non-OECD coun-
tries. The European Commission has
not yet amended the waste shipment
regulation 1418/2007 which deter-
mines how waste is exported to non-
OECD countries. In the absence of a
policy announcement, it's now been
six months during which exporters
have been struggling to ship sorted
plastic waste, in particular, to these
destinations. The shipments are sub-
ject to a notification requirement
which involves a very lengthy process.
Some member states have decided
not to wait for the Commission to set
out the changes in regulation
1418/2007. They allow exporters to
ship sorted plastic scrap to non-OECD
countries by following the old rules
until the new regulation comes into
force. They have made it clear that the
quality of waste should be as required
under Basel convention, B3011. The
Netherlands is one of these member
states and published its stand on the
official state website.
Exports from those member states
who have opted to wait for the
amendment in 1418/2007 and not
allow unrestricted trade have fallen
substantially. Material therefore has
moved to those member states that
do allow exports in the absence of any
CONTRIBUTED BY
Surendra Borad Patawari, ceo of
Gemini Corporation
change to regulation 1418/2007. This
has created a trade imbalance
between EU states. Exporters, truck-
ing companies, warehouses and so on
have suffered from the low volumes in
those states where exports have to
comply with the notification process.
On the other hand, exports and busi-
ness have increased in those states
that opt to allow such trade.
TURKEY'S PE BAN
Since January, when trade with non-
OECD countries declined, the volume
has increased between European
member states and OECD countries.
Turkey emerged as one of the most
important of these to import signifi-
cant volumes since the Basel
Convention amendment. Many
European exporters have been solely
dependent on trade with Turkey as no
other OECD country could absorb the
available volume. But the issue
became very severe on 18 May when
Turkey announced an immediate ban
on the imports of PE scrap. Turkey's
environmental authority took the deci-
sion in response to finding more ille-
gal imports of non-recyclable waste.
Substantial increases in imported plas-
tic waste brought the authorities'
attention to illegal activity and that
resulted in the ban on imported PE
scrap. This sudden move caused trou-
ble for many exporters as material was
being processed and orders had to be
completed. A window of 45 days was
allowed to permit cargo already on its
way to Turkey to be cleared upon
arrival.
PRICES TUMBLED
After Turkey's PE ban, few options
remain available to exporters. It meant
the business shifted to trading within
Europe or only small volumes to non-
OECD countries via the notification
process. As a result, prices of LDPE
film grades fell immediately. LDPE nat-
ural film was down 10% from EUR 380-
390 per tonne to EUR 350-355 per
tonne. The main impact was felt on
LDPE colour film because Turkey had
been one of the biggest scrap buyers
for this material. As a result, LDPE
colour prices slumped from EUR 120-
130 per tonne to EUR 80-90 per tonne.
Recyclers in Turkey are approaching
the national environment authorities to
review the decision. They argue that
companies which have invested in recy-
cling facilities are suffering because of
a small number of businesses acting
unlawfully. The matter is being consid-
ered internally at the Turkey
Environment Ministry.
It has emerged recently that
Commission's final draft of the regu-
lation was sent to European
Parliament in early July. It is now
under consideration and, when
approved and published, should
ensure that the shipment of plastic
scrap from Europe to non-OECD
countries is more transparent and
equal for all member states.
88_maplastics.indd 88 06-07-21 14:41