The summer issue is here!
Subscribe
Page 83 from: The summer issue is here!
niCkel & stainless improving prospects for stainless steel and nickel markets casters are projecting higher stainless steel production and nickel prices this year. Output rebOunds The J.P. Morgan Global Manufacturing Purchasing M...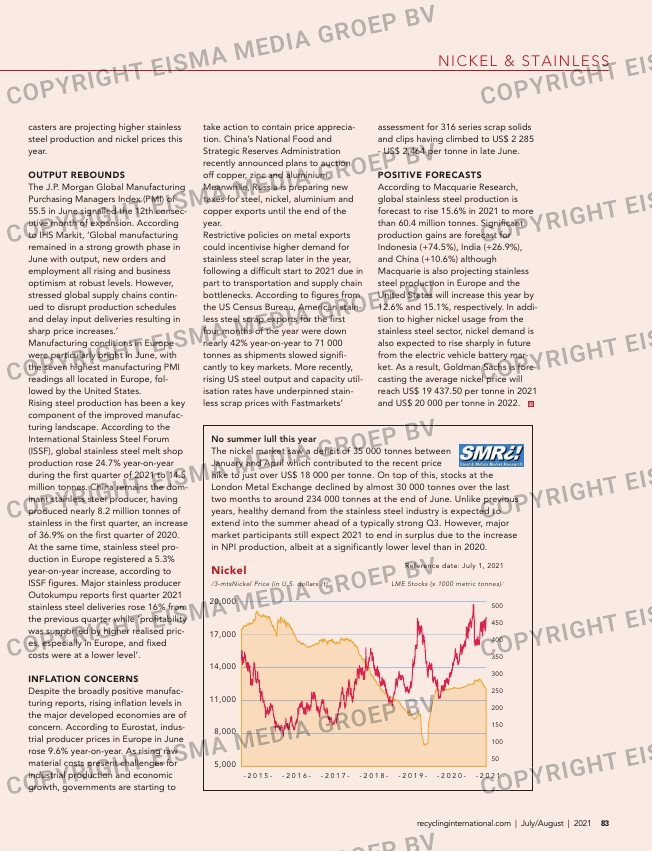 niCkel & stainless
improving prospects for stainless
steel and nickel markets
casters are projecting higher stainless
steel production and nickel prices this
year.
Output rebOunds
The J.P. Morgan Global Manufacturing
Purchasing Managers Index (PMI) of
55.5 in June signalled the 12th consec-
utive month of expansion. According
to IHS Markit, 'Global manufacturing
remained in a strong growth phase in
June with output, new orders and
employment all rising and business
optimism at robust levels. However,
stressed global supply chains contin-
ued to disrupt production schedules
and delay input deliveries resulting in
sharp price increases.'
Manufacturing conditions in Europe
were particularly bright in June, with
the seven highest manufacturing PMI
readings all located in Europe, fol-
lowed by the United States.
Rising steel production has been a key
component of the improved manufac-
turing landscape. According to the
International Stainless Steel Forum
(ISSF), global stainless steel melt shop
production rose 24.7% year-on-year
during the first quarter of 2021 to 14.5
million tonnes. China remains the dom-
inant stainless steel producer, having
produced nearly 8.2 million tonnes of
stainless in the first quarter, an increase
of 36.9% on the first quarter of 2020.
At the same time, stainless steel pro-
duction in Europe registered a 5.3%
year-on-year increase, according to
ISSF figures. Major stainless producer
Outokumpu reports first quarter 2021
stainless steel deliveries rose 16% from
the previous quarter while 'profitability
was supported by higher realised pric-
es, especially in Europe, and fixed
costs were at a lower level'.
InflatIOn cOncerns
Despite the broadly positive manufac-
turing reports, rising inflation levels in
the major developed economies are of
concern. According to Eurostat, indus-
trial producer prices in Europe in June
rose 9.6% year-on-year. As rising raw
material costs present challenges for
industrial production and economic
growth, governments are starting to
take action to contain price apprecia-
tion. China's National Food and
Strategic Reserves Administration
recently announced plans to auction
off copper, zinc and aluminium.
Meanwhile, Russia is preparing new
taxes for steel, nickel, aluminium and
copper exports until the end of the
year.
Restrictive policies on metal exports
could incentivise higher demand for
stainless steel scrap later in the year,
following a difficult start to 2021 due in
part to transportation and supply chain
bottlenecks. According to figures from
the US Census Bureau, American stain-
less steel scrap exports for the first
four months of the year were down
nearly 42% year-on-year to 71 000
tonnes as shipments slowed signifi-
cantly to key markets. More recently,
rising US steel output and capacity util-
isation rates have underpinned stain-
less scrap prices with Fastmarkets'
No summer lull this year
The nickel market saw a deficit of 35 000 tonnes between
January and April which contributed to the recent price
hike to just over US$ 18 000 per tonne. On top of this, stocks at the
London Metal Exchange declined by almost 30 000 tonnes over the last
two months to around 234 000 tonnes at the end of June. Unlike previous
years, healthy demand from the stainless steel industry is expected to
extend into the summer ahead of a typically strong Q3. However, major
market participants still expect 2021 to end in surplus due to the increase
in NPI production, albeit at a significantly lower level than in 2020.
nickel
/3-mtsNickel Price (in U.S. dollars /t) LME Stocks (x 1000 metric tonnes)/

– 2 0 1 5 – – 2 0 1 6 – – 2 0 1 7 – – 2 0 1 8 – – 2 0 1 9 – – 2 0 2 0 – – 2 0 2 1 –
Reference date: July 1, 2021
500
450
400
350
300
250
200
150
100
50
20,000
17,000
14,000
11,000
8,000
5,000
83recyclinginternational.com | July/August | 2021
assessment for 316 series scrap solids
and clips having climbed to US$ 2 285
– US$ 2,464 per tonne in late June.
pOsItIVe fOrecasts
According to Macquarie Research,
global stainless steel production is
forecast to rise 15.6% in 2021 to more
than 60.4 million tonnes. Significant
production gains are forecast for
Indonesia (+74.5%), India (+26.9%),
and China (+10.6%) although
Macquarie is also projecting stainless
steel production in Europe and the
United States will increase this year by
12.6% and 15.1%, respectively. In addi-
tion to higher nickel usage from the
stainless steel sector, nickel demand is
also expected to rise sharply in future
from the electric vehicle battery mar-
ket. As a result, Goldman Sachs is fore-
casting the average nickel price will
reach US$ 19 437.50 per tonne in 2021
and US$ 20 000 per tonne in 2022.
82-83_manickelstainless.indd 83 06-07-21 14:39