The summer issue is here!
Subscribe
Page 73 from: The summer issue is here!
73recyclinginternational.com | July/August | 2021 trends & updates GoAlkeePer wAnts to sAve boots for reuse A former international footballer is backing an appeal to save one million pairs of footballs from landfill. if successf...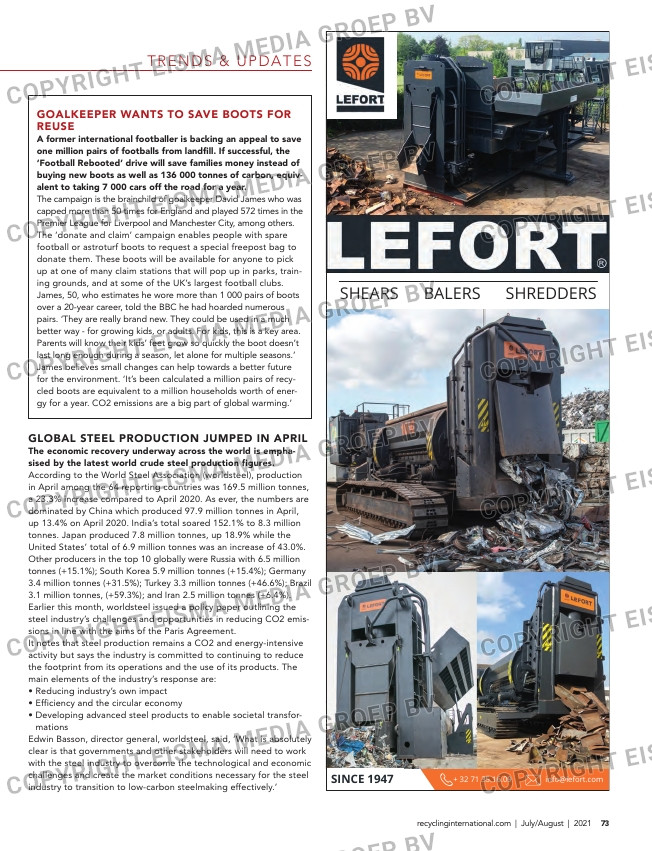 73recyclinginternational.com | July/August | 2021
trends & updates
GoAlkeePer wAnts to sAve boots for
reuse
A former international footballer is backing an appeal to save
one million pairs of footballs from landfill. if successful, the
'football rebooted' drive will save families money instead of
buying new boots as well as 136 000 tonnes of carbon, equiv-
alent to taking 7 000 cars off the road for a year.
The campaign is the brainchild of goalkeeper David James who was
capped more than 50 times for England and played 572 times in the
Premier League for Liverpool and Manchester City, among others.
The 'donate and claim' campaign enables people with spare
football or astroturf boots to request a special freepost bag to
donate them. These boots will be available for anyone to pick
up at one of many claim stations that will pop up in parks, train-
ing grounds, and at some of the UK's largest football clubs.
James, 50, who estimates he wore more than 1 000 pairs of boots
over a 20-year career, told the BBC he had hoarded numerous
pairs. 'They are really brand new. They could be used in a much
better way – for growing kids, or adults. For kids, this is a key area.
Parents will know their kids' feet grow so quickly the boot doesn't
last long enough during a season, let alone for multiple seasons.'
James believes small changes can help towards a better future
for the environment. 'It's been calculated a million pairs of recy-
cled boots are equivalent to a million households worth of ener-
gy for a year. CO2 emissions are a big part of global warming.'
GlobAl steel Production juMPed in APril
the economic recovery underway across the world is empha-
sised by the latest world crude steel production figures.
According to the World Steel Association (worldsteel), production
in April among the 64 reporting countries was 169.5 million tonnes,
a 23.3% increase compared to April 2020. As ever, the numbers are
dominated by China which produced 97.9 million tonnes in April,
up 13.4% on April 2020. India's total soared 152.1% to 8.3 million
tonnes. Japan produced 7.8 million tonnes, up 18.9% while the
United States' total of 6.9 million tonnes was an increase of 43.0%.
Other producers in the top 10 globally were Russia with 6.5 million
tonnes (+15.1%); South Korea 5.9 million tonnes (+15.4%); Germany
3.4 million tonnes (+31.5%); Turkey 3.3 million tonnes (+46.6%); Brazil
3.1 million tonnes, (+59.3%); and Iran 2.5 million tonnes (+6.4%).
Earlier this month, worldsteel issued a policy paper outlining the
steel industry's challenges and opportunities in reducing CO2 emis-
sions in line with the aims of the Paris Agreement.
It notes that steel production remains a CO2 and energy-intensive
activity but says the industry is committed to continuing to reduce
the footprint from its operations and the use of its products. The
main elements of the industry's response are:
• Reducing industry's own impact
• Efficiency and the circular economy
• Developing advanced steel products to enable societal transfor-
mations
Edwin Basson, director general, worldsteel, said, 'What is absolutely
clear is that governments and other stakeholders will need to work
with the steel industry to overcome the technological and economic
challenges and create the market conditions necessary for the steel
industry to transition to low-carbon steelmaking effectively.'
exchAnGes rePort juMP in coPPer stocks
copper stocks
held at the major
metal exchanges
rose 58%
between the end
of 2020 and the
end of April,
according to data
released by the
international
copper study
Group (icsG).
Preliminary data in the ICSG's latest bulletin also indicates that
world mine production increased by 3.5% in the first two months of
2021, with concentrate production rising 5% and solvent extraction-
electrowinning declining by about 3%.
The bulletin indicates that world refined copper production was up
by about 2.9% in the first two months of 2021 with primary produc-
tion (electrolytic and electrowinning) up by 3% and secondary pro-
duction (from scrap) up by 0.6%.
Chinese refined production growth is estimated at 5%.
The data also indicates that world apparent refined copper usage
rose 1.7% in the first two months of 2021. A refined copper surplus
of about 130 000 tonnes over this period is expected.
At the end of April 2021, copper stocks held by the major metal
exchanges (LME, Comex and Shanghai) totalled 397 512 tonnes, an
increase of 146 337 tonnes (58%) on stocks held at the end of
December 2020. This overall growth camouflages a 166% surge in
stocks held by the Shanghai exchange with Comex down 14% and
the LME on a plateau with a slight 0.3% increase.
SHEARS BALERS SHREDDERS
[email protected]SINCE 1947 + 32 71 35.16.09
70-71-72-73_trendsupdates.indd 73 07-07-21 08:35