The summer issue is here!
Subscribe
Page 71 from: The summer issue is here!
trends & updates 71recyclinginternational.com | July/August | 2021 Fotobijschrift kAderkoP ?? Another PGM Acquisition by eleMentAl holdinG elemental holding Group has acquired Maryland core, one of the leaders in the platin...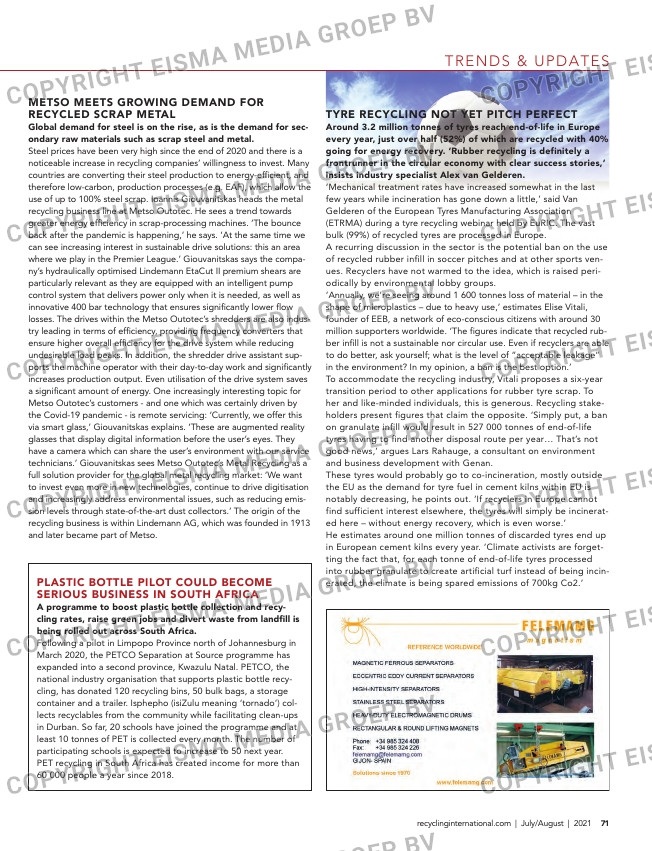 trends & updates
71recyclinginternational.com | July/August | 2021
Fotobijschrift
kAderkoP
??
Another PGM Acquisition by eleMentAl
holdinG
elemental holding Group
has acquired Maryland core,
one of the leaders in the
platinum group metals
(PGMs) recycling market on
the us east coast.
The US$ 11 million (EUR 9.3
million) transaction was con-
ducted in partnership with the
Polish International
Development Fund, managed
by PFR TFI, and the Polish
Development Bank (BGK).
'Thanks to our ambitious investment policy, we are strengthening our posi-
tion in the global supply chain of economically strategic raw materials,'
declares Krzysztof Spyra, management board member of Elemental
Holding.
The business deal represents another move by the company to secure a
strong position in the PGM market. In December 2019, it purchased a con-
trolling stake in PGM of Texas, which has an extensive purchasing network
in 11 locations across the US.
Spyra says the growth strategy has allowed Elemental Holding to increase
its PGM production volume in Europe, Asia and North America from 1.25
tonnes in 2016 to nearly 15 tonnes in 2020.
'The integration of Maryland Core into the structure of the Elemental
Holding Group is another important step in the implementation of our strat-
egy,' he adds. 'It envisages building the largest entity dealing with sourcing
and green production of precious metals, including PGM as well as copper,
silver and gold.
'As we integrate companies operating around the world, we invest in the
latest technologies. Thanks to this the production process is not only cost-
effective but also optimal for the environment.'
Approximately 650 tonnes of PGMs are obtained worldwide every year –
about 500 tonnes comes from mines and about 150 tonnes from recycling.
The content of PGM in a tonne of ore ranges from 2-6 g while a tonne of
catalyst converters contains about 2 kg.
Metso Meets GrowinG deMAnd for
recycled scrAP MetAl
Global demand for steel is on the rise, as is the demand for sec-
ondary raw materials such as scrap steel and metal.
Steel prices have been very high since the end of 2020 and there is a
noticeable increase in recycling companies' willingness to invest. Many
countries are converting their steel production to energy-efficient, and
therefore low-carbon, production processes (e.g. EAF), which allow the
use of up to 100% steel scrap. Ioannis Giouvanitskas heads the metal
recycling business line at Metso Outotec. He sees a trend towards
greater energy efficiency in scrap-processing machines. 'The bounce
back after the pandemic is happening,' he says. 'At the same time we
can see increasing interest in sustainable drive solutions: this an area
where we play in the Premier League.' Giouvanitskas says the compa-
ny's hydraulically optimised Lindemann EtaCut II premium shears are
particularly relevant as they are equipped with an intelligent pump
control system that delivers power only when it is needed, as well as
innovative 400 bar technology that ensures significantly lower flow
losses. The drives within the Metso Outotec's shredders are also indus-
try leading in terms of efficiency, providing frequency converters that
ensure higher overall efficiency for the drive system while reducing
undesirable load peaks. In addition, the shredder drive assistant sup-
ports the machine operator with their day-to-day work and significantly
increases production output. Even utilisation of the drive system saves
a significant amount of energy. One increasingly interesting topic for
Metso Outotec's customers – and one which was certainly driven by
the Covid-19 pandemic – is remote servicing: 'Currently, we offer this
via smart glass,' Giouvanitskas explains. 'These are augmented reality
glasses that display digital information before the user's eyes. They
have a camera which can share the user's environment with our service
technicians.' Giouvanitskas sees Metso Outotec's Metal Recycling as a
full solution provider for the global metal recycling market: 'We want
to invest even more in new technologies, continue to drive digitisation
and increasingly address environmental issues, such as reducing emis-
sion levels through state-of-the-art dust collectors.' The origin of the
recycling business is within Lindemann AG, which was founded in 1913
and later became part of Metso.
tyre recyclinG not yet Pitch Perfect
Around 3.2 million tonnes of tyres reach end-of-life in europe
every year, just over half (52%) of which are recycled with 40%
going for energy recovery. 'rubber recycling is definitely a
frontrunner in the circular economy with clear success stories,'
insists industry specialist Alex van Gelderen.
'Mechanical treatment rates have increased somewhat in the last
few years while incineration has gone down a little,' said Van
Gelderen of the European Tyres Manufacturing Association
(ETRMA) during a tyre recycling webinar held by EuRIC. The vast
bulk (99%) of recycled tyres are processed in Europe.
A recurring discussion in the sector is the potential ban on the use
of recycled rubber infill in soccer pitches and at other sports ven-
ues. Recyclers have not warmed to the idea, which is raised peri-
odically by environmental lobby groups.
'Annually, we're seeing around 1 600 tonnes loss of material – in the
shape of microplastics – due to heavy use,' estimates Elise Vitali,
founder of EEB, a network of eco-conscious citizens with around 30
million supporters worldwide. 'The figures indicate that recycled rub-
ber infill is not a sustainable nor circular use. Even if recyclers are able
to do better, ask yourself; what is the level of "acceptable leakage"
in the environment? In my opinion, a ban is the best option.'
To accommodate the recycling industry, Vitali proposes a six-year
transition period to other applications for rubber tyre scrap. To
her and like-minded individuals, this is generous. Recycling stake-
holders present figures that claim the opposite. 'Simply put, a ban
on granulate infill would result in 527 000 tonnes of end-of-life
tyres having to find another disposal route per year… That's not
good news,' argues Lars Rahauge, a consultant on environment
and business development with Genan.
These tyres would probably go to co-incineration, mostly outside
the EU as the demand for tyre fuel in cement kilns within EU is
notably decreasing, he points out. 'If recyclers in Europe cannot
find sufficient interest elsewhere, the tyres will simply be incinerat-
ed here – without energy recovery, which is even worse.'
He estimates around one million tonnes of discarded tyres end up
in European cement kilns every year. 'Climate activists are forget-
ting the fact that, for each tonne of end-of-life tyres processed
into rubber granulate to create artificial turf instead of being incin-
erated, the climate is being spared emissions of 700kg Co2.'PlAstic bottle Pilot could becoMe
serious business in south AfricA
A programme to boost plastic bottle collection and recy-
cling rates, raise green jobs and divert waste from landfill is
being rolled out across south Africa.
Following a pilot in Limpopo Province north of Johannesburg in
March 2020, the PETCO Separation at Source programme has
expanded into a second province, Kwazulu Natal. PETCO, the
national industry organisation that supports plastic bottle recy-
cling, has donated 120 recycling bins, 50 bulk bags, a storage
container and a trailer. Isphepho (isiZulu meaning 'tornado') col-
lects recyclables from the community while facilitating clean-ups
in Durban. So far, 20 schools have joined the programme and at
least 10 tonnes of PET is collected every month. The number of
participating schools is expected to increase to 50 next year.
PET recycling in South Africa has created income for more than
60 000 people a year since 2018.
70-71-72-73_trendsupdates.indd 71 07-07-21 08:35