The summer issue is here!
Subscribe
Page 70 from: The summer issue is here!
70 Another PGM Acquisition by eleMentAl holdinG elemental holding Group has acquired Maryland core, one of the leaders in the platinum group metals (PGMs) recycling market on the us east coast. The US$ 11 million (EUR 9.3 million) ...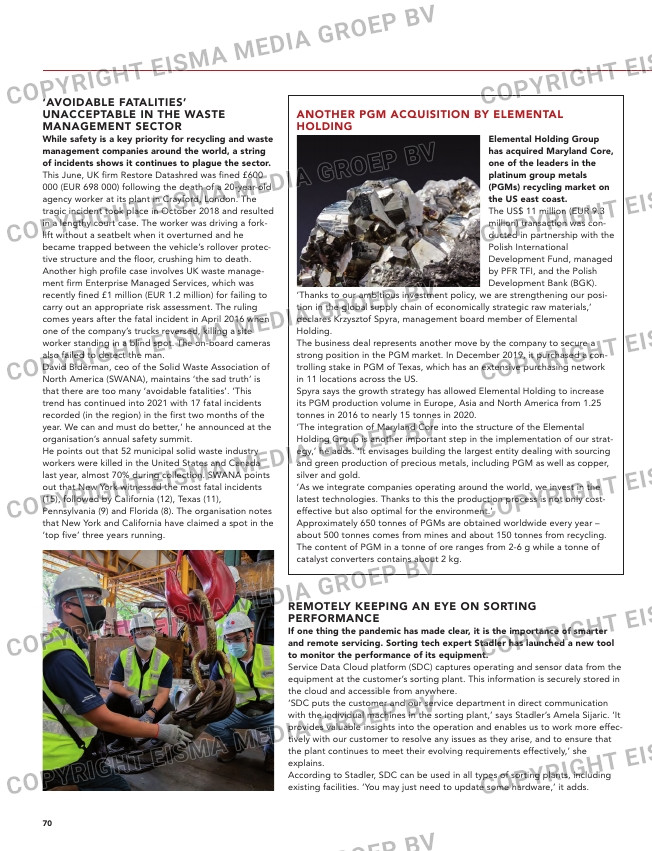 70
Another PGM Acquisition by eleMentAl
holdinG
elemental holding Group
has acquired Maryland core,
one of the leaders in the
platinum group metals
(PGMs) recycling market on
the us east coast.
The US$ 11 million (EUR 9.3
million) transaction was con-
ducted in partnership with the
Polish International
Development Fund, managed
by PFR TFI, and the Polish
Development Bank (BGK).
'Thanks to our ambitious investment policy, we are strengthening our posi-
tion in the global supply chain of economically strategic raw materials,'
declares Krzysztof Spyra, management board member of Elemental
Holding.
The business deal represents another move by the company to secure a
strong position in the PGM market. In December 2019, it purchased a con-
trolling stake in PGM of Texas, which has an extensive purchasing network
in 11 locations across the US.
Spyra says the growth strategy has allowed Elemental Holding to increase
its PGM production volume in Europe, Asia and North America from 1.25
tonnes in 2016 to nearly 15 tonnes in 2020.
'The integration of Maryland Core into the structure of the Elemental
Holding Group is another important step in the implementation of our strat-
egy,' he adds. 'It envisages building the largest entity dealing with sourcing
and green production of precious metals, including PGM as well as copper,
silver and gold.
'As we integrate companies operating around the world, we invest in the
latest technologies. Thanks to this the production process is not only cost-
effective but also optimal for the environment.'
Approximately 650 tonnes of PGMs are obtained worldwide every year –
about 500 tonnes comes from mines and about 150 tonnes from recycling.
The content of PGM in a tonne of ore ranges from 2-6 g while a tonne of
catalyst converters contains about 2 kg.
Metso Meets GrowinG deMAnd for
recycled scrAP MetAl
Global demand for steel is on the rise, as is the demand for sec-
ondary raw materials such as scrap steel and metal.
Steel prices have been very high since the end of 2020 and there is a
noticeable increase in recycling companies' willingness to invest. Many
countries are converting their steel production to energy-efficient, and
therefore low-carbon, production processes (e.g. EAF), which allow the
use of up to 100% steel scrap. Ioannis Giouvanitskas heads the metal
recycling business line at Metso Outotec. He sees a trend towards
greater energy efficiency in scrap-processing machines. 'The bounce
back after the pandemic is happening,' he says. 'At the same time we
can see increasing interest in sustainable drive solutions: this an area
where we play in the Premier League.' Giouvanitskas says the compa-
ny's hydraulically optimised Lindemann EtaCut II premium shears are
particularly relevant as they are equipped with an intelligent pump
control system that delivers power only when it is needed, as well as
innovative 400 bar technology that ensures significantly lower flow
losses. The drives within the Metso Outotec's shredders are also indus-
try leading in terms of efficiency, providing frequency converters that
ensure higher overall efficiency for the drive system while reducing
undesirable load peaks. In addition, the shredder drive assistant sup-
ports the machine operator with their day-to-day work and significantly
increases production output. Even utilisation of the drive system saves
a significant amount of energy. One increasingly interesting topic for
Metso Outotec's customers – and one which was certainly driven by
the Covid-19 pandemic – is remote servicing: 'Currently, we offer this
via smart glass,' Giouvanitskas explains. 'These are augmented reality
glasses that display digital information before the user's eyes. They
have a camera which can share the user's environment with our service
technicians.' Giouvanitskas sees Metso Outotec's Metal Recycling as a
full solution provider for the global metal recycling market: 'We want
to invest even more in new technologies, continue to drive digitisation
and increasingly address environmental issues, such as reducing emis-
sion levels through state-of-the-art dust collectors.' The origin of the
recycling business is within Lindemann AG, which was founded in 1913
and later became part of Metso.
reMotely keePinG An eye on sortinG
PerforMAnce
if one thing the pandemic has made clear, it is the importance of smarter
and remote servicing. sorting tech expert stadler has launched a new tool
to monitor the performance of its equipment.
Service Data Cloud platform (SDC) captures operating and sensor data from the
equipment at the customer's sorting plant. This information is securely stored in
the cloud and accessible from anywhere.
'SDC puts the customer and our service department in direct communication
with the individual machines in the sorting plant,' says Stadler's Amela Sijaric. 'It
provides valuable insights into the operation and enables us to work more effec-
tively with our customer to resolve any issues as they arise, and to ensure that
the plant continues to meet their evolving requirements effectively,' she
explains.
According to Stadler, SDC can be used in all types of sorting plants, including
existing facilities. 'You may just need to update some hardware,' it adds.
'AvoidAble fAtAlities'
unAccePtAble in the wAste
MAnAGeMent sector
while safety is a key priority for recycling and waste
management companies around the world, a string
of incidents shows it continues to plague the sector.
This June, UK firm Restore Datashred was fined £600
000 (EUR 698 000) following the death of a 20-year-old
agency worker at its plant in Crayford, London. The
tragic incident took place in October 2018 and resulted
in a lengthy court case. The worker was driving a fork-
lift without a seatbelt when it overturned and he
became trapped between the vehicle's rollover protec-
tive structure and the floor, crushing him to death.
Another high profile case involves UK waste manage-
ment firm Enterprise Managed Services, which was
recently fined £1 million (EUR 1.2 million) for failing to
carry out an appropriate risk assessment. The ruling
comes years after the fatal incident in April 2016 when
one of the company's trucks reversed, killing a site
worker standing in a blind spot. The on-board cameras
also failed to detect the man.
David Biderman, ceo of the Solid Waste Association of
North America (SWANA), maintains 'the sad truth' is
that there are too many 'avoidable fatalities'. 'This
trend has continued into 2021 with 17 fatal incidents
recorded (in the region) in the first two months of the
year. We can and must do better,' he announced at the
organisation's annual safety summit.
He points out that 52 municipal solid waste industry
workers were killed in the United States and Canada
last year, almost 70% during collection. SWANA points
out that New York witnessed the most fatal incidents
(15), followed by California (12), Texas (11),
Pennsylvania (9) and Florida (8). The organisation notes
that New York and California have claimed a spot in the
'top five' three years running.
70-71-72-73_trendsupdates.indd 70 07-07-21 08:35